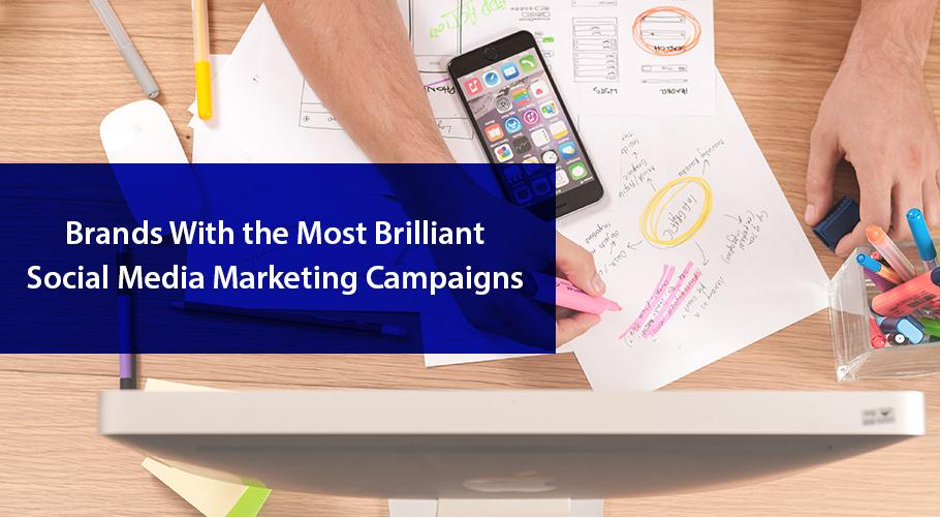 Table of contents:
Brilliant social media marketing campaigns by famous brands
End note
Major brands all around the world couldn't help themselves but become a part of the social media community. They now depend hugely on social media content engagement to raise brand awareness and generate more traffic.
Here are some amazing social media marketing campaigns by some well-known brands that you could take inspiration from:
Brilliant social media marketing campaigns by famous brands
LUSH – user generated content
LUSH uses UGC, or user generated content to make its social media presence more appealing and noticeable. It does this by creating a whole community-like feeling on its Instagram, allowing its followers and customers to post their pictures with the products, along with LUSH hashtags to get featured on their brand's main page. It refers to its community as "LUSHIES", and there are a bunch of hashtags people use, the most popular of which is the #lushcommunity hashtag.
This is a very cost-friendly approach, where the brand itself has to spend almost nothing to create engagement on its social media. All it needs to do is repost from a customer's post, and they become the talk of the town. Larger quantity and variety of content can mean greater engagement for your social media pages. LUSH is achieving this by using UGC. Another benefit of UGC is that flowers or customers feel more personal with a brand. They get a great value for their purchase and are most likely to remain loyal to a brand too.
Gillette – video content
One way of effective digital marketing is using video content and publishing it on digital platforms like YouTube and Facebook. One popular brand that jumped on the bandwagon is Gillette. The brand took a very smart decision, and wisely picked its timing and context for the campaign. In the midst of all the gender equality rage and social media discourse about women empowerment and feminism, Gillete knew how to become a huge part of all this.
The P&G personal care brand released a short film on its YouTube channel in 2019. The short film was titled "The best a man can be", which is a revamp of their original tagline "the best a man can get". It targets the concept of toxic masculinity and how men can do better in today's age and time for themselves as well as the women around them.
The short film shows different men struggling with various stereotypes linked to masculinity such as the fear of showing emotions, the silence about sexual harassment and much more. All the toxic masculinity traits that are glorified in male-grooming products, including Gillete's past ads itself, gave the brand a whole new look. Its audience got a new perspective, and it became the talk of the town and sparked conversation about its campaign. All of this was a result of posting a short film on only one social media platform: YouTube.
MoonPie – humorous approach
A brand's number of followers alone do not indicate anything about its position in the digital marketing world. However, with the right approach and well-thought social media marketing strategies, brands like MoonPie have been able to see significant boost in their following within a matter months.
MoonPie basically targeted its Twitter account towards young adults, and teens, by becoming a complete "meme material". Its witty replies and Tweets became trending topics on Twitter in no time. The company itself is hundred years old, but knows how important it is to adapt to this digital transformation and need of the hour.
The brand did not focus its efforts into revamping its products or altering its TV commercials. All it did was give the brand a character, and make it look like an actual person communicating and connecting with others via Twitter. We have seen many brands use the "character" approach, such as the Tiger named Tony in Frosties. MoonPie's brand character is witty, weird, funny and sarcastic. Its Tweets are also up-to-date with all trending memes. You will also find consistency in its Twitter to keep their audience engaged.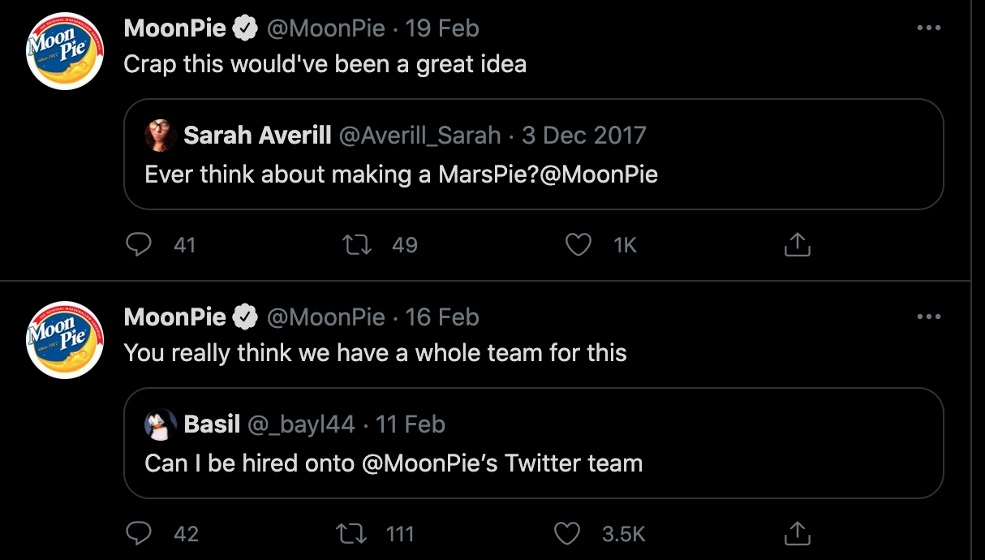 Dove – portraying brand values
Since more than a decade, Dove has established itself as a brand that encourages and endorses natural beauty and inclusivity. It was already promoting self-love and acceptance of different types of people long before social media became the main platform for such topics.
Like LUSH, Dove also used UGC to generate traffic and engagement with their digital presence. It did this by creating a whole "photo gallery" under the Project #ShowUs, where women would share their pictures shattering stereotypical beauty standards and expectations. Women of color, women with facial scars, plus size bodies, body hair, in odd professions and physical disabilities and much more do not get enough representation in advertising. This was Dove's way of connecting with its audience and building a highly positive and healthy community.
Spotify – triggering FOMO
We all know about the increasing issue of FOMO (fear of missing out) in young adults and teens as they include more and more of social media in their lives. People are constantly feeling the need to hop on to any trend without properly assessing the context, need, and practicality of the trend just so they don't miss out or "lag behind".
FOMO is a legitimate psychological state people often find themselves in and Spotify successfully tapped into this area. It took charge of the situation and diverted its social media campaign on this particular trigger. Their "AllYearsWrapped" is a social media campaign that gives their subscribers a review, or more like a journey through the music listening habits throughout the year. Once a user takes a look at their music listening journey all throughout the year compiled together, they can also share it with their friends and followers through social media stories.
This shows how efficiently Spotify made use of its users; data and let it benefit, and give a valuable experience to its users. The "Wrapped Playlists" have become so popular because of the personalization it provides to its users, allowing more users to engage with the app and have something to look forward to.
End note
The involvement and dependence on social media makes it inevitable for brands to use these platforms and engage with their targeted audience. Even if you are a new start up, a well-established brand working in the industry since years, you will still need the help of social media marketing to make it through. Make use of Mediacom internet packages to get connected with your fans and potential customers all around the world. The internet has no limits, and lets you take your marketing campaigns to a larger level that was not possible before digital transformation.
Was this post helpful?
Let us know if you liked the post. That's the only way we can improve.