The very fresh Facebook news tab, which was rolled out in the US just a few weeks ago, has seen lots of good feedback, and users seem to like the feature. That's what has made Facebook want to take the feature to more countries.
Facebook has today announced plans to expand the News tab to 'multiple countries within the next six months to a year'.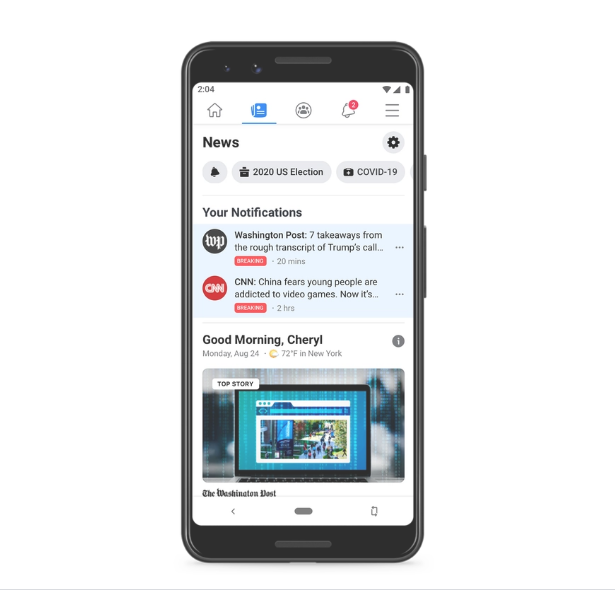 Which countries are going to get the Facebook news tab feature?
As Facebook has announced on its official blog post, Based on this progress, Facebook is accelerating its plans to expand internationally. It aims to launch Facebook News in multiple countries within the next six months to a year and is considering the UK, Germany, France, India, and Brazil. In each country, Facebook will pay news publishers to ensure their content is available in the new product.
As you have surely noticed, Australia is missing from the list of the countries which are going to get the feature soon, and The Verge has clarified the reason.
Notably absent from the list of possible countries that would receive the News tab next is Australia, which recently unveiled plans to compel tech platforms to help pay for the free content they disseminate. France, which is on Facebook's list of possible future News targets, ordered Google to pay for content from French publishers in April.
In Tuesday's announcement, company vice president of global news partnerships Campbell Brown says the News content may vary by country to keep pace with consumer habits. "We'll work closely with news partners in each country to tailor the experience and test ways to deliver a valuable experience for people while also honoring publishers' business models," Brown wrote.
There are plenty of reasons for news publishers in the US and elsewhere to be wary of Facebook's news efforts. Its News Feed algorithm and ad business have proven devastating for the industry, particularly for local news publishers. And its track record on the news is littered with failures, including the infamous "pivot to video" movement of the early and mid-2010s, with publishers pouring resources into video production seeking to benefit from Facebook's video platform. "Pivot to video," however, has become a catchphrase meaning "short-sighted failure," because it turned out Facebook had juiced the metrics. And of course, there's the debacle of the 2016 election cycle, which resulted in Facebook removing its Trending Topics section amid accusations it was biased against conservative media.
What the regulatory environment will look like for Facebook and other social media platforms six months to a year from now is anyone's guess, and it may depend, at least in the US, on the outcome of the November presidential election. Until then, it appears Facebook is holding its cards close to the chest.
Was this post helpful?
Let us know if you liked the post. That's the only way we can improve.