YouTube is the biggest platform for sharing videos and visual content in the whole world. Understanding how beneficial using YouTube analytics of any kind, either free or paid, would be to the success of your YouTube channel, makes you want to use it to track your metrics daily.
The key to own a popular YouTube channel is not to get all your videos viral on the platform, but it begins by better understanding the audience, and that's where you'll feel the need for analytics. YouTube video analytics has two general methods, which would be discussed later in the blog after getting to know what we actually mean by analytics on YouTube and how it can help us perform better on the platform.
What is YouTube analytics, and how is it useful?
YouTube analytics is a free or paid service which provides us detailed information about how our videos and channel have performed, who our subscribers and audiences are? How long do people spend time watching our videos? What our audience wants from watching our videos and things like this. Using YouTube channel analytics, we can better understand our channel's viewing statistics and trends.
By knowing such information about your shared YouTube videos, you can decide on when to post content, how to optimize the video strategy, and much more, which would ultimately lead to happier audiences and more channel growth.
YouTube channel analytics has two different methods which are as below:
Using a reliable social media analytics tool
Sticking with YouTube's in-app analytics tool
As I mentioned above, there are two ways to track down the YouTube channel's metrics, which one of them is available from the platform itself. YouTube offers its own analytics platform, which gives creators some extra information about the performance of their videos and metrics to know how their channel is doing. But there are some disadvantages of only leaning on the in-app analytics of YouTube, which gets so many users to look for better tools that offer them much more detailed video analytics.
The cons of using only YouTube's own analytic app are:
It's not much of a use for a creator with a very small fan base.
Users have reported that except for the real-time section, all other sections have at least a 2-day delay before statistics are displayed.
Most of the creators are not even aware of it; therefore, they do not take advantage of them.
Beginners might find it hard to work with and a bit confusing.
It only provides users with basic analytic metrics, sufficient for ordinary users and new, small businesses.
The reasons above make the creators look for a better YouTube analytics app to get help from.
How to Use YouTube Analytics?
To start using the in-app YouTube analytics, all you have to do is to either login to your YouTube channel or sign in with Gmail to get down to business. Follow the step by step guide below, to access your YouTube channel analytics easily:
1. At the top of your channel page, click the profile icon in the top right and tap on "Creator Studio" or "YouTube Studio."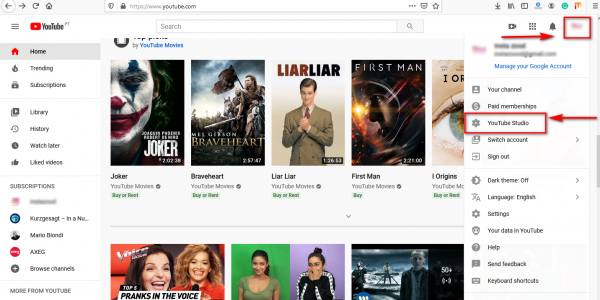 2. You'll be redirected to the "Creator studio" dashboard, where you'll see the basics of video analytics such as (Watch time, Views, Subscribers and Estimated revenue) in the middle of the screen.
3. From the menu on the left side of the panel, click on "Analytics" to go to the main page of your video metrics.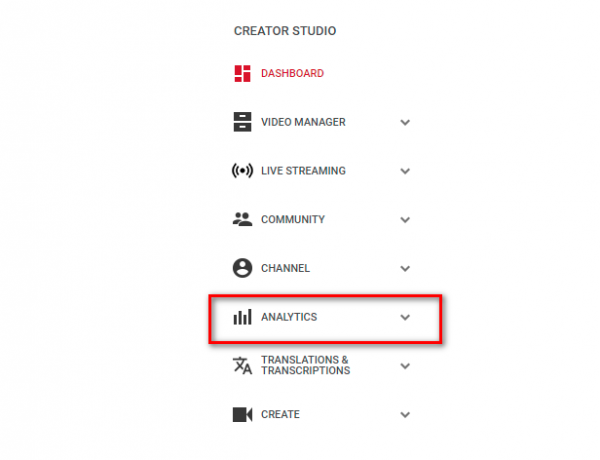 There is a second way to access the YouTube analytics tool, which is much easier and takes only a couple of clicks. Simply go to YouTube.com/Analytics or select the "Analytics" drop-down in the "Creator Studio" tab of your account.
After following either of the ways mentioned, you have access to your YouTube channel analytics, and by default, the first page shows the Overview of your metrics. The overview is set to show you the analytics of the last 28 days by default, but you can change that to any period of time that you wish.
The main options of YouTube's report and analytics tool are Overviews, Realtime, Earnings, Watch Time, and Engagement.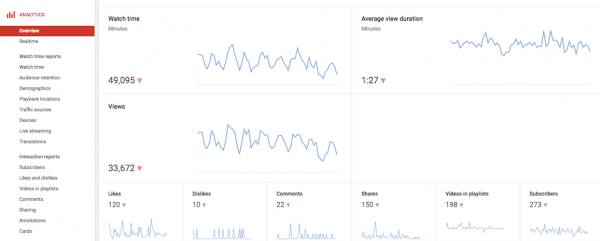 Conclusion
Becoming successful on a huge and popular platform like YouTube requires us to have a great marketing strategy and to act wisely. One of the first useful steps we can take to maintain great content on this platform is to analyze the videos we share with a reliable analytics tool, to find out what we are doing wrong and keep track of our content's metrics. So never underestimate the power of analytics for all social media channels.
Was this post helpful?
Let us know if you liked the post. That's the only way we can improve.