Fact-checking has become an important focus of the internet world, such as social media and search engines. As another step on fighting misinformation, Google Adds 'Fact Check' Label to Image Search Results from today.
From now on, when you search for an image that is edited or is providing false information, you'll see a label beneath it, declaring that you should not believe what you see.
The purpose of this change is to help people navigate issues around determining the authenticity of images and make more informed decisions about the content they consume.
Google has explained the fact check labels like this:
"Now, when you search on Google Images, you may see a "Fact Check" label under the thumbnail image results. When you tap one of these results to view the image in a larger format, you'll see a summary of the fact check that appears on the underlying web page."
That is like a relief for lots of people who have been tricked by fake image edits and been pranked this way. Google is now there to help you find out about an image's true story.
Take the example of the pictures which went viral a few weeks ag of some huge sharks swimming on a highway in the middle of Houston. I'm sure, so many naïve people thought of these images to be real and were shocked. With Google's new fact-checking labels, you'll not be pranked by editors or fake news anymore.
Now when you search the image of sharks swimming in Houston, you'll see Google has added the "Fact Check" label below the thumbnail.
To see the true story behind the image, just tap on the preview of the image to see the larger size. Then, Google will display a summary of the information contained on the web page where the image is featured.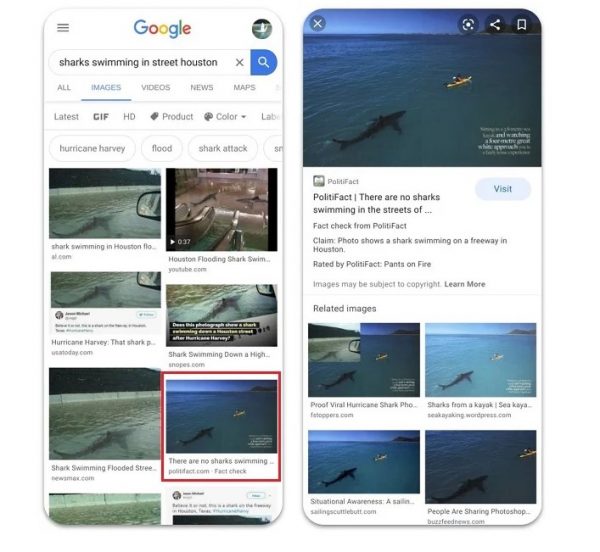 After Twitter, we have google now, which has provided its users with powerful fact-checking options which would surely have a great impact on the spread of misinformation all over the world.
Was this post helpful?
Let us know if you liked the post. That's the only way we can improve.