YouTube is the largest video sharing platform and a social channel too. Not only to can you share the videos and edit the shared ones, but also can you send stories, live videos, and get in touch with friends and family. YouTube is getting bigger and bigger, and it is worth to be active on this social platform.
If you are new to a social media like YouTube or you have not been that active, you might not know how to fix some issues on the YouTube channel. Once you open the YouTube app or on the desktop, it looks confusing. Here I would explain how to change the YouTube name on both apps and desktop. So, you can do it with any devices. Remember that you should read the limitations of changing a name on YouTube.
How to change a simple YouTube channel name on mobile?
As you know, the name of the channel is significant to get more subscribers on YouTube. The more the name is close to the people's needs, the more they would follow you on YouTube. So, it is better to select a name that best defines your channel. The character limit of choosing YouTube channel name is characters with space. The YouTube account name also can be changed, and the military is characters with space.
To change the name of the account on a mobile phone
To change the channel name of a mobile phone
Open the YouTube app on your mobile phone
Login to your account
Tap your profile picture (if any) on top right corner
Tap your channel
Tap setting (a gear icon)
Add a new name
Tap mark icon to save the changes
Done!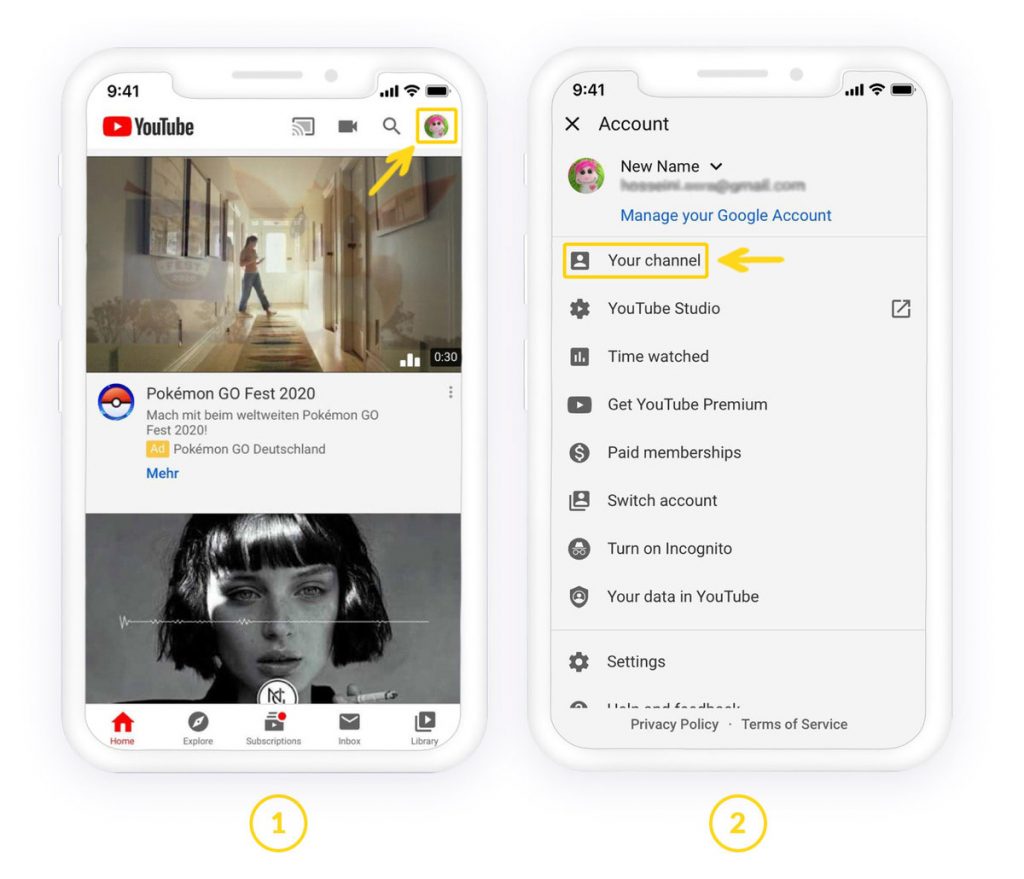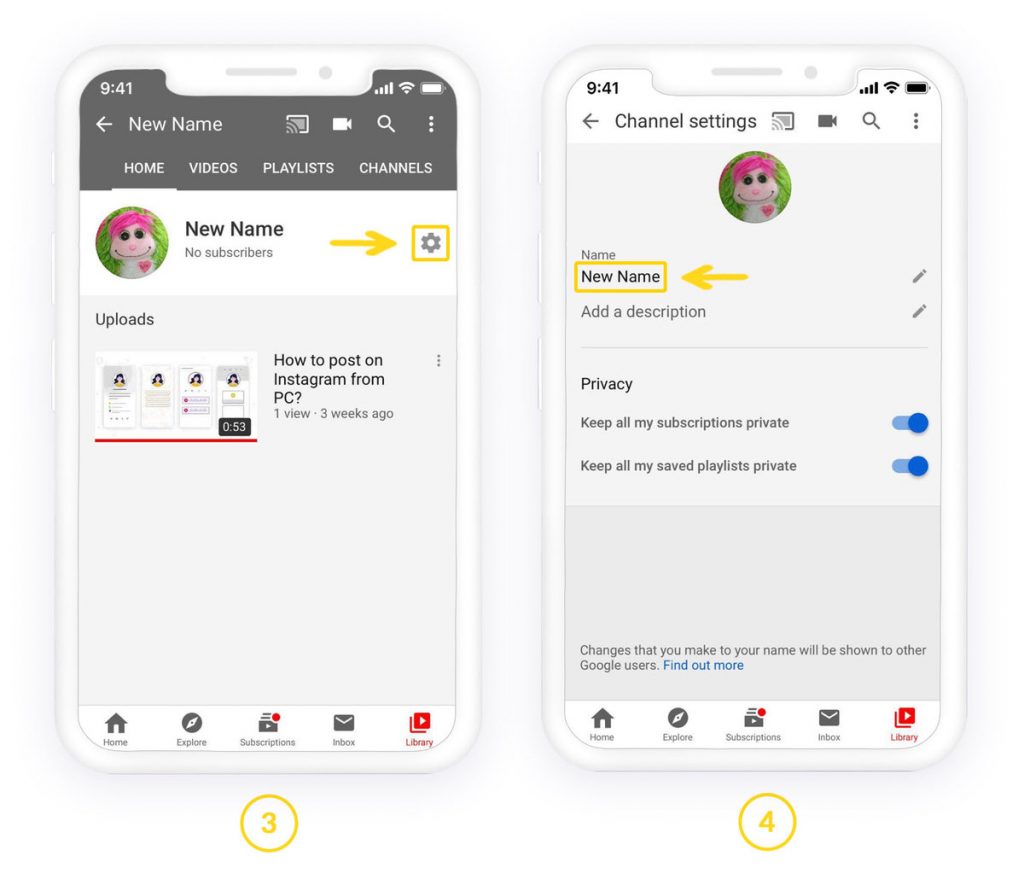 How to change YouTube name without changing Google name
You should connect your channel to a Brand Account if you want to have a different channel name than your Google account. A Brand Account is a type of account that supports businesses or brads on YouTube apart from your google account.
What will happen if you connect your YouTube channel to a Brand Account:
You can manage the brand account which is connected to a YouTube channel with your Google account
You can access the brand account using google account
You can hide your email address and information on a brand account unless you make them public
You can manage multiple YouTube channels with only one google account
You can have team workers, admins, managers, or any other member for your channel.
Differences between YouTube channel and brand account
A YouTube brand account is created through a personal YouTube channel. The difference between having a standard YouTube channel and having a YouTube Brand Account is that with the latter, you have the option to change owners and managers, while a YouTube channel is always associated with a specific person and their email address.
Another useful option for the brand accounts is that YouTube adds channel managers to these accounts.
Google Account: You need a Google Account to sign in to YouTube. Your channel name is automatically the same as the one on your Google Account.
Brand Account: A Brand Account is an account that is specifically for your brand. This account is different from your personal Google account. If a channel is linked to a Brand Account, multiple people can manage it from their Google Accounts.
Change YouTube channel to brand account
A brand account is a google account that is created from a google account, but it is not connected to the google account. So, you can add any channel inside it and change everything without having changes on your google account.
To create a new Brand account, follow the instruction below:
First, check to see if you already have a brand account.
Sign in to YouTube.
Go to your channel list.
Click Create a new channel.
Fill out the details to name the Brand Account and verify your account.
Then, click Create.
Now you can see your brand account. From here, you should connect the channel to this brand account. Once you connect it, you can change the channel name, without changing your google account.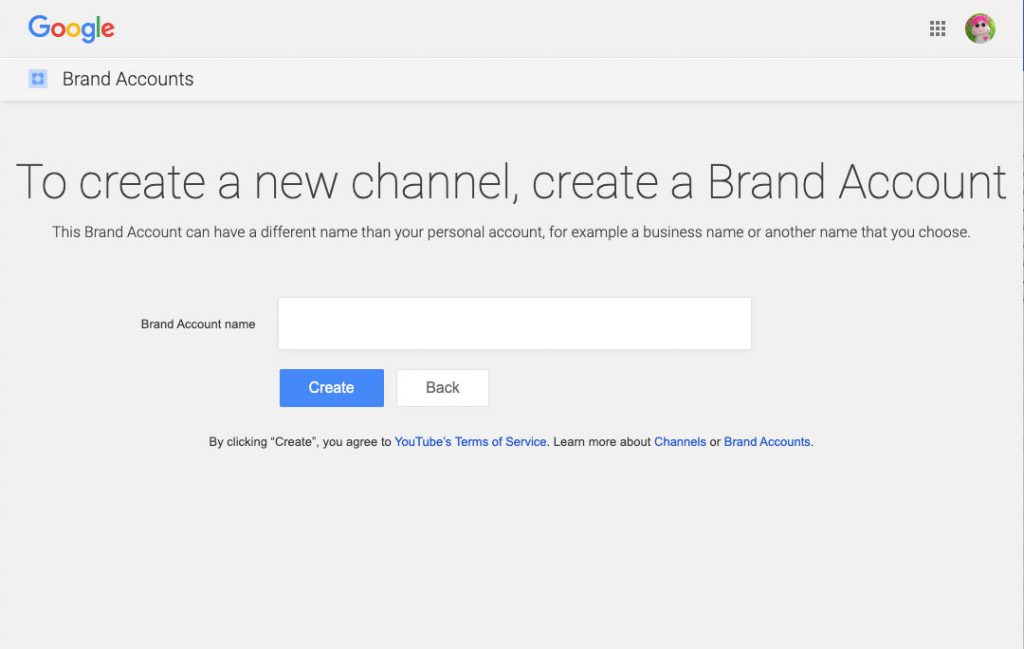 Switch between YouTube accounts
If you want to manage your account or your channels, you can switch between the brand account or google account.
Go to YouTube website
Login to your account
Click the profile picture in the top-right corner.
Click the Switch account.
Choose the account you want to use with YouTube from the list.
How to change YouTube channel URL?
it is good to have an easy to read web address, so fans and friends may distinguish or find it easier and more convenient.
The URL can be a link based on your name, username or the name of your website. You can also capitalize on the URL for ease of reading.
Please note that You can't edit a custom URL. Instead, you should claim a new URL, and delete your existing one. Once it is removed, that is free for another creator to choose. However, you should check your eligibility before changing the URL.
To create a custom URL, your account needs to:
Have 100 or more subscribers.
Be at least 30 days old.
Have a photo as a channel icon.
If you were eligible to change the URL of your channel, you could see the notification in the advanced account setting, or your creator studio dashboard.
You cannot edit your custom URL later. So, make sure you entered the right one.
Sign in to YouTube.
Click on your profile picture in the top right corner
Go to Setting
Go to Advanced setting
Under "Channel settings," choose the link next to You're eligible for a custom URL. You cannot see the link if you are not qualified.
In the "Get a custom URL" box, you should see the custom URL(s) you've been approved for. You cannot make changes to the part in the gray box, but you can add a few letters or numbers to make it unique.
Read the "Custom URL Terms of Use," select the box to agree to them, then click Change URL.
Once it is approved, you can't change it, so make sure this is the URL you want before clicking Confirm.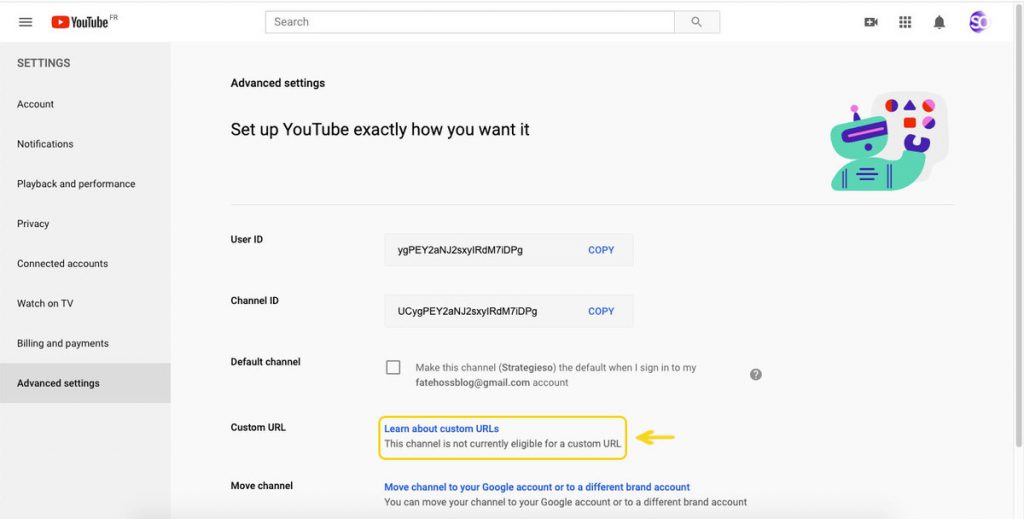 Overall
Making some changes to the YouTube channel is a good idea once you are going to boost your YouTube channel. It is good to change the name and make it different from the google account. Or even change the YouTube channel URL for ease of access and reading of your fans and subscribers.
Was this post helpful?
Let us know if you liked the post. That's the only way we can improve.