Instagram is now is one of the most significant social media and a platform to share photos and videos. However, this popular social network sometimes becomes complicated and confusing for its users because of its different sections. Users are sometimes wondering how to use Instagram or even how not to use and delete their Instagram account.
Social media is now an inevitable part of everyone's life. Indeed, it sometimes becomes trouble, but so many people take advantage of being on Instagram like influencers. They can easily make money using their accounts or gets so many fans and followers.
If you are tired of social media or you find no benefits for yourself on it, you can think about deactivation for a short period. If not, follow this blog to know how to delete your account permanently.
How to delete Instagram account permanently?
I highly recommend before deleting the Instagram account think about deactivating it or back your Instagram data.
If you aimed to delete your Instagram, you might search on the app itself to find the delete option, but of course, you could not find it. Yes! There is no option on the Instagram app to delete the account and to delete the Instagram account. It will help if you visit the Instagram website, delete page. Ther is no apparent reason for what they have not inserted the option in the app itself, but they don't like everyone leave the account.
Even before deleting your Instagram, they need a reason why you are removing the app permanently. This feedback might be crucial for them to get more users on Instagram.
If you decided to delete the Instagram app, first go to the data download center and get a backup.
Open the Delete Your Account page from a browser on a mobile phone or desktop. You should log in to your account first before deleting your Instagram. Please note that you cannot delete the Instagram app from your Instagram app.
Choose a reason from the dropdown menu that why you are deleting your account. Once you choose a reason, the button to delete your account will appear.
Click or tap Permanently delete my account.
However, if you are going to delete another account, you should click or tao the username on the top right of the screen. Then go to setting and log out of that account.
Then enter the login info of account you are going to delete. Repeat the process for the new Instagram account that you aim to delete.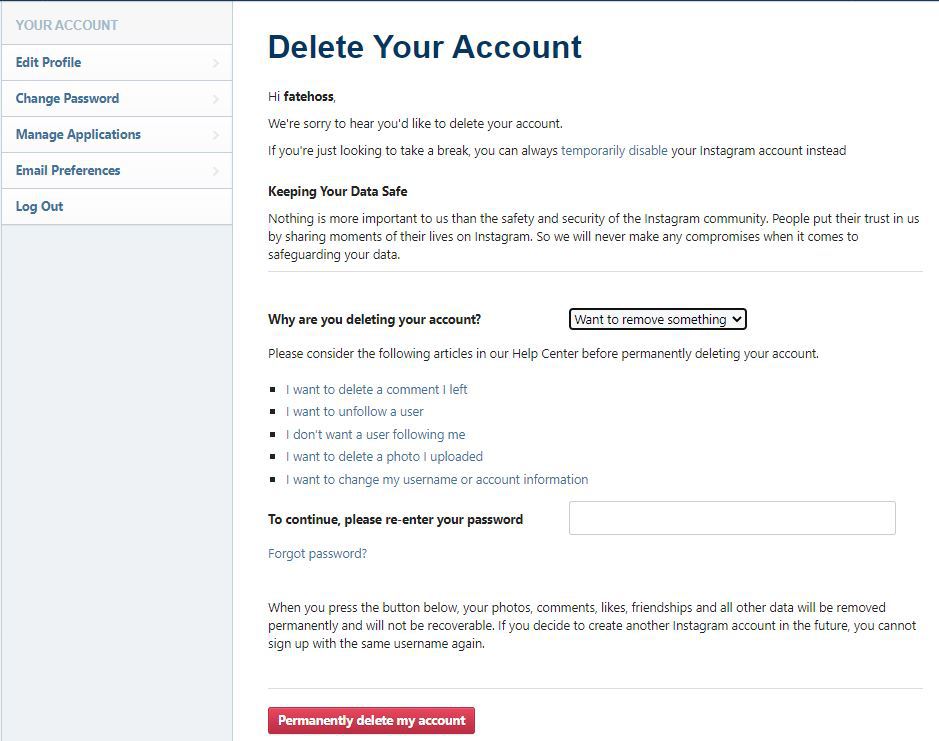 Can I delete my Instagram without login in?
No, Instagram needs you to log in before accessing the delete Instagram account page. You should also enter the password before the deletion. For any reason you cannot log in to your Instagram, you should first recover the account, then delete it.
To recover the Instagram account, you can go to the login page, forgotten password, and Need more help options. With access to the phone and email address, you have created the account with.
Can I use my username if I delete my Instagram account permanently?
No, deleting Instagram account will make that username unavailable forever. This is also true if Instagram itself delete your accounts. However, if you change the username, it will be available for another user to use. So, if you need that username, you should not delete that Instagram account because you cannot undo the action, and the username will be lost forever.
To download your Instagram data:
This is a good idea to have a back up of your Instagram data. What Instagram gives you about likes, for example, is the username that you have liked their media. Not any media address or URL. Although that information could be useless, you should save them somewhere.
To download Instagram data:
Open the Instagram app
Login to your account
Go to your profile by tapping on the profile picture
Tap on the three-line icon (hamburger icon)
Go to security
Go to download data
Enter an email address and tap on request download
Open your email and follow the attached link (if there is no link, you can recheck the security section to see the download link there)
Open the download data and save the file on your device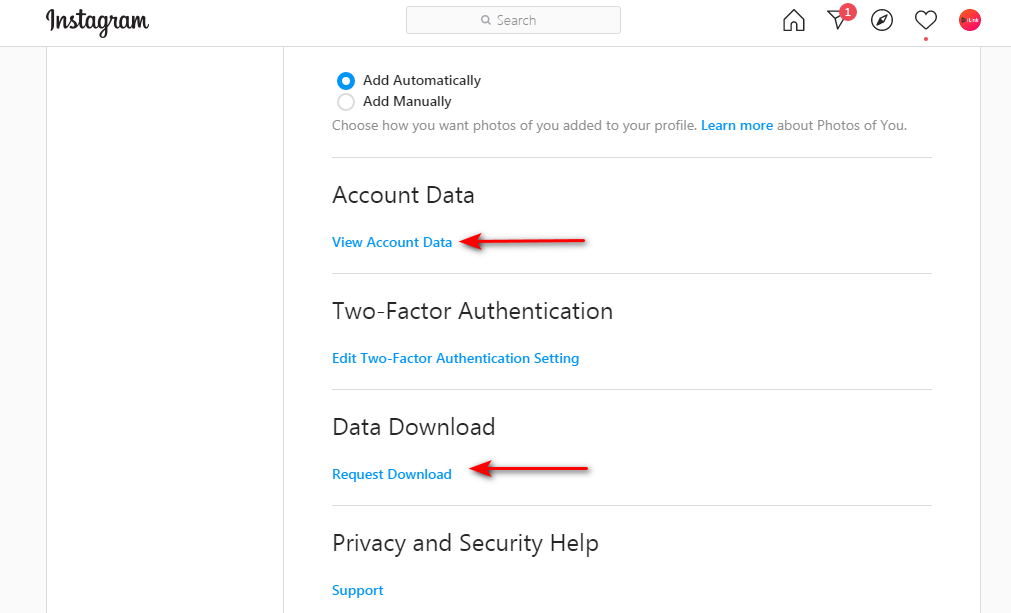 How to deactivate your Instagram account
If you are not sure you want to delete your account, you can still deactivate it for a short time. If you deactivate your Instagram account, all your actions, messages, tags will be unavailable until you login to the account again.
Go to the Instagram website
Login to your account
Go to your profile by clicking your profile picture
Click on Edit Profile
Scroll down to see "Disable my account temporarily"
Enter your password again
Confirm the deactivation
Now, your name, messages, likes, and all other information will be disappeared from Instagram until you enter the username and password and login to your account.
All in all
You indeed have the right to delete your Instagram accounts for any reason, but make sure you have a copy of your data. You may need your data later on. Instagram will send you the link to download all your data, including likes, and comments, and all other necessary information.
Was this post helpful?
Let us know if you liked the post. That's the only way we can improve.