As players get familiar with the brilliant sandbox video game Minecraft, they want to explore new things and experiment with any object in their world. If you are one of those curious Minecraft users, you may also want to take some lessons to boost your experience in the game.
The Nether is a new feature added to Minecraft, and many people tend to find a Nether Fortress in order to take a step further in the journey. Sooner or later, a trip to the Nether Fortress is necessary for every Minecraft walk. In this text, we are going to answer the question of how to find Nether Fortress, how many Minecraft Nether Fortress we can find on the map, and also what is a Nether Fortress finder.
Read more about "How to make a gold farm?".
How to find a Nether Fortress in Minecraft?
Well, finding a Nether Fortress seems more complicated than you think. In some cases, you need to walk thousands of kilometers to find the Nether Fortress in Minecraft. However, there are some tips that you can take to make the process easier.
Search the structures that stand out from the ordinary-colored blocks. In general, Fortresses are usually made of dark red bricks. Note that you don't need to explore a Minecraft Nether Fortress near bastion remnants because they do not spawn there.
If it is possible, increase your render distance. Minecraft players cannot see structures generating in the distance at lower render distances. If you set your render distance to 32, you can see the structures, which are 32 chunks away from your Minecraft character.
If you have cheats enabled in the Minecraft game, use the command /locate Fortress for coordinates to the nearest Fortress.
You can find a Nether Fortress over a lava ocean, and you have a chance to see one by bridging over it. To make a bridge over the lava ocean, use cobblestone or a block with higher blast resistance to stay safe from ghosts. Never use nether rack blocks for bridging in nether.
In Minecraft, you need to head toward a positive axis because Nether Fortresses have a higher chance of being generated in the positive quadrant of the Minecraft world. This means that you have a better chance of finding a Nether Fortress when you are looking for it when going towards either the positive X-axis (North) or positive Z-axis (East).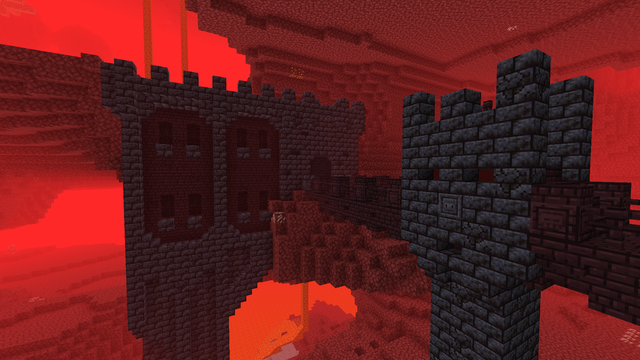 Why can't I find a Nether Fortress?
If you have been playing Minecraft for a while and still haven't found a Nether Fortress in your career, you may need to adjust your game settings once more. You may need to set your render distance or just find some other place for a new Nether Fortress. If you don't see a lesser fortress within 100 blocks north/south of your starting position, it's best to search diagonally or east/west. Note that the Nether is very dark, and by using the Potion of Night Vision, you will be able to see the environment better. If none of these help you, try updating the game or just reinstalling Minecraft on your device. 
How many Nether fortresses are in the Nether?
There is no limited set for the number of Nether Fortresses in Minecraft – they are infinite. Keep this in your mind; Nether Fortresses spawn in rows every 200 to 400 blocks along the world's North/south axis. Therefore, once you find a Nether Fortress in Minecraft, you can find a new one by walking 200 to 400 blocks in the world.
What is a Nether Fortress finder?
Sometimes Minecraft players need additional help finding the Nether Fortress in the Minecraft world, which could happen by using a Nether Fortress finder.
The Nether Fortress finder is a software patch with an interactive map so that you can find almost all the locations of Nether Fortresses by targeting the red dots on it. The most famous, available Nether Fortress finder is Chunkbase, with provides apps, mods, and tutorials for the Minecraft game. You can get to know the Chunkbase collection better by visiting www.chunkbase.com. Chunkbase can be used on any platform, including PS5 and Xbox One.
Summary
Thank you for reading. To review how to find a Nether Fortress in Minecraft, I need to remind you that finding a Nether Fortress is a bit challenging, so you have to be careful and patient. Although it rarely happens, you may have some technical problems in the game if you haven't any Nether Fortress in the world. To get more information, you can visit the official Minecraft website and read the tips about Nether Fortresses there.
Was this post helpful?
Let us know if you liked the post. That's the only way we can improve.