Now GIFs are an inevitable part of every social media, especially messaging apps. GIFs or stickers make a conversation going on because they are attractive and fun. However, many of you may want to create their GIF. It is possible, and you can easily make them using your phone or tools.
GIFs can make content or conversation on social media attractive, and if you have seen any exciting scene in pictures, or videos, you can convert them into GIF format. Gifs are kind of short videos that re repeating over and over, and that is fun. They can easily show your feelings about every topic. So, do not miss learning how to make a GIF.
What is a GIF?
Graphics Interchange Format (GIF) is a concise video file that repeats over and over. As it is defined in the dictionary "a lossless format for image files that supports both animated and static images." The length of a gif is usually a few seconds, and it often is made to show a feeling. GIFs are eye-catching, and they used to catch the user's attention in any content. Gifs can be used on social media too. Sending gifs on messaging apps like telegram is very usually and users love it.
In Wikipedia, the definition of GIF, is as follow:
"The Graphics Interchange Format is a bitmap image format that was developed by a team at the online services provider CompuServe led by American computer scientist Steve Wilhite on June 15, 1987."
How to make a GIF on mobile
To make a gif on mobile, you should install the GIPHY app on your phone. Then record a video, or upload a video there, and save the File as GIF.
To make a GIF on mobile:
Go to the app store or Google play store
Search for GIPHY
Download and install the app
Open the app and create an account
Tap Create + to start recording a video
Hold the Circle to record your video
Once it is done, leave the icon
Tap sticker icon if you want to add any stickers
Let the app select the frame
Tap ®the icon to export the GIF
Tap Save and export it in GIF format
How to create a GIF on iPhone using live photos
Open the photo gallery on your iPhone.
open the live photo
Tap and slide your finger up to bring up the moving picture menu (Live, Loop, Bounce, Long Exposure).
Tap "Bounce" to turn the picture into a GIF.
How to make a GIF in Photoshop
To make a gif within photoshop software, you need a bunch of pictures (that become your gif) or a piece of video. The process is the same for both. So, all you need is uploading the File into photoshop and continue the process as it is explained in the instruction below in three different phases.
To make a GIF in Photoshop:
STEP #1: Create the File
Open photoshop software
To use video to create GIF click on Open
To use photos to create GIF click on New
New File should be the same as your pictures' dimensions
Change Width, Hight, and Orientation according to your pictures' dimensions
Click on Create
STEP #2: Create the Frame Animation
Go to File>Open
Select all the pictures
Go to Window
Select Timeline
Select Create Frame Animation
Click on the hamburger menu
Select Make Frames from Layers
Select Forever from the menu
Play the animation
STEP #3: Export the File
Go to File>Export>Save for web
Select GIF 128 dithered
Change Color to 256
Click Save
How to create GIFs from YouTube?
You no need to download the video, to create the gif if you have seen the scene on YouTube videos. All you need is to copy the URL of that video from the YouTube website.
To create a GIF from YouTube video:
Go to GIPHY.com
Create an account and log in
Click Create
Enter the URL of the YouTube video that you want to create your GIF with it
Find the part of the video you'd like to create the GIF
Choose the length
Customize your GIF (optional)
Add hashtags to your GIF (optional)
Upload your GIF to GIPHY
From there, you can share the gif you made to your social media by clicking the share button
How to share a GIF on Instagram?
If you want to share your gif on Instagram, you can use these two main ways:
Share the gif from the GIPHY.com website
Share the gif from GIPHY app
As it is explained above, you can create a GIF on the app. Once you are done, you can directly share that GIF to your Instagram account.
How to upload GIF to Instagram story
If you are going to use GIF in Instagram stories, you can use the animated GIF from Instagram too. To use the Instagram gifs on accounts:
Open the Instagram app
Login to your account
From home, tap your profile picture on the top left
Tap the sticker icon
Search gif
Select the GIF you want
Write your text
Tap share
How to convert a GIF to video?
You can easily search for any gif to video converter. Upload your gif there, and save it as a video in any format you want.
What are the best GIF makers?
There are currently several programs or applications available for creating free animated GIFs, but which one do you think performs better than others and is free at the same time?
No doubt you are familiar with GIF files or animated images. GIFs are images that produce several images at a lower frame rate than video, and are generally short. Therefore, a GIF file can be considered as a short, low quality and low volume video that is very suitable for sharing on the Internet. These days, GIF file exchanges are very popular among users and during the day, millions of these files are exchanged between users in various messaging programs such as Telegram.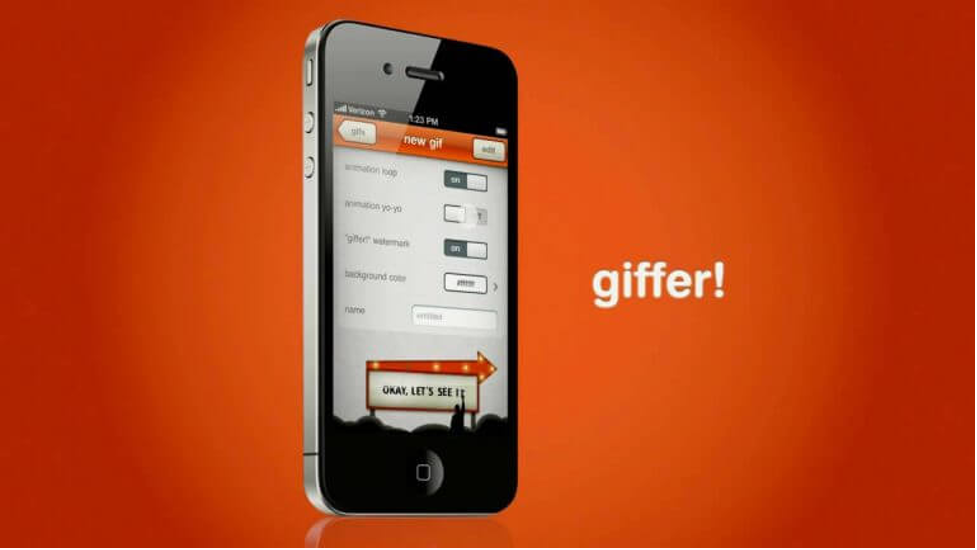 But how do we create animated GIFs? Until a few years ago, special programs such as Photoshop and had to be used for this purpose, but with the expansion of the use of these files, several programs and applications were designed with the ability to create a GIF file. Because the GIF process is not a complicated process, a mobile application can easily handle it. There are currently several apps available for both iOS and Android that can convert video to GIF. But which of these programs do you think has the best possible quality and is also free?
In this article, we are going to introduce 9 free GIF making apps for Android and iPhone. The iPhone is actually an iOS-compatible app, so you can use those apps on Apple iPads as well.
Gifboom program
If you are looking for a powerful, high quality and popular free GIF program, download Gifboom right now. This program includes many capabilities and features and can be used for free on both Android and iOS operating systems. In Gifboom program, it is possible to record video and photo and then convert it to a GIF file, as well as the possibility of selecting a video from the gallery and converting it to a GIF file. This program offers interesting and Instagram-like filters that can give a special beauty to your animated gif image. You can also use either the main camera or the selfie camera to record live video in this program and convert it to GIF.
Cinemagram GIF maker program
Cinemagram is a very powerful and popular free GIF program, which unfortunately only includes the iOS version and has not yet been released for the Android operating system. So you can install this app on your iPhone or iPad and use its features for free. One of the interesting features of Cinemagram Gif is its ability to convert a specific part of a photo to a moving image or GIF. In other words, this program can hold all the parts of a recorded photo steady and animate only part of the received photo. This is one of the cool features of the Cinemagram gif maker app, making it a distinctive free gif maker (GIF).
Gifture program
The user interface of the Gifture app is very similar to the Instagram app. The bottom menu of this program is designed very similar to the Instagram application, and the filters that are provided in it are very similar to the filters that are provided in Instagram. Using the Gifture Gif maker program, you can select a video from the gallery and convert it to a GIF animated image (GIF) and optimize settings such as playback speed and frame rate according to your taste and needs. Unfortunately, the free GIF (GIF) app does not include the Android version and is only available for the iOS operating system.
Loopcam GIF maker program
The user interface of the Loopcam gif maker program is very user-friendly and simple, and any user can easily use it. Using this program, you can create the final GIF file of your choice as soon as possible. Free GIF Builder program Lupcom categorizes all your GIF files into one library and allows you to quickly share animated images created on various social networks. Loopcam gif maker is available for free, but unfortunately only includes the iOS version and has not yet been released for the Android operating system.
MyFaceWhen GIF maker program
If you are looking for a quality and powerful free GIF program that can convert high quality videos to GIF animation, MyFaceWhen GIF is one of the best choices in front of you. Using this program, you can record high-resolution videos directly from within the program and then convert it to a GIF file. This program also allows you to select a video from the gallery section and convert it to a GIF file. Using the MyFaceWhen gif maker program is simple and the application interface is not very complicated. Unfortunately, the free MyFaceWhen gif app is not available for the Android operating system and only includes an iOS version.
Giffer program
Giffer is different in terms of user interface than other applications we mentioned, but it is easy to use and at the same time offers a variety of features and capabilities to the user. Some aspects of the design of this app are similar to Instagram, and you will no doubt be reminded of it. The Giffer app is available for free, but unfortunately does not include the Android version and is only available for Apple iOS. If you are looking for a quality and powerful free GIF app for your iPhone or iPad, be sure to try the Giffer app.
Gifantor program
You must have noticed that most of the mentioned programs do not include the Android version! Now you name a program that works to create a very powerful and high quality GIF file and is designed for the Android operating system. This free program for making gifs is called Gifantor. With the free Gifantor app, you can easily create animated GIFs (GIFs), edit them, and then share them directly on various social networks. If you are a user of Android devices and you are looking for a free quality gif making app (GIF), try the Gifantor gif maker app right now.
GIF Camera app
Using the Gif Camera Gif maker program, you can tap the screen to save the various frames you want for the final GIF file. Then you can take action to preview the created gif file by touching the "Play" button. Gif Camera also allows you to apply settings such as playback speed and frame rate. Unfortunately, the free Gif Camera app is only available for iOS and does not include the Android version.
Vine GIF Maker
Vine is also one of the most popular programs available for creating animated GIF images. This program has a unique feature that has doubled its popularity. This feature is related to its ability to record audio! The videos produced by Vine Gif Maker are very similar to GIF animated images and also contain audio, which adds to the appeal of Vine Gif Maker. You should note that using the Vine program, you can create 6-second animated videos, and the final video is played in a rotating or so-called loop. If you share videos made in the Vine Gif maker on social networks such as Twitter, the recorded audio and video will be turned off by default and will be playable with one click.
Conclusion
As you can see, in this article we have introduced 9 free GIF programs. Each of the mentioned applications can easily solve your need to prepare and create animated gif images.
Conclusion
Knowing how to make a gif helps you to add extra fun to your context or social media accounts. So, with an easy to use an app like GIPHY, you can create your gif and make it public to use for all. It is well worth it. You can share your thoughts or issue here under the comment section. We are ready to help you!
Was this post helpful?
Let us know if you liked the post. That's the only way we can improve.