Back in 2004 that Facebook created by Mark Zuckerberg, was a very simple website compare to its 2020 version. Facebook is the very first social network of its kind, and the biggest social platform till now. However, it might be confusing or complicated for those who have just started using it or using Facebook not very often.
The following and friends list is one of those parts that might me confusing for users. You might ask yourself what is the different between following and friends list on Facebook. Here are the answers.
If you have problem on Facebook you can read more about it on InoSocial website by clicking on the Facebook tag.
What is the difference between following and friends list on Facebook?
Friend list are those personal account that you or their had sent request and one is accepted. However, once you follow a page, or follow an account that has more than 5000 friends it will go to the following lists. There might be also some personal account that share the public posts if you are not friends you can still see the posts on your feed if you following the person.
How to see the following list on Facebook desktop?
You should see who you are following on desktop. To see who you are following on Facebook, all you need is to go to the friend list section. Here is the instruction in detail:
Open Facebook website on a browser
Login to your account
tap Friends on the left menu
Find Following section and click
If you want to remove them from the following section, you can click the following button and select unfollow from the list.
Please note that other users are able to see who you are following on Facebook.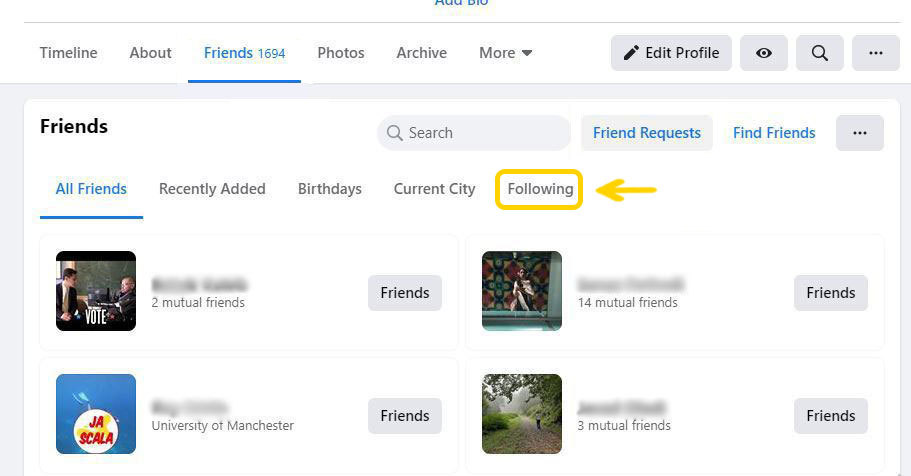 Also Read: "How to Tag Someone on Facebook"
Overall
Facebook is one of the most amazing and meanwhile risky platforms. Others can easily see all information about you. So, you should be very careful about the Facebook setting and prevent risky activities on your account.
Don't forget to visit the InoSocial channels. If you could not fix your issue, you can insert in the comment, our experts will contact you ASAP.
Was this post helpful?
Let us know if you liked the post. That's the only way we can improve.