Social media is oversaturated with low-quality and time-sparing media, so the freelancers and page admins may decide to change the game with something special. Since smartphones are the most prevalent electronic device among Homo sapiens, many companies and developers have tried to do their best to create iOS or Android video-editing platforms.
As iPhone users you might be asking Is there any solution to opening our customized video studio in a tiny place like our iPhones? This post will help you answer these questions;
How to shorten a video on iPhone?
How to cut a video on iPhone for Instagram?
How to trim a video on iPhone?
The best apps to edit video on iPhone
Can we shorten a video on iPhone?
Sometimes we have some videos which are great for social media but too long for viewers. In this case, we are persuaded to make some changes, especially trimming our media files. The iPhone series is capable of cutting or modifying your videos which you expect from advanced software, such as Corel VideoStudio or Edius Pro 8.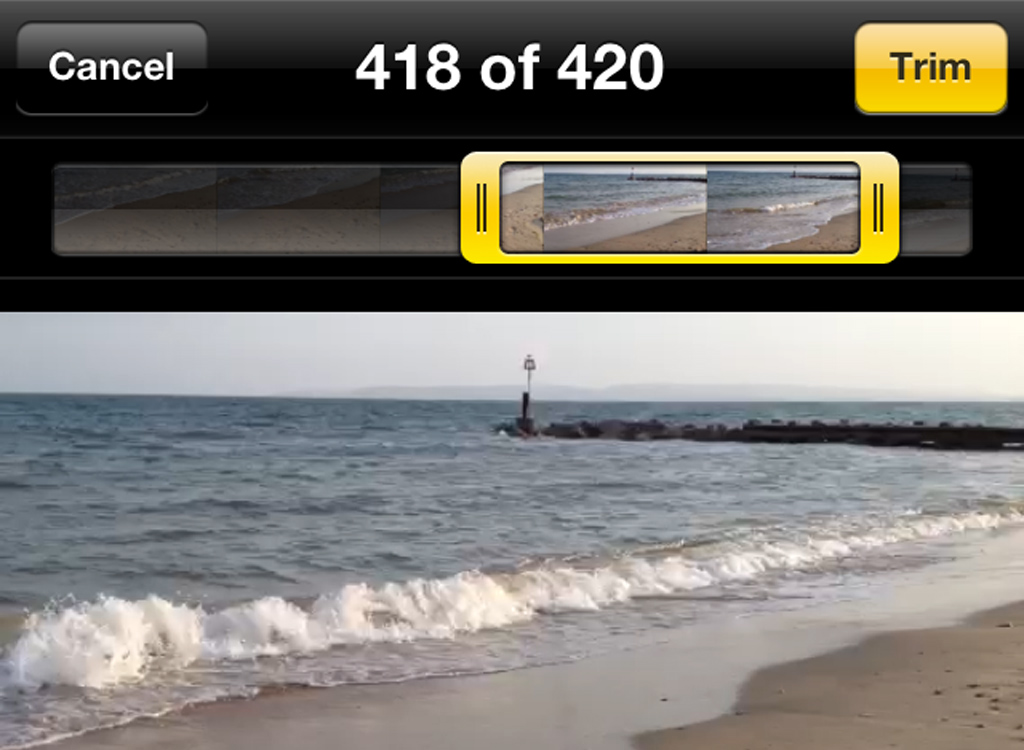 How to shorten a video on iPhone?
Editing videos is a broad subject among filmmakers, and it can be narrowed down based on your goal and the level of your expertise. Apple has understood the need for a simple and practical place to trim videos safely, so there are some built-in apps and downloadable platforms which can make you happy.
How to shorten a video on iPhone personally? Two methods are available for users interested in video customization;
Start to edit video on iPhone with the Photos app
Use an installed editor app from online markets
We will show you the way to get an expert in the field of editing and how to trim a video on iPhone using both methods.
How to shorten a video on iPhone in the Photos app?
Let's start a journey with a tool installed on our iPhones by default. When we come to the Photos app, it is more than just viewing your images and clips or, at last, sharing them with your friends; this is an environment where you can start customizing your selected videos on it too.
How to edit a video on iPhone with the help of the Photos app? You can start learning with this guide;
First, navigate the main screen and click on the Photos app on your iPhone.
Choose the video which you think is the most suitable for editing.
Now, click on the "Edit" button on the top right corner of the screen.
Tap on the right or left side of your phone and hold it to activate the trimming tool. Next, drag the anchor in the left or right direction.
For making access to more fine editing, hold the anchor, and the timeline will be expanded. You can now click on the "Done" button at the bottom of the page and choose the "Save as New Clip" option or "Trim Original" to replace the existing video.
That is it. Your video is ready to become a star in the social media sky!!!
Using the photos app, you can use this method on the version 7/8/X/XS or any other model to edit video on iPhone.
How to shorten a video on iPhone using apps?
The second method (which is more advanced) is to download a third-party app from App Store and work hard to learn any of its components. This is a more time-consuming way of video editing (especially if you have no experience in cooperating with such applications). Still, I assure you the product you will get from it will make your decision profitable.
How to shorten a video on iPhone or anything else if we tend to use apps? We will start our tutorial with iMovie;
In the beginning, open the iMovie app on your iPhone.
Click on the plus icon on the main screen.
Choose the Movie option.
Import the video you want to include in your project. You are free to scroll through all your iMovie clips or the media you created with your Photos app.
iMovie consists of many templates based on famous events around the world, so taking them will be helpful if you plan to have a video for this purpose. Some of these templates are;
Adrenaline
Fairy Tale
Family
Bollywood
Coming of Age
Retro
Romance
Scary
Superhero
For more precise editing, iMovie fetching features are the best part of this application. You can use the options like;
Splitting clips
Adding text
Trimming clips
Adding filters
Adding voiceovers
Changing Themes
And even more.
What are the best apps to shorten a video on iPhone?
Not all users are amused by using the iPhone's internal basic tools, and they are hungry for more imitable features ready for trimming their files. How can we edit video on iPhone using a different method? Here, we have a list of the top ten apps for video editing on your iPhone and give an idea of how to shorten a video on iPhone without taking no longer time to be done;
LumaFusion
When we come to ideas like how to trim a video on iPhone, no app can do it better than LumaFusion. With its ultimate tools package, a user with any profession can enjoy LumaFusion, from professional YouTubers to mobile journalists and official video producers. Although it is not free to use, there are no pop-ups or banner advertisements to annoy you in this place. How to edit a video on iPhone with this app? Download the LumaFusion package from App Store by paying only $29.99, and start roaming in the world of video editors!!!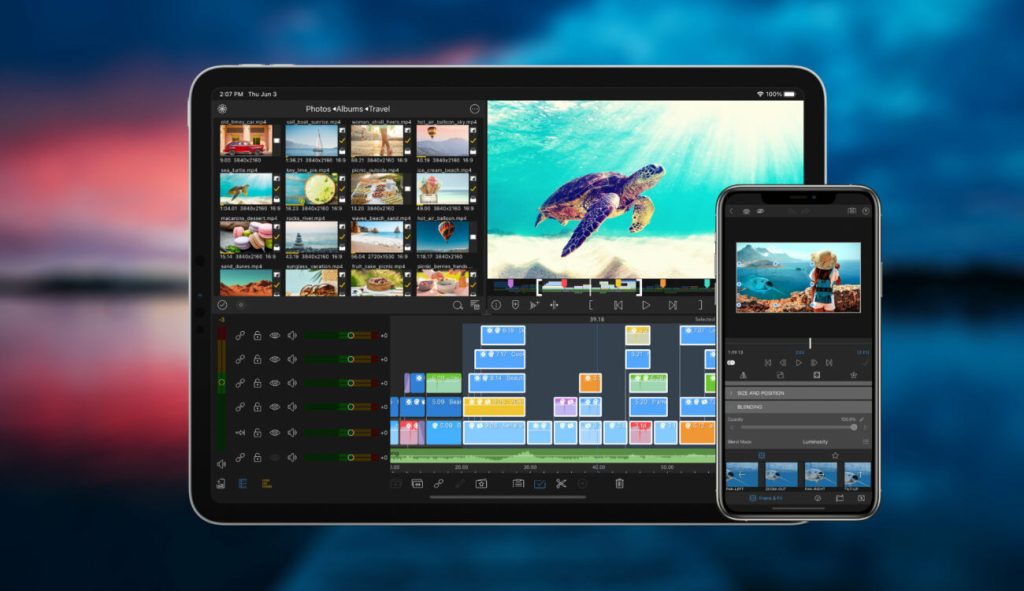 Adobe Premiere Rush
How can I edit video on iPhone with no excuse or flawlessly? Adobe Premiere Rush is designed for interested guys willing to be a master in video editing. With the app, you can utilize a variety of editing tools, in addition to a music library, Gifs, and animations to customize your media files. As one of the most flexible editing tools, Adobe Premiere Rush is cross-platform, which means you can enjoy this app on Mac OS, Windows, iOS, and Android apart from iOS. Just download it freely from App Store. If you are confused about how to trim a video on iPhone, Adobe is a good flagman for this issue.
Filmmaker Pro
I know filmmakers own more professional platforms in their workplace, but you still can resemble a professional with the Filmmaker Pro program. This feature-rich app gives you enough space to add effects, music, filters, and even those unbelievable contexts. If you prefer to fine-tune your tools for desired precision, just make sure Filmmaker Pro is your first choice. You can freely get this attractive option from App Store.
iMovie
As it is understandable from the name, iMovie is responsible for editing your video files and making them brighter and more appealing than it was. This is a highly intuitive environment where you are free to trim your media, add filters, or change the theme based on your preference. How to shorten a video on iPhone with the help of iMovie? Just download this free application for iOS users, and you can now change many parameters of your clips, including duration, resolution, and details.
Magisto
Are you tired of complex video editing apps with dozens of buttons on the screen? Magisto is a beautiful option for the unskilled audience. With this app, you can import your photos and videos, add filters and themes to them, and make them more charming with background music. You can even add a title to the video at this point. All basic tools in Magisto are free for you, but you can upgrade your app to premium by accepting the payment.
InShot Video Editor
If you are looking for an easy hand and practical fellow to edit video on iPhone, InShot Video Editor is a nice option on the markets. As a great tool to edit photos and videos and create video collages, you have all the basic equipment for editing, cutting, and trimming your videos. You can also add your own music file or select from its own free music options. Don't bring your wallet because InShot Video Editor is totally free on App Store.
As a lovely application to cut your videos, you can have the power to edit videos and clips simultaneously. All you need is to enter your video and use the fine control settings to have your masterpiece appreciated. If you want a premium membership, this will cost you $19.99 annually or $1.67 per month. You can get VSCO from App Store freely, of course, with in-app purchases.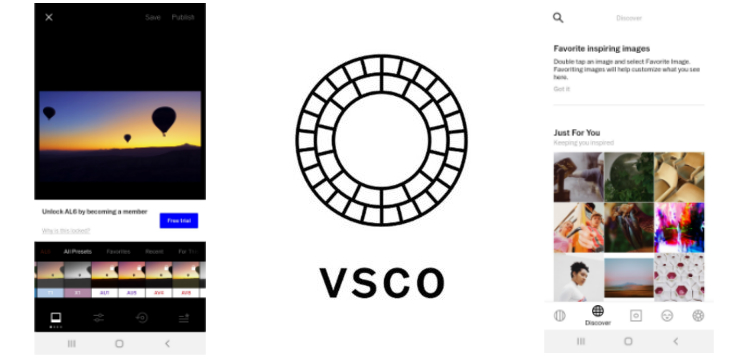 Videoshop
No shopping store is waiting for you on Videoshop, but you can make videos not accessible in any market with this app. With Videoshop, you can record clips directly from within the app, add text to the clip, add narration, and change many other parameters with one click or two. The application will also let you record voiceovers as well, which is great if you need a video editing app for answering to how to edit a video on iPhone. Make sure you have not lost this free app on App Store with in-app purchases.
VivaVideo
Most people ask how to shorten a video on iPhone, but some users even have no idea where is the best place to start their training; if you are seeking an app associated with education, VivaVideo can help you because of having a short tutorial for each feature it has. The app has a beautiful timeline, with additional tools for manipulating your video, which never fails to catch your eyes forever.
Quik
Another product from GoPro, all videos deserve to be edited by Quik. This is a great app for those guys asking how to cut a video on iPhone for Instagram since it can import photos and videos from your photo library or your Facebook or Instagram account. How to shorten a video on iPhone with Quik? This is a piece of cake, as you also have some options to change the background music for your clip, as well as implement a plethora of filters to the video. You can download Quik from App Store for free.
How to shorten a video on iPhone for Instagram?
How to shorten a video on iPhone for Instagrammers? Some items on our previous list are also specialized for making videos for Instagram pages. However, if you are still not satisfied, two options are on the table for hungry users;
Using the Instagram built-in trimming tool
The majority portion of people, somehow a newbie in the Instagram world, use the built-in trimming tool for their posts and stories. Although it is far simpler than the considered apps above, it can be a quick solution to edit video on iPhone. How to trim a video on iPhone with Instagram's own environment? Follow these steps;
Open your Instagram, and click on the plus (+) icon at the bottom of the app screen.
Choose the video you want to post and click the "Next" button.
You can now choose the "Trim" tab at the bottom to start trimming your video.
Hold and drag the slider's handles on the left or right to choose the section you want to edit.
After finishing, you can directly share your media on the server.
Using the online platforms for video editing
Some online editor websites (which are more precise than Instagram's internal editing tool) can help you with creating bright videos for your profile. How to trim a video on iPhone online? We continue the guide with Animaker as an example;
Visit Animaker.com, navigate the Trim tool, and click on the "Upload Video" option.
Import your video from memory.
Next, click on the Trim icon to start trimming.
Once you have cut a part of the video you want to use, just save the changes by clicking on the green button with a tick mark.
Finally, click the "Download" button in the top right corner to start processing the video.
How to edit a video on iPhone?
All the explained methods in this post are appropriate for video editing, and they have enough power to make your old video as it has already loaded from your camera's memory. Note that more advanced editor apps are not free for the public or have in-app purchases for more custom tools, so you may need to disburse a little for your dreams.
Learning how to edit a video on iPhone with recommended apps is so easy to understand; you only need a few hours to consider your video editing tool as you have already coded for a company to edit video on iPhone.
Summary
Thank you for reading. As we have covered almost all available answers to the questions like "how to shorten a video on iPhone?" or "how to edit a video on iPhone" here, it can be grateful if you scan the text once more to choose your final tool(s). Is there any interesting way to edit video on iPhone? You can download one of the editing apps above and start reigning in your video kingdom!!!
Was this post helpful?
Let us know if you liked the post. That's the only way we can improve.