From now on, your main Instagram feeds would have a new option, "Suggested Posts". Instagram has now officially added a new listing of suggested posts at the end of your main feed, for whenever you scroll through all of the latest updates from the people and profiles that you're following.
"Suggested Posts" are from the accounts that you do not follow, and the option would appear at the end of your main feed after you've finished all of the new posts from the accounts you have followed and have literally reached the "You are all caught up" notice. Up until now, the feed has been entirely determined by users' preferences and the people they follow.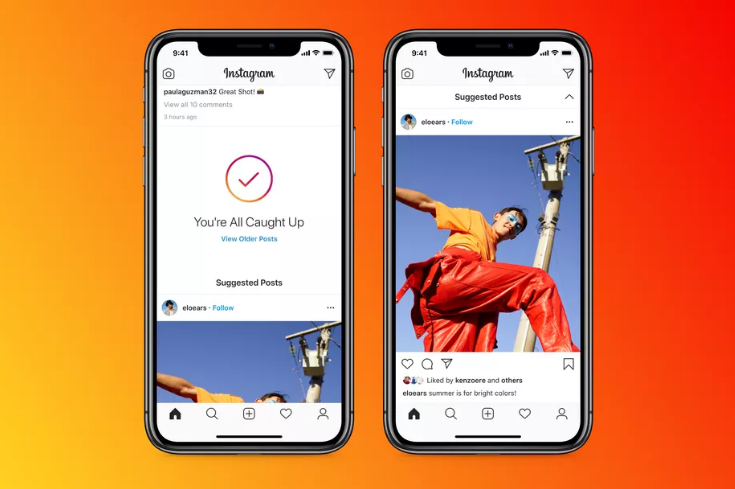 As explained in more details by Instagram:
"Our goal is to make it clear when you're all caught up so you can decide how you want to best use your time. We see people continuing to seek out more posts they're interested in after catching up with their feeds, so we wanted to learn from that and make it easier to go a little deeper for those who choose to do so."
According to The Verge, the suggested posts won't be the same ones that show up in Explore. They'll be related to the content that people already follow, whereas Explore aims to point people toward adjacent content, says Julian Gutman, head of product at Instagram Home. He used space content, which he follows and engages with on his feed regularly, as an example. A suggested post might be a new space photo from someone he doesn't follow, whereas his Explore page might contain posts related to physics more broadly.
I personally think this is a very great option for the people who do not have lots of followings, and their new posts on the feed would soon come to an end. After the rollout of this feature, they'll get to see so many other new and relevant posts and keep enjoying their Instagram.
Was this post helpful?
Let us know if you liked the post. That's the only way we can improve.