A basket of securities that can be traded on the stock market is known as an Exchange Traded Fund (ETF). As a collection of securities dispersed across firms like a mutual fund, it combines the traits of regular shares and mutual funds and can be traded as a package on the stock market much like shares.
Since most ETFs are passively managed, fund managers don't frequently buy and sell the securities contained inside them in an effort to grow their value and deliver a profit. Instead, they discover potentially valuable assets and make long-term investments in them, which is why it works well with new technologies like the Metaverse.
You can also read: Forecasting moving average application and process
The best-performing Metaverse and related equities that are offered on the market are the focus of Metaverse ETFs, which are themed products. They aim to profit from early and high-value investments in the developing Metaverse sector and have low to moderate levels of diversification.
For asset managers with a moderate to high appetite for risk, the recent meteoric growth in interest in the Metaverse makes them an appealing investment possibility. For people who are interested in Metaverse ETFs, a variety of options have been available during the past year.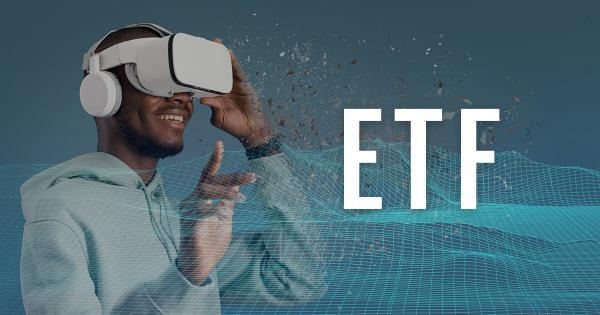 Is there a Metaverse ETF?
A growing number of investment firms are placing bets on the Metaverse story. Some of the Metaverse ETFs that have previously been introduced are listed below:
Fount Metaverse ETF (MTVR)
ETF presently follows the Fount Metaverse Index, which includes about 50 businesses with a metaverse focus.
Evolve Metaverse ETF (MESH)
The first actively managed Metaverse ETF in Canada is listed on the Toronto Stock Exchange and has a $13.155 million AUM (TSX).
Horizons Global Metaverse Index ETF (MTAV)
The performance of the Solactive Global Metaverse Index, less expenses, is what the ETF currently seeks to imitate. It is traded on the Toronto Stock Exchange (TSX).
Subversive Metaverse ETF (PUNK)
It is an active investment fund that makes investments in internationally listed securities that offer services and goods that support the Metaverse's infrastructure and applications.
The Simplify Volt Web3 ETF (WIII)
An application was submitted by Simplify Asset Management to start the Simplify Volt Web3 ETF, which would trade with the symbol WIII.
What is the best ETF for metaverse?
The Roundhill Ball Metaverse ETF is one of the top metaverse stock etfs ever introduced by investment advisor and ETF sponsor Roundhill Investments. The company offers clients sector- and theme-specific investing alternatives and predominantly trades on the New York Stock Exchange (NYSE).
The Metaverse, which extends beyond virtual software platforms, is actively participated in by the global listed firms that make up the ETF. Additionally, it contains securities from businesses that make VR hardware, create content, operate online payment processors, and power the Metaverse's computers. METV is the ticker used to trade the ETF.
The Subversive Metaverse ETF, powered by Subversive Capital, a company founded to invest in "radical firms" with strong future prospects, is another significant metaverse ETF that was just created.
It is an investing company that also specializes in acquisitions and IPOs (IPOs). The Subversive Metaverse ETF, which will trade under the ticker PUNK, was released by Subversive in January 2022. At any given time, it will have shares in industries like information technology, communication services, healthcare, financial services, and consumer discretionary products, ranging in number from 55 to 65.
Is metaverse a good investment?
The answer is Yes, investing in the future with Metaverse ETFs is a terrific idea. In 2028, the industry's worth is projected to rise by more than $500 billion. An easy approach to begin investing in the Metaverse is through the ETFs. Despite the industry's youth and anticipated volatility, an upward tendency should be seen generally.
A Meta ETF can be bought or sold at a market price that may be greater or lower than its NAV. Before making an investment decision, get professional guidance from Mirae Asset Global Investments and research the Meta ETF's performance in the past. When you sell your Metaverse ETF, you can make money or lose money depending on the investment return and principal value.
Large-cap tech corporations are prevalent in the Metaverse, and their shares have the best stock market stability. Huge media corporations like Meta Platforms (Facebook) and big e-commerce giants like Amazon are among these businesses.
Investing in ETFs is a terrific method to gain access to various IT industry areas that you might not otherwise have. To stay current with the markets, it is necessary to read the news and market analysis. You'll be able to decide when to enter or exit the market if you do it this way.
The Proshares Metaverse ETF, which focuses on the majority of the virtual environment, is one of many ETFs that you can invest in in the Metaverse.
What is metaverse Fund?
Financial products called Metaverse ETFs are meant to give investors' exposure to the Metaverse. They are investment funds that put money into securities with global listings that offer services and goods to support the Metaverse's applications and infrastructure.
METAVERSE PRO is an ecosystem built on DeFi 3.0 and Web 3.0 architectures to provide a comprehensive experience for developing decentralized applications (dApps) for metaverse Funds.
In conclusion
Many investors are interested in the Metaverse. One of the finest methods to join the online investment trend is with metaverse ETFs. However, it's crucial to keep in mind that the Metaverse is a developing technology, so there's no assurance that the advances will be adopted. However, it is anticipated that the returns would be profitable over time, so patience is a must.
Was this post helpful?
Let us know if you liked the post. That's the only way we can improve.