What is Multi-cloud Management?
Multi-cloud management is a helpful way which allows cloud drive users to manage accounts and cloud files across multiple cloud storage services. Today, most cloud users like you commonly own more than one cloud service account. This fashion way allows you to enjoy the advantages of each cloud drive service while receiving larger cloud storage and low cost.
However, the more clouds a user owns, the more complex the task of managing these clouds may become. Multi-cloud management works as a simplification of your cloud life by offering a centralized platform which integrates most of your cloud drive accounts together with distinctive functions for you to manage clouds with minimum time and effort.
Do you want to get more information about Cloud-based PACS system? sepStream provides EMR/RIS/PACS software using proven technology and customer feedback. The company provides seamless implementation into the workflow.
What is MultCloud?
As a leading free cloud file manager, MultCloud is famous for its simple but multi-functional interface which is able to let you gather together, switch across and manage all your cloud drives through it. Without the limitation of numbers that you could add to MultCloud, it already supports more than 30 major cloud drive services such as Google Drive, OneDrive, Dropbox, MEGA, Flickr, FTP, etc.

The most important feature of MultCloud is the easy way to transfer, sync and backup files and folders from one of your clouds to another by its background program which will not affect your Internet speed and the process of other work.
What's more, as soon as adding your cloud accounts to MultCloud, you can accomplish most file storing, sharing and managing tasks in each account through MultCloud just like the way through their own websites.
Unique Features that You Can Get
Cloud to Cloud Transfer
This is the best tool to move files from one cloud to another. Once you allow MultCloud to access your cloud accounts, you can transfer files like documents, photos, videos and others from one of your cloud accounts to another by simply selecting the source and destination of the transfer task.
For example, if you want to move files from Dropbox to Google Drive, just select files, folders or the whole Dropbox cloud in the left square and select Google Drive to store the transferred files through the right window. Then you can shut down the browser window or your device even the transfer task isn't completed yet.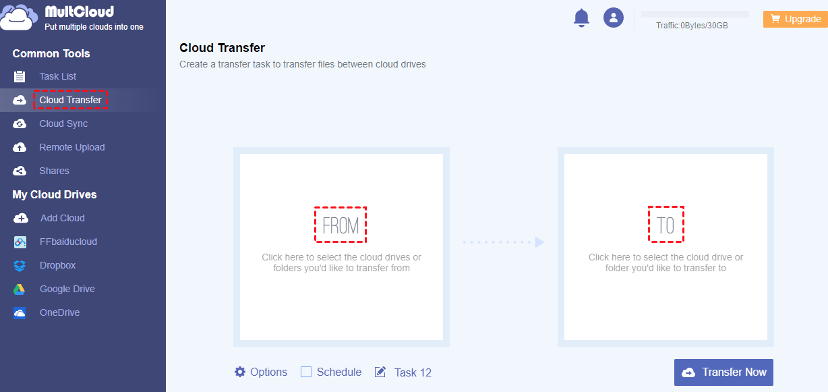 Cloud and Cloud Sync
Now you can forget about the complex steps to sync you cloud drives by manually downloading and uploading. MultCloud offers a much simpler way to help you sync between cloud drives. All you have to do is to select the two clouds which you are going to sync with through the "Cloud Sync" interface. Then you are able to choose one of the 9 great sync modes to accomplish the sync task through including Simple Sync, Mirror Sync, Move Sync, Cumulative Sync, Update Sync, Incremental Sync, Full Backup Sync and Real Time Sync.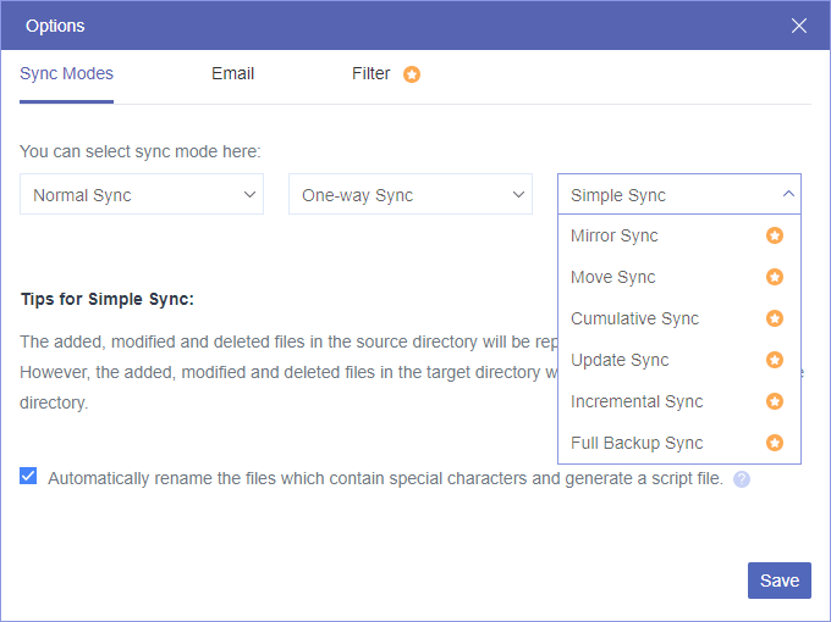 Remote Upload to Cloud
Want to upload a movie or other files to a cloud drive but actually you haven't downloaded the file from the Internet to your device yet? Don't worry, MultCloud provides you with an easy way to straightly upload online files to your cloud drive as long as you can paste the link, URL, torrent or magnet to MultCloud and choose a cloud to store the uploaded file.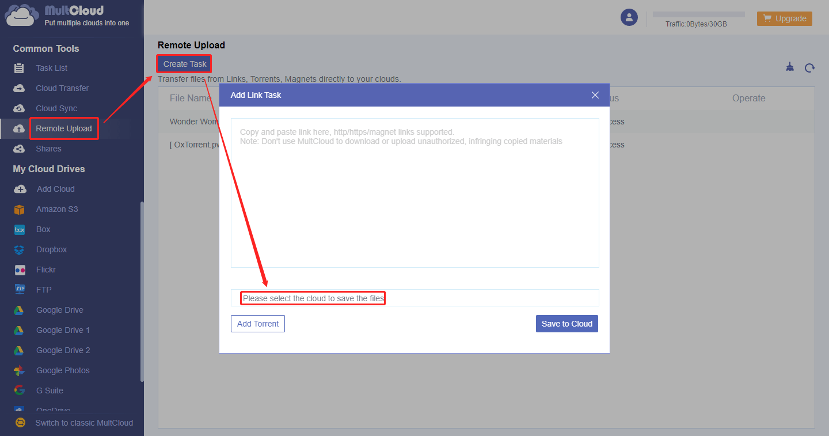 3 Sharing Ways
Apart from storing files, the function to share them to your recipients may be another fundamental requirement during using cloud storage service. MultCloud also allows you to directly share cloud files to others through 3 different sharing options:
"Public Share" allows anyone who gets the sharing link can view the shared files.
"Private Share" requires password when recipient wants to view the files through the sharing link. You are able to set a four-word random password when create the sharing link.
"Source Share" creates a sharing link from the original cloud drive. If recipients own the relative cloud accounts, then they can obtain access functions through the sharing link as many as the source cloud service provides.

Plans for Subscription
For Free Users
Transfer data through MultCloud with 30 GB free traffic per month.
Sync between clouds with 3 of those 9 sync modes like Simple Sync, Two-way Sync and Real Time Sync.
Create "Remote Upload" task with only one link to perform at a time.
Transfer and sync data automatically and periodically with daily, weekly or monthly scheduled task.
Transfer data basically through 2 threads
For Upgraded Users
Transfer data from 150 GB per month to unlimited traffic according to the level of subscription plan.
Sync clouds with full 9 choices of sync modes.
Add at most 5 URLs to perform Remote Upload tasks at the same time.
Transfer data through 10 threads to largely increase the transfer speed.
Perform 2 Real Time Sync tasks at the same time.
Transfer or sync through clouds with file "Filter" which can ignore or only transfer and sync files with certain extensions.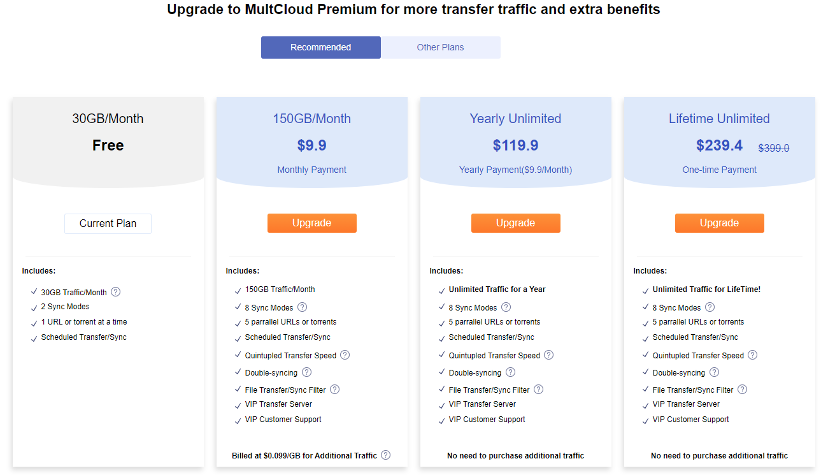 Is MultCloud Secure?
You can use MultCloud while concerning nothing about the security of all your cloud accounts since MultCloud use OAuth authorization system to access you cloud account without recording the corresponding username and password. Besides, this system is a standard authorization framework which is supported by leading cloud drive services such as Google Drive, SkyDrive, and Dropbox, etc.
Despite the fact that MultCloud helps you to transfer data through all your clouds, it won't store any of those transferred data since it only works as a channel between your clouds. It also uses 256-bit AES Encryption to protect the data from being tampered, intercepted and cracked during transfer.
Was this post helpful?
Let us know if you liked the post. That's the only way we can improve.