Pinterest has announced two new and very interesting options and improvements in the platform. First us the improvement for its skin tone search feature with which users can filter by skin tone to get more relevant results, and second is the addition of more brands and options for the AR Try-On Program.
Keep reading to find out more about these two new feature improvements, how they work, and how to make use of them.
Skin Tone search feature
Pinterest is expanding the availability of its skin tone matching options. The feature is designed to make it easier for users to find content relevant to them, says Pinterest. It's a common problem in the search world that certain queries default to show white faces. By giving users the option to refine their searches based on skin tones, Pinterest says it helps users find the content they want to see.
This feature would be a very useful feature for getting the exact result a user wants. Imagine you can get image search results exactly for what you aim to see. The company offers searches like "grey hair on dark skin women," "blonde hair color ideas for fair skin blue eyes," and "soft natural makeup for Black women "as examples of the sort of fine-grained results the feature can deliver.
As explained by Pinterest:
"Skin tone ranges (our inclusive beauty results search feature) is now available beyond the US- in the UK, Canada, Ireland, Australia, and New Zealand – and the design has been refreshed to surface options right from search results."
The skin tone search option was rolled out in January last year, and it has made search results more personalized for each user, and now people in more regions will be able to access the same.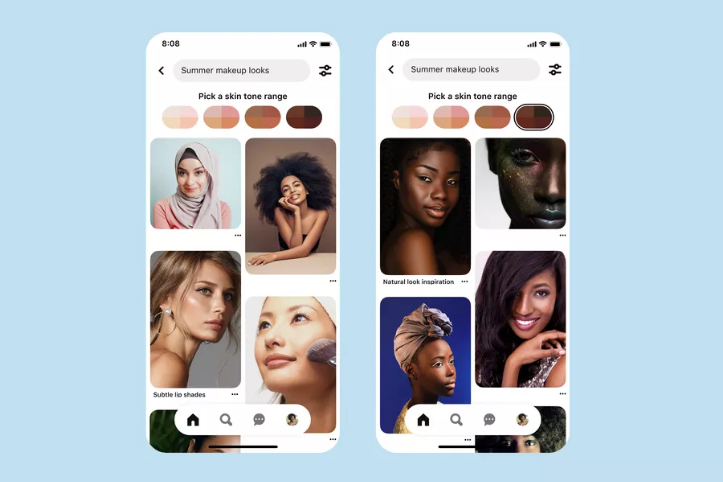 The Try-On feature
Pinterest is also expanding its AR Try-On program, with more brands signing on to take part in the new initiative. This feature, which is a very useful option, by the way, lets users search for lipstick shades and try them on in AR. This feature is currently only available in the US but is launching in the UK "in the coming months."
This feature is mainly rolled out to make it easier for people to shop and be a little surer of their choice when deciding which product suits them.
The easier it is to try on, the more people are likely to buy, as Pinners come to Pinterest early in their shopping journey. Since augmented reality technology launched in January, Pinners try on an average of six lipstick shades and are 5x more likely to show purchase intent on Try on-enabled Pins than standard Pins.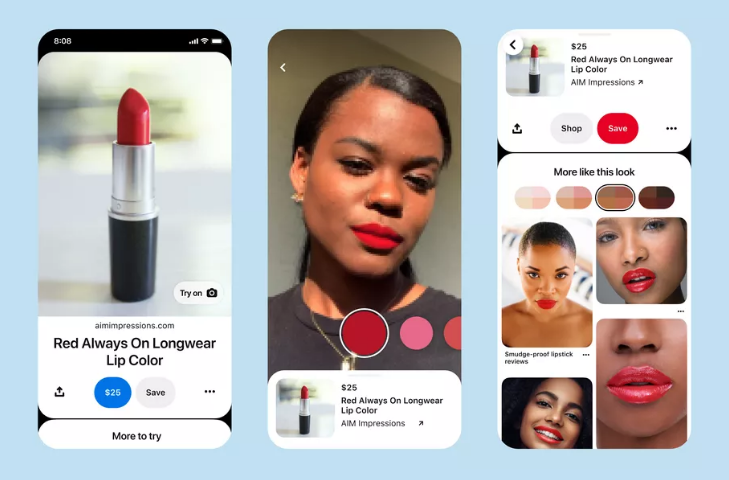 Was this post helpful?
Let us know if you liked the post. That's the only way we can improve.