Facebook and Instagram, which is from Facebook, are now two of the most important social networks that billions of people using daily. Keeping the consistency on Facebook and Instagram is a must, and manual posting is time-consuming when you are going to publish multiple accounts in a day. So, having Facebook and Instagram scheduler can save tons of time and energy and increase performance. In this blog, I have introduced and explained the free tools to schedule different types of content on these social networks.
What social media scheduler do?
Social media scheduler is a must for everyone using social networks like YouTube, Twitter, Instagram, and Facebook. However, using different tools might be time-consuming and confusing. Here in this blog, I introduce the best tools you can use not to waste your time posting on social media. In the end, I would recommend some tools to schedule all social media in one place.
So, no need to use different tools. All you will have is a single dashboard with all your social accounts. This tool not only post on social media, but also you can use its other options like social reports and monitoring services.
Social media scheduling tools are software that we can use to post in advance in a specific time and date. Social media schedulers like a Facebook scheduler, and Instagram scheduler allow users to publish even when they are not online. Using an Instagram scheduler, you can send multiple posts to multiple accounts at once.
Facebook schedulers only work for Facebook pages and don't work for a personal account. Also, to use an Instagram scheduler, you must run a business or creator account. Switching Instagram personal account to business or creator is easy and free. Facebook also allows everyone to create a Facebook page, and it's free.
There are also some good Pinterest schedulers out there as well as Facebook and Instagram schedulers.
How to Schedule Instagram posts?
Getting automatically published on Instagram is easy, and you can do it on the creator studio for free. Schedule Instagram posts using creator studio can indeed be a bit time consuming for multiple accounts, but it is user friendly and straightforward.
Instagram Creator Studio
Using the creator studio is simple, and all you need is log in using Instagram or Facebook accounts. I suggest logging in using your Instagram. It is more convenient.
To schedule Instagram posts using creator studio on DESKTOP:
Go to the creator studio website
Click on login with Instagram
Enter your Instagram account login info that you are going to post in
Click on create
Choose Instagram feed
Upload pictures and write the caption
Choose schedule from the menu bar
Enter the date and time
Click on schedule
Done!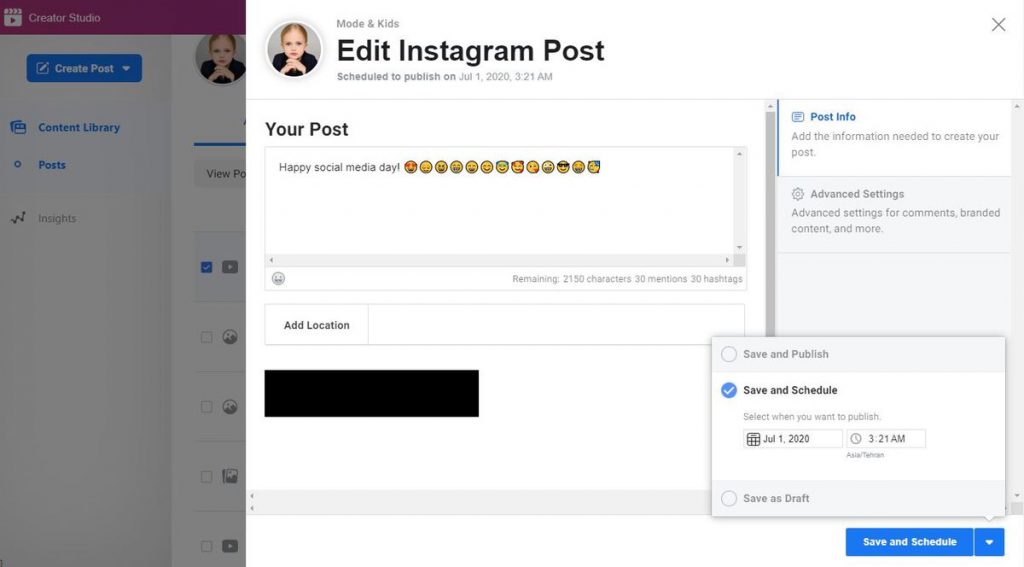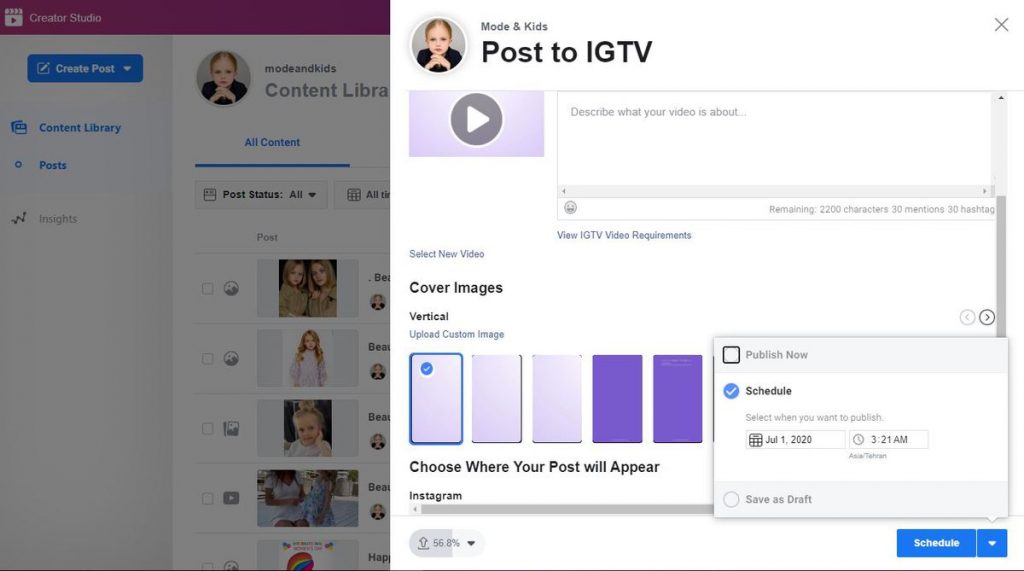 To schedule Instagram posts using creator studio on MOBILE:
You can use a browser like Safari or Chrome on any smartphone to Schedule Instagram posts. The process is the same as scheduling posts on desktop. It would help if you only went to the creator studio website on mobile phone with a browser, log in to your account and schedule posts as it is explained above.
What are the best social media scheduling tools?
Here is the list of top social media scheduling tools, with their dashboard environment.
Sprout Social scheduling application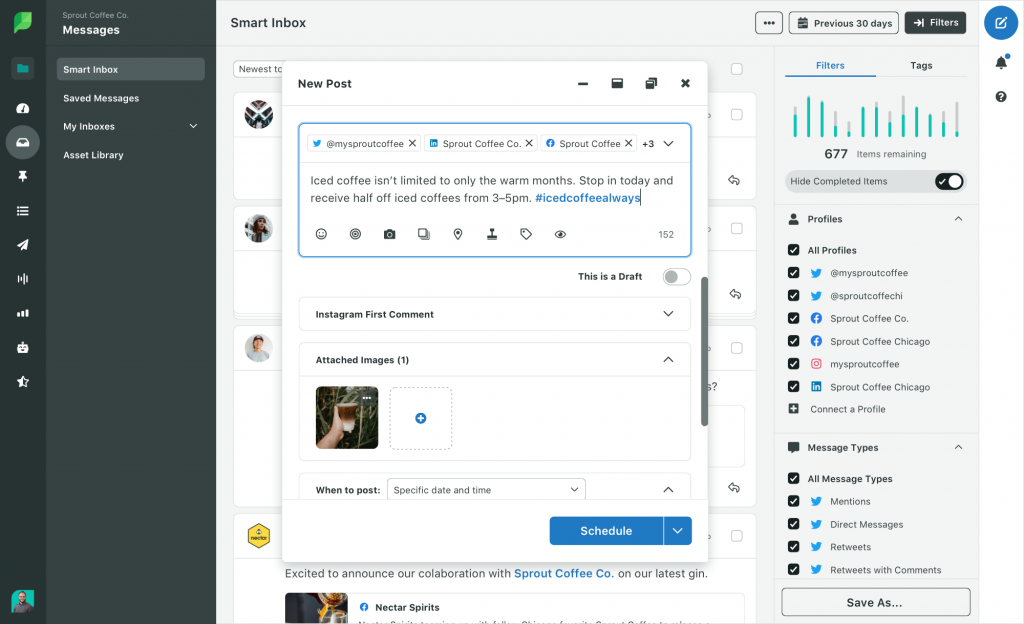 Sprout Social is one of the best scheduling apps available on various social networks. This application has many features and the users who use it, the majority are very satisfied with the performance of this application because Sprout Social is the best application for managing and scheduling content on various social networks.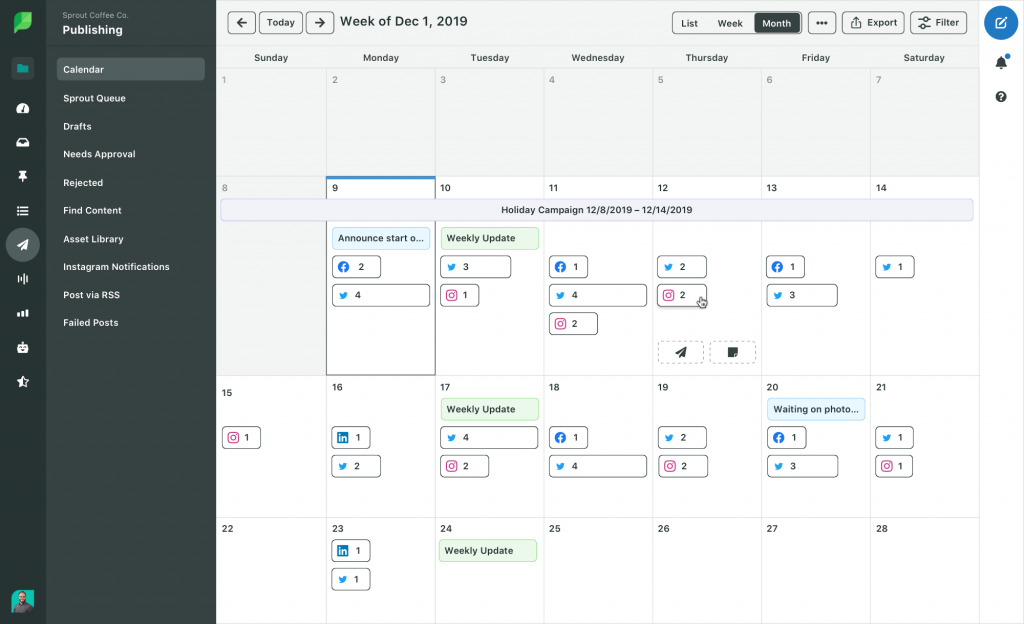 You can use the Sprout Social tool to manage and publish timed content on Facebook, Instagram, and Pinterest, as in addition to a powerful scheduling system, timeline, and library management can increase your interaction with followers. And provide you with some kind of general content submission policy.
Feedly application
You will pay close attention to the type of content you submit to manage your social networks. Feedly is one of the best social network scheduling applications with a focus on submitted content. For this purpose, if you are sensitive to the content you send to the social network you want, you can use Feedly.
Feedly can automatically set the content you want in the weekly schedule of the social network page and send it to you, you can even find and schedule new content with this application. Of course, the point is that Feedly does not take your time at all and only offers posts that you can post on your social page in the future.
Tweetdeck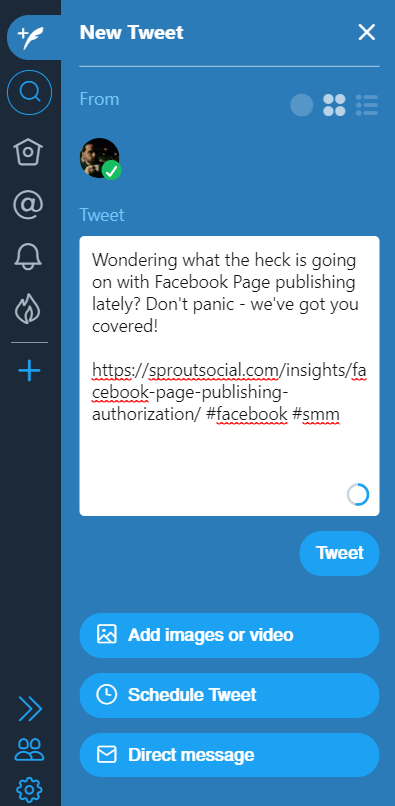 If you work specifically on Twitter and have a personal or business page and want to manage it, it is best to use Tweetdeck. This application is one of the best post scheduling programs on social networks and Twitter. The Twitter post scheduling tool works very well and you can even post to multiple accounts at the same time.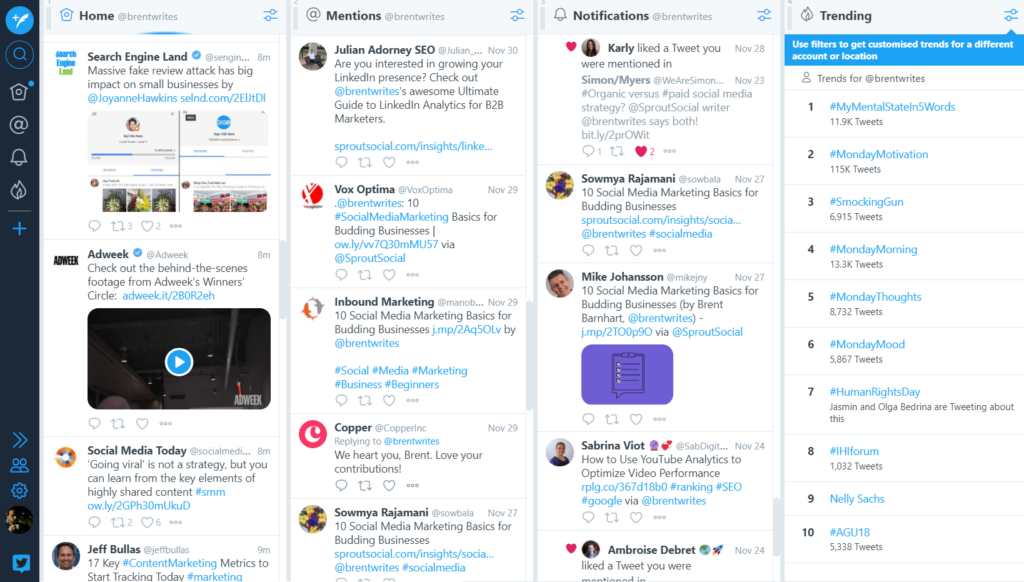 To use this tool, all you have to do is write your tweet, set it, specify its date and start scheduling, the post will automatically enter the user page at your specified scheduling.
In addition to the powerful scheduling feature of this application, you can manage your tweets live and view other users' tweets.
Post Planner social network scheduling tool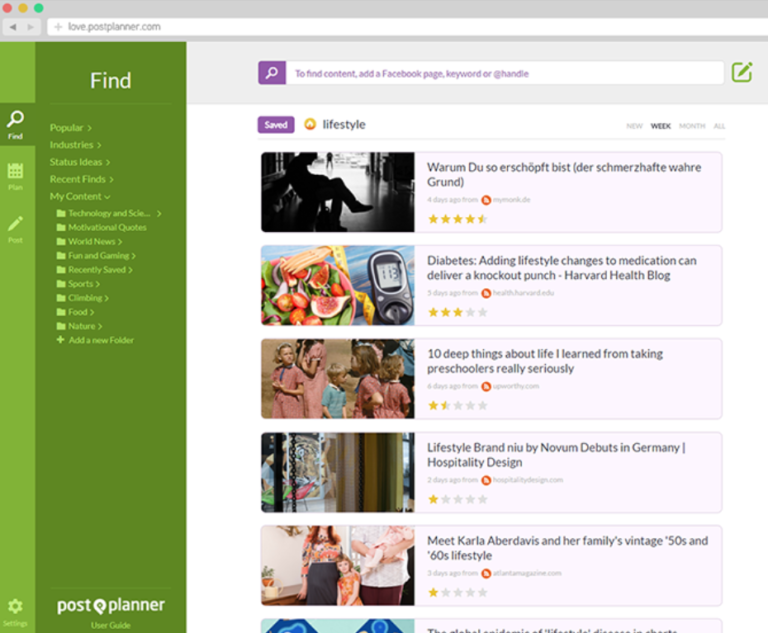 The post planner tool is one of those programs that, in addition to scheduling posts on social networks, allows you to achieve the best schedule for each post based on the followers or activities of the followers of the social network. This tool also has a content monitoring system through which you can get content suitable for your user page.
In the post planner application, you can schedule content based on the activity of your users or contacts at a specific time. It is also possible to categorize content in this application. In this program, it is also possible to resend successful posts on the social network you are considering.
CoSchedule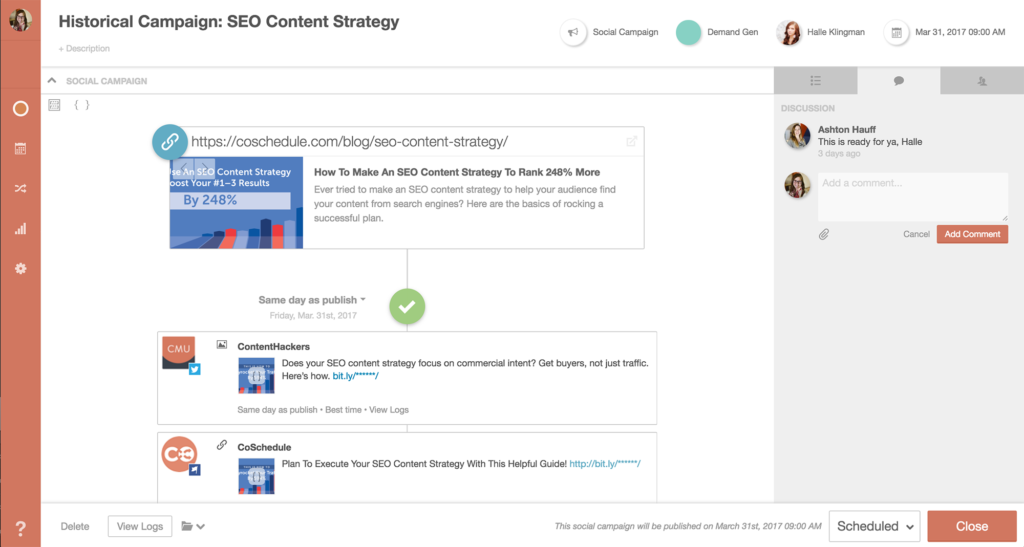 CoSchedule is a very professional post scheduling tool on social media that can serve as a professional social marketing system for you. With this tool, you can post to more than 10 social networks simultaneously.
Other features include professional and accurate reports on social networks. Report sharing, visits, comments, and more. Based on this, you can find out which of your content received the right feedback at a given time.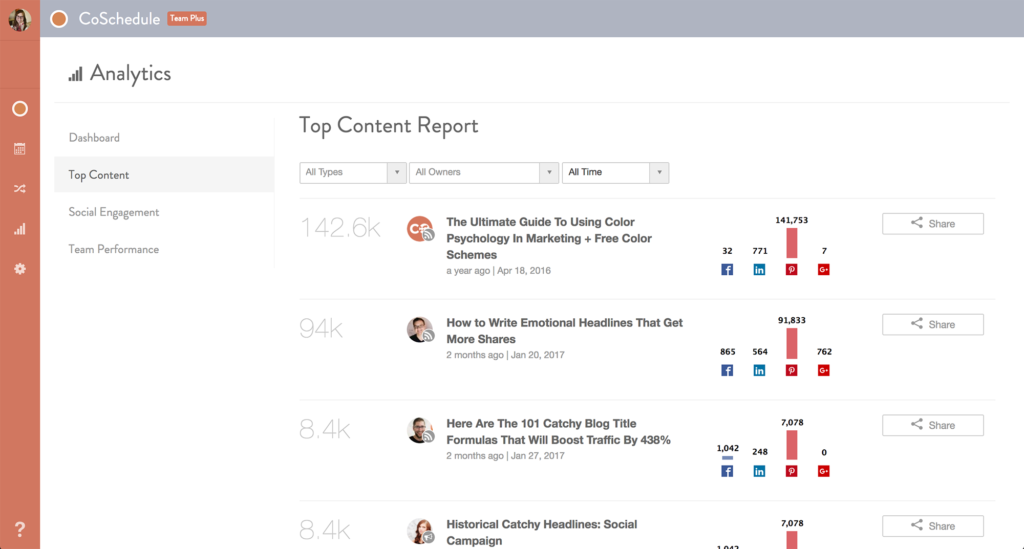 Of course, CoSchedule has unique capabilities that other applications have not worked on much, such as reloading successful posts in recent times. This is done completely automatically and without the need to select your post, through this tool, is selected and sent to you.
Airtable
Airtable is software that any social media manager can use to plan and schedule their social network. Airtable is the best option for implementing social network page policy and scheduling.
The help tool in Airtable also helps you to view and manage relevant and excellent posts on your page, even offering you relevant and publishable content throughout the day. In general, Airtable can show you a kind of scheduling and preview of the content to be sent to see how much feedback you get on your page.
Planable application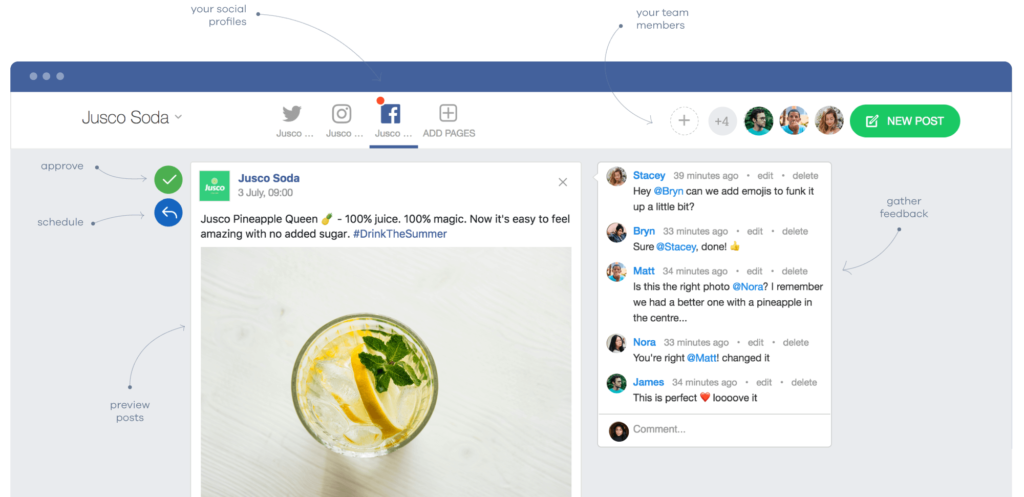 If you have an admin team or work with a group on a social network, the best option is Planable. This tool allows you to send posts to other admins in groups so that others can see them and schedule them for your page. If you have a large team, you can involve team members in sending, scheduling, and monitoring social networking posts in Planable.
In this program, different roles are defined that will allow team members to access different items on a social page.
Many social networking apps are built on the premise that your post will be sent at the best possible time to get the most feedback. Some of these applications have more capabilities for social network management. Please send us your comments on any of the above.
How to Schedule Facebook posts?
Facebook has provided an opportunity for its users to Schedule Facebook posts for their pages. But which types of posts you can Schedule on Facebook:
Sharing pictures and multiple pictures
Sharing multiple videos
Sharing across pages
To schedule Facebook posts using creator studio on desktop:
Go to the creator studio website
Click on login with Facebook
Enter your Facebook account login info that you are going to post in
Click on Create post on the top left corner
Choose Create Post
Upload pictures and write the caption
Choose schedule from menu bar (the icon is beside the Publish in blue color)
Enter the date and time
Click on Schedule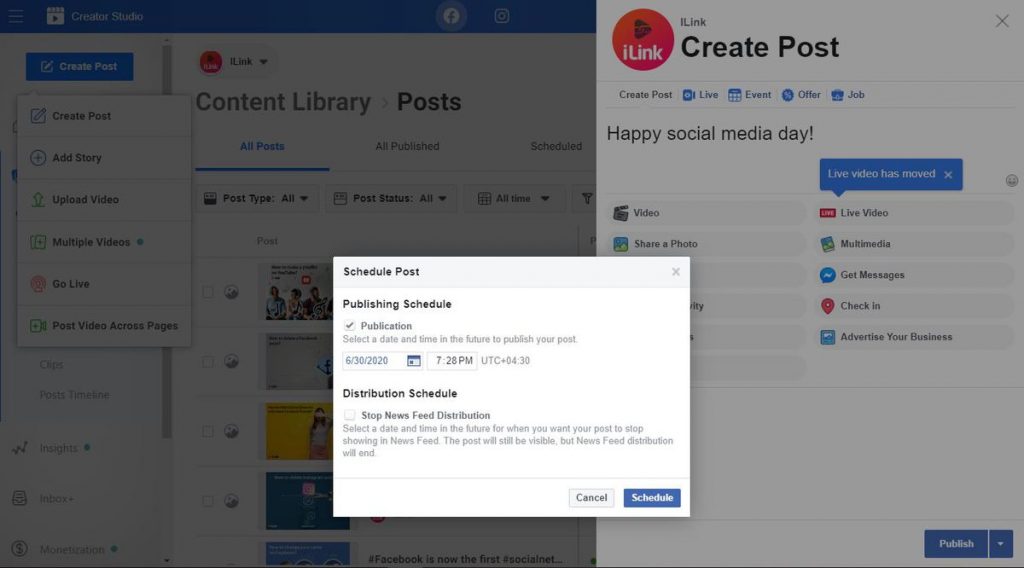 Facebook schedule posts not working
If you face this issue, you can try some methods to fix it. Sometimes, Facebook scheduler issues are Facebook bugs that need time to get fixed. Meanwhile, you can try some of the ways bellow.
First, make sure that you are not scheduling a personal account. you can only schedule on the Facebook page
Try to use Facebook creator studio on desktop (it should work for you)
Check if you have uploaded the pictures or videos in the right format and size
All in all
Having a social media scheduler will save you tons of time and energy. Now you can schedule posts on your account for free. If you want a more convenient way to schedule multiple accounts all in one place, you can get social media tools mentioned above.
Was this post helpful?
Let us know if you liked the post. That's the only way we can improve.