You must have heard the saying, "First impression is the last impression." As a business owner, this is one of the most critical mantras you must cater to.
A lot of effort goes into building and maintaining a brand's online reputation. Hence, it is vital for you to take up ownership of your brand's online response effectively. This is where review management comes in!
Since reviews can be listed on any review platform, you may find it difficult to keep track of them all at the same time. Don't worry! You can start by enabling real-time updates to keep track of all the good, bad, and fake reviews. This will improve your online presence and help mold your customers' purchase decisions.
Let's start with exploring the importance and some of the best techniques to follow to respond to online reviews.
Importance Of Monitoring And Responding To Customer Reviews And Ratings
If you want to grow your business and stand firm in front of competitors, you must take account of your online reputation. While you can't control people's opinions about your brand, you can always review their feedback and work on them actively. This will not only create a positive brand image but also engage your brand with some of the most significant well-wishers of your brand. It will also help you address the negative feedback and turn them into positive one for better growth. 
From the growth perspective, monitoring customer reviews can help improve your brand's local SEO rankings and build a sense of credibility and trust for better results. Research shows that a positive online rating can improve your revenue by as much as 39%.
Hence, take a look at some of the best techniques that will help you track your online presence.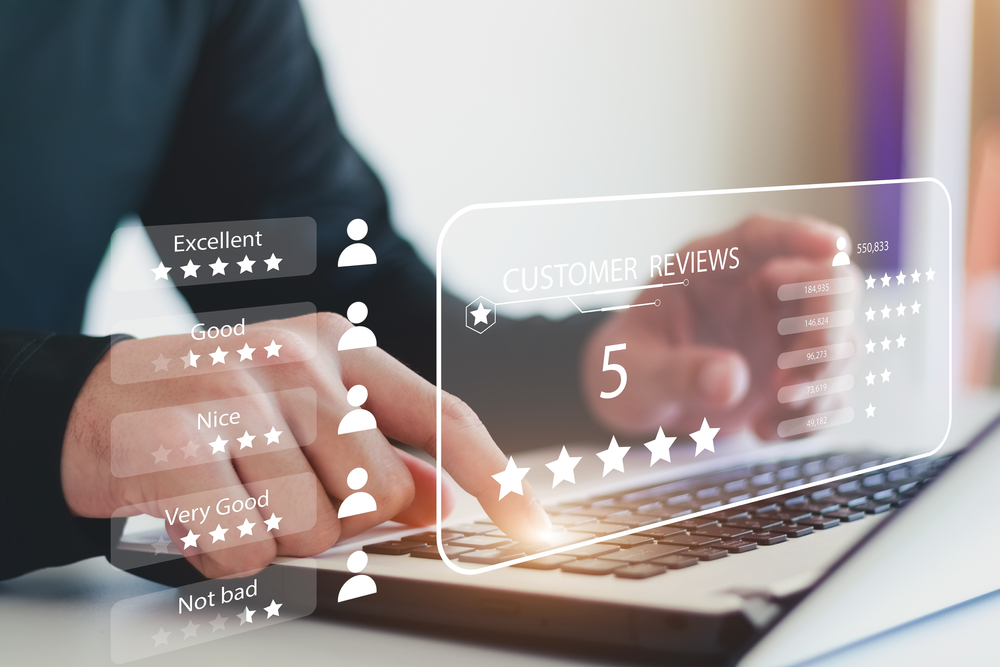 Techniques For Keeping Track Of Online Reviews And Ratings
Before getting on with monitoring and responding to online reviews, you need to resort to a strategic approach that will help you with review management and make a positive impact. Since online reviews are one of the best sources to gather feedback about your brand, you need to follow specific best techniques to be able to monitor the same.
Here are some of the market-best techniques you can follow to monitor and respond to online ratings.
Monitoring customer reviews is very important as it gives you an insight into the customer's perspective of your brand. It also increases brand credibility and creates a bond with the customers.
Consult and develop a system with your team to track the reviews on the most visited review platforms and continuously monitor them. Set alerts to manage google reviews along with other social media platforms. Leaving customer reviews unattended can hamper the brand image. Such an action might lead the customer to have a negative impression of your brand. 
To make the task of monitoring easier, subscribe to review monitoring tools to skip the hassle of manual review monitoring. These tools will do the time-consuming task for you and help you keep track of more customer reviews. Review monitoring tools are extremely beneficial as they help you track real-time review updates. It also helps to interact with the customers and establish a positive impression.
Keep Track Of The Brand Mentions
Being active and vigilant is the key to monitoring reviews! Think from a customer's point of view! They will like you to be prompt and attentive to their ratings and mentions.
It is imperative to be active in real-time and respond to online customer reviews and ratings meticulously. As per research, 53% of customers expect a reply to their reviews within seven days of posting the same. Responding to their reviews will convey that you are interested and appreciate their feedback. Besides, replying to negative reviews will help you understand your brand's shortcomings. Hence it is vital to keep track of platforms like Facebook, Google My Business, and other online forums where customers usually leave their reviews.
To focus more on brand monitoring forums, you can set Google alerts or register on platforms like SocialMention, etc.
Address The Positive Reviews 
Communicate with your audience to build a bond! This includes paying attention to both positive and negative reviews. This will make your customers feel important and valued.
Most companies commit the mistake of disregarding the positive ratings and focusing on the negative ones only. But this needs to be corrected! Giving attention to the positive ones creates a positive brand reputation and increases the chances of higher engagement.
Addressing the positive brand mentions will show that you care about your customer's opinion and increase the chances of a new prospect's discovery.
Try responding to your customers publicly and highlighting the significant ones. This will improve your search rankings. Besides, keep it short and sweet while responding and tell them that you are looking forward to doing more business.
Address The Negative Reviews 
Be fast and turn negative reviews into positive ones!
Just like the positive ratings, don't get overwhelmed by the negative ones as well. Keep a tab and promptly cater to negative comments and reply professionally yet politely. This will convey that your brand is attentive to the customer's opinion and working actively on the same. Moreover, customers do sometimes put negative comments out of a misconception. You need to understand the misconception and resolve that feedback intelligently.
Put yourselves in the customer's shoes! Would you like it if someone ignored your feedback? No, right? Hence, never leave a negative review unresolved. This will be detrimental to the brand's image and have profound implications.
While responding to a negative rating, show concern and apologize for the inconvenience caused. Consequently, empathize with the customer and resolve the comment by shifting to a private chat. This will help you maintain privacy and interact with the customer on a personal level.
Keep Track Of Fake Reviews 
It's a fact that you are going to face competition in the market. Competitors may try to tarnish your image by putting in fake reviews online. Don't fret! Keep your nerve steady and your brand strategy resolute.
Yes, spotting a fake review online can be challenging. But possible if you keep a vigilant tab. As soon as you spot one, do not respond negatively. Just report or flag the fake review and get it removed from the forum. This is the most common action businesses have taken to combat fake reviews online.
For slanderous reviews, you may or may not comment. But to suggest, try to maintain parity. If you follow a tradition of replying to all online reviews, be they good, bad, or fake, stick to it. This will define your brand strategy and eliminate chances of misunderstanding on the part of the customer.
So avoid falling for the bet! For fake online reviews, address the issue politely and comment with a reasonable response as an action.
Use A Social Media Monitoring Tool For Reviewing Alerts
Want to be aware of brand mentions and ratings on a real-time basis? This is where reputation management tools come into existence. 
These are extremely useful and help you manage and monitor your online reviews and ratings hassle-free.
Register or subscribe to a reputation management tour and get real-time updates on when and where reviews appear. Keep the notification tab on; you will receive all the updates as you are reviewed by any customer. This will help you be prompt and resolve the negative ratings more efficiently.
Besides this, these tools give you a detailed insight into your performance. Make sure to scan the weekly status and act on the same quickly. It will provide a comprehensive report that includes the total number of good and bad mentions, churn out the fake ones, and a list of brand mentions and interactions on social media. Take into this practice, and you are sure to make good progress.
Conclusion
Now that you know the best techniques for managing and responding to online reviews, improving your online reputation isn't hard anymore. Keep implementing these techniques to build customer trust, making the online customer feedback process prompt and transparent. Keep in mind that your customers will monitor you in multiple forums. So ensure to pay equal attention to all the platforms for greater conversion.
Was this post helpful?
Let us know if you liked the post. That's the only way we can improve.