The decision is made, TikTok is banned in the United States, and you won't be able to download the popular video app in the US after Sunday. TikTok is trying to get some help from other social media networks. In a tweet on Friday, Vanessa Pappas, the interim head of TikTok, invited Facebook and Instagram to publicly join its challenge of an order from the US government that would bar downloads of the popular video app after Sunday.
TikTok is now officially banned and prohibited in the United States of America, and the new order was issued by the Department of Commerce on Friday morning, and it essentially states that people aren't allowed to download TikTok or WeChat beginning on the 20th.
TikTok will continue to work in the United States for people who already have the app installed, but future downloads are prohibited.
After the issue became more serious, Vanessa Pappas reacted to a tweet by Adam Mosseri, Instagram's CEO. Pappas' comment came in response to a tweet from Instagram CEO Adam Mosseri in which he shared news about the order and said a US TikTok ban would be "quite bad for Instagram, Facebook, and the internet more broadly."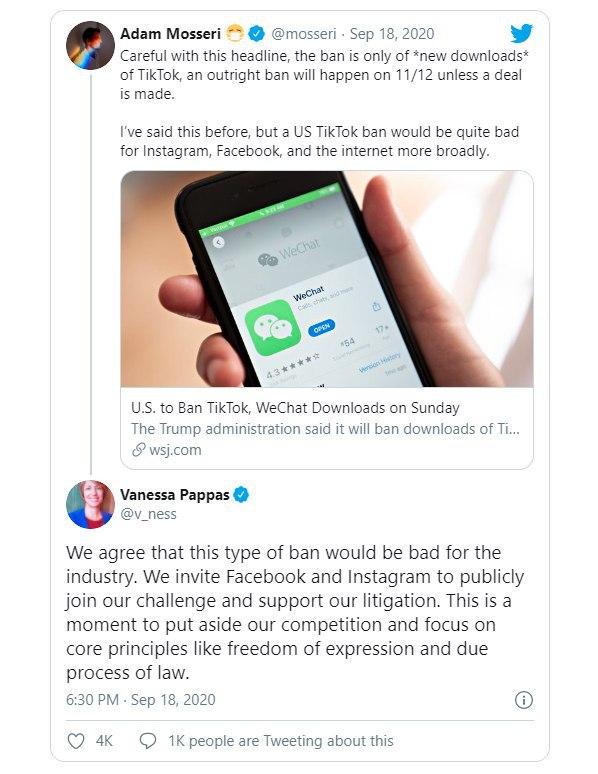 According to The Verge, TikTok issued a statement following the Department of Commerce's order, noting that the company has already "committed to unprecedented levels of additional transparency and accountability well beyond what other apps are willing to do." The statement adds that TikTok is already planning to work with an American tech provider, which would "be responsible for maintaining and operating the TikTok network in the US, which would include all services and data serving US consumers."
"We will continue to challenge the unjust executive order, which was enacted without due process and threatens to deprive the American people and small businesses across the US of a significant platform for both a voice and livelihoods."
Was this post helpful?
Let us know if you liked the post. That's the only way we can improve.