PowerPoint Presentations have proven valuable and helpful for academic and business presentations. Presenting your studies and business ideas becomes more accessible and convenient with free PowerPoint templates.
Almost everyone is familiar with Microsoft PowerPoint templates. It has built-in templates and tools that you can instantly use. However, you can improve your presentations by using free templates from other websites.
Interested? Keep reading this article to find the 5 top websites you can visit for a free PowerPoint template for your next presentation.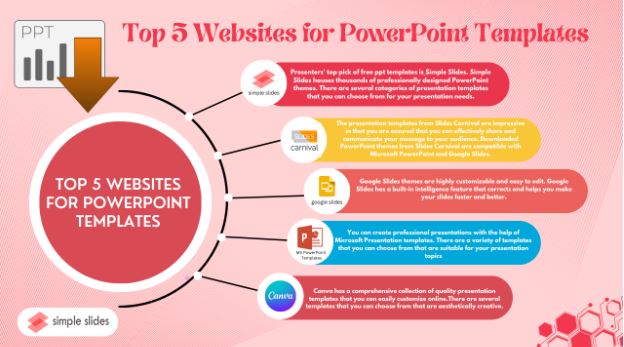 .
5 Websites for Free PowerPoint Templates
Simple Slides
Presenters' top pick of free ppt templates is Simple Slides. Simple Slides houses thousands of professionally designed PowerPoint themes.
There are several categories of presentation templates that you can choose from for your presentation needs. Simple Slides gives you access to its collection of professionally designed slides and infographics.
All the slides are optimized with Microsoft PowerPoint, Keynote, and even Google Slides. These free templates and infographics are completely customizable and easy to edit.
You don't have to burden yourself by making your presentations from scratch. You don't need to labor for hours to make your marketing presentation look its best.
With Simple Slides, you can create the best presentation in just a few minutes. You can make your PowerPoint presentations visually appealing with the help of Simple Slides.
Slides Carnival
Free ppt templates and Google Slides templates are entirely free to use commercially or personally when you get them from Slides Carnival. You don't have to register or sign in, and there are no download limits.
You can choose free templates from 6 categories: formal, inspirational, simple, playful, creative, and elegant themes.
If you are working on academic or business presentations, you can make serious content more engaging and easier to understand with Slide Carnival's formal themes. Try the playful presentation templates if you are making a presentation for parties, family gatherings, or get-togethers.
These pre-made and free templates are easy to edit and customizable. Hence, it can help you save time and focus more on your presentation's content instead of its visual impact.
The presentation templates from Slides Carnival are impressive. Rest assured that you can effectively share and communicate your message to your audience.
Downloaded PowerPoint themes from Slides Carnival are compatible with Microsoft PowerPoint and Google Slides.
Google Slides
The great thing about the Google Slides template is that you can create a visually appealing presentation and collaborate with your teammates online in real-time, anytime, and on any device.
Google Slides themes are highly customizable and easy to edit. Google Slides has a built-in intelligence feature that corrects and helps you make your slides faster and better.
You can make appealing presentations with your teammates because the slides are shareable, and editing together can be done in real-time. You can share and edit your presentation together with the use of comment actions.
You can present your slides with more confidence because not only do your slides look visually beautiful, they are interactive as well.
With Google Slides, you can easily include video calls directly into your presentation. You can connect your presentation to other Google applications. You can add charts from Google sheets, check emails from Gmail, or view maps using Google maps.
You can edit your Microsoft PowerPoint presentation without converting the slides using Google Slides. You can still create your presentation decks without an internet connection and be productive.
Microsoft PowerPoint Templates
You can create professional presentations with the help of Microsoft Presentation templates. There are a variety of templates that you can choose from that are suitable for your presentation topics.
These highly customizable templates allow you to change anything on the pitch decks to suit your presentation needs better. You can freely change the font styles, design, colors, effects, and animations.
They have templates that are free to use and download. Aside from that, Microsoft is also offering premium templates for Microsoft 365 subscribers with more customizable options and enhancements. There is a subscription fee if you want to avail yourself of the premium templates.
Microsoft PowerPoint templates help you make your presentations more captivating, informative, and interactive. You can bring your presentations to life by conveniently adding charts and graphs to your slides.
Aside from the pre-made templates, Microsoft also allows you to make your own presentation from scratch.
Canva
With Canva, you can make presentations with ease. Gone are the days when you stare at a boring PowerPoint presentation with unreadable texts or designs.
If you have been using Microsoft PowerPoint for a long time, you should pause and try Canva for a better presentation experience. Canva has a comprehensive collection of quality presentation templates and layouts that you can easily customize online.
There are several templates that you can choose from that are aesthetically creative. You have access to Canva's comprehensive collection of icons, illustrations, and photos that you can use to add to your presentation.
Canva helps you create a presentation deck that is worth grabbing the attention of your audience instantly and being able to communicate your message in the process effectively.
Canva's free templates are easily downloadable and can be shared conveniently. However, you have the option to create a presentation online for free.
Making Canva presentations online is very easy because of its drag-and-drop feature. You can create the best presentation with only a few clicks away, all thanks to Canva.
Conclusion
Making your marketing proposal or presenting your academic paper is no longer a hassle or burden. Instead, it is now a fun experience with the help of customizable, interactive, and free templates.
With all these fantastic websites to get free PowerPoint templates, you can stand out from the rest. You can now create impressive PowerPoint presentations in a couple of minutes without heavily decorating your slides or using excessive animations to keep your audience's attention.
You can now wow your audience and inspire them with these captivating PowerPoint templates. What are you waiting for? Try it now!
Was this post helpful?
Let us know if you liked the post. That's the only way we can improve.