Tronlink wallet is a decentralised cryptocurrency wallet launched and supported by the Tron foundation. Tronlink was made for the Tron network. In this article, we're going to know why and if you should be using the TronLink wallet and whether it's safe to use it or not. After that, we'll be creating a new wallet account and showing you step by step how you could do that properly.
You can also read: The Safuu Price: What You Need To Know
Is TronLink safe to use?
TronLink wallet was initially created to be used for Tron's ecosystem and help all users of Tron, TRC-10 and TRC-20 tokens to store, keep and hold their tokens in a safe environment which is also very user-friendly and easy to use.
"Through the cooperation, I found that TronLink is a team of young people who are rigorous, professional and hardworking. The wallet made by them is secure, easy to use with full-featured TRON functionality, so I recommend it to global TRON users," said Justin Sun, founder of Tron Foundation.
TronLink stores the private keys locally:
This means that you are the only person who is in control of your wallet. This may not seem like a big deal, but trust me, it is.
When using the wallet in your exchange account, you do not have that option. Meaning the exchange owns the private keys to your wallet for security reasons. But the consequence of this is that if the exchange gets hacked, the assets in your account are vulnerable and could be stolen.
In general, having private keys to your wallet means that you are the person in charge, you have total control over your wallet and thus over your assets.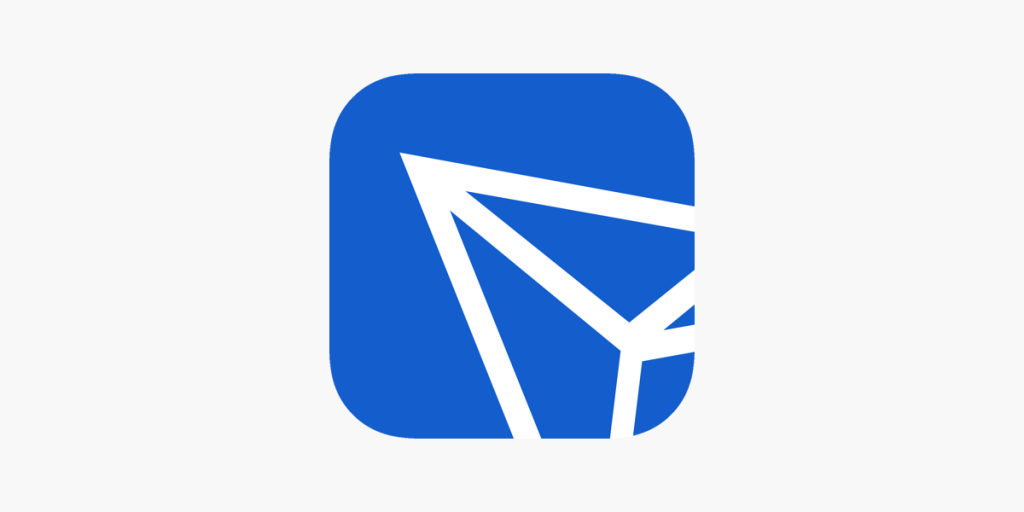 Is TronLink a good wallet?
In this section, we'll be going through some of the main features and perks of using the TronLink wallet.
TronLink is a Cold wallet:
There are various types of wallets and each one of them has its unique use case. We have hot wallets, cold wallets, hardware wallets, paper wallets etc. TronLink is a cold wallet. Cold wallets are basically cryptocurrency wallets that are not connected to the Internet and will operate offline.
The main perk of using a cold wallet is that it's safer than hot wallets. As cold wallets are not connected to the Internet, the probability of the assets getting hacked and stolen by a hacker is lower than as in a hot wallet.
TronLink is easy to use:
The cryptocurrency field can be difficult to understand specifically for those users who don't have technical knowledge about blockchain or haven't studied and aren't interested in computer stuff and the Information Technology field. This is because blockchain technology is a very technical concept in the IT field, this doesn't mean that it's not possible for you to understand cryptocurrency if you aren't a computer geek but means it could be more difficult for you too.
So the fact that the TronLink wallet is easy to use and it has a very user-friendly interface could mean that TronLink can be a great choice for you.
TronLink supports freezing and unfreezing Tron and voting:
You can use the TronLink wallet to freeze your Tron tokens. By freezing Tron tokens you gain bandwidth or energy you can choose if you want to get Bandwidth Points or energy. The amount of bandwidth (or energy) you gain depends on the amount of TRX you're freezing/the amount of TRX that has already been frozen in the network.
By freezing TRX you also earn TP (Tron power), 1 Tron power is equal to 1 vote. The amount of TP you gain is equal to the number of Tron tokens you freeze. You gain 1 TP by freezing 1 TRX.
You can freeze resources in different categories and earn perks, but to unfreeze the frozen assets, all TRX tokens in the same category have to be frozen for at least 3 days.
After unfreezing the resources, gained bandwidth or energy will be removed, so be sure to use them before you unfreeze the assets. After unfreezing TRX tokens, gained Tron powers will also be lost, as well as the Tron powers used to vote. So keep in mind, after unfreezing you have to freeze and gain TP and use those TPs to vote again to ensure your voting right and make sure they aren't affected.
So, overall TronLink is a great wallet and is a must-use if you're interested in TRX and the whole Tron ecosystem.
Now, let's move on and create a new wallet in TronLink.
How to create a TronLink wallet?
First, you need to download and install the TronLink official app. To download the app you can use your phone's native app store or head down to the tronlink offical website and download the installation file from there.

After installing the application, open it up.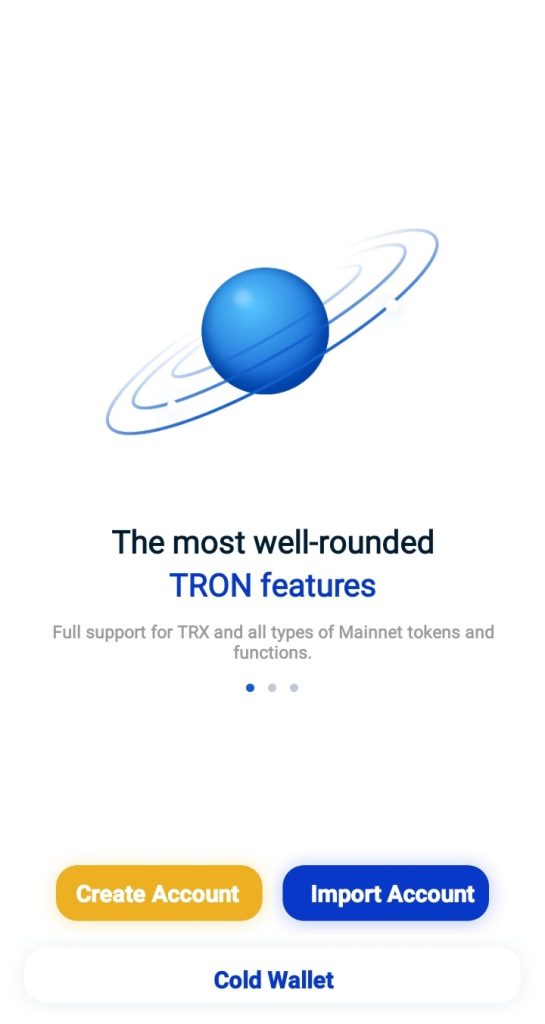 If you don't have an account already, choose the "Create Account" and continue to create your new wallet. If you do have an account ready, choose "Import Account" and continue from there.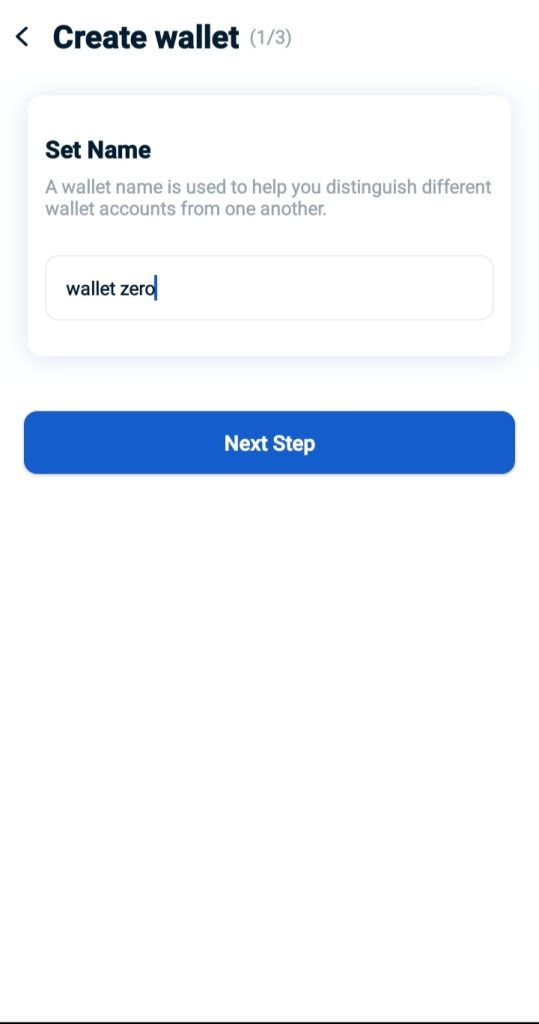 Here you will be asked to give your wallet a name. As TronLink supports multiple accounts and you can have different wallets in the same application.
I'm going to call it "wallet zero".So give your new wallet a name and let's move on.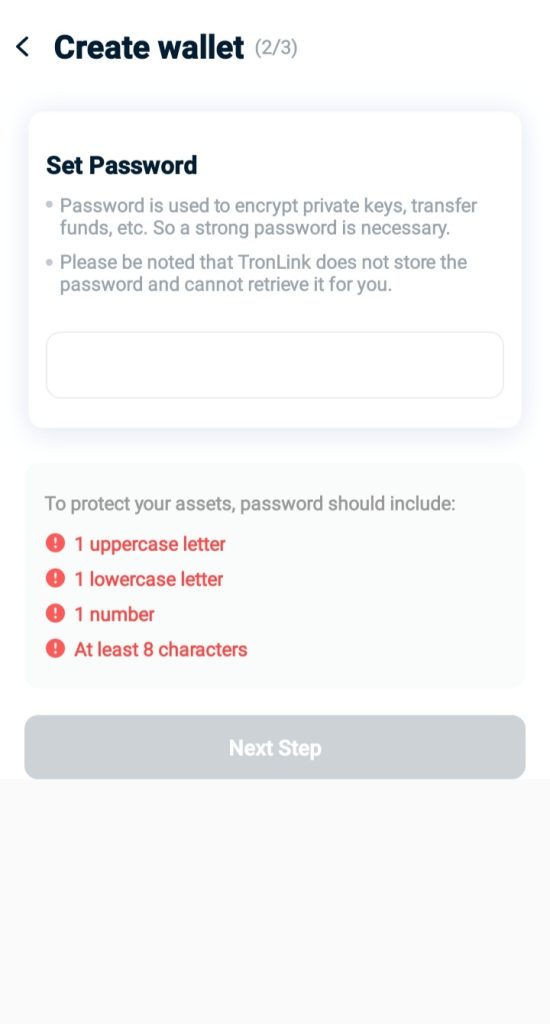 Here you will be asked to set a password for your wallet. It has to be at least 8 characters long, contains 1 uppercase letter, 1 lowercase and 1 number.
Try to use a password that you won't forget because you're going to need it in the future for getting your private keys, deleting your wallet etc.
Enter your password again and let's move on and finalize our creation process.
Backing up the Seed Code:
After confirming your password by entering it again, you will be asked if you want to backup your wallet's seed codes or skip, I recommend you not to skip and back it up right away.
Do not store the seed codes in your phone's note app or something
Do not send it to anyone nor let anyone see them.
Write down the seed codes in a notebook or a piece of paper and keep them somewhere safe.
Was this post helpful?
Let us know if you liked the post. That's the only way we can improve.