This was unexpected, but at the very last moment, Trump decided not to ban the app in the United States. Trump has approved a deal between Walmart, Oracle, and TikTok so the app won't be banned. This news came out right after the TikTok U.S. ban was official yesterday.
A CNBC reported, On Saturday, U.S. President Donald Trump said that he had agreed to the terms outlined in the Oracle-lead deal:
"I have given the deal my blessing; if they get it done, that's great; if they don't, that's okay too. I approved the deal in concept."
That's not exactly the final sign-off required, but it was enough for TikTok to put out an official statement on the new arrangement.
Shortly after Trump's comments, Oracle announced it was chosen as TikTok's secure cloud provider and will become a minority investor with a 12.5% stake. TikTok confirmed Oracle's role and said it was working with Walmart on a commercial partnership.
Oracle will be hosting all TikTok U.S. user data and makes sure that these data remain separate from Chinese parent company ByteDance.
Oracle will become the secure cloud provider for the app, while also taking a 12.5% stake in the company. Walmart is also included in the Oracle deal and will take an 8% stake in the newly formed 'TikTok Global' entity. TikTok Global, which will operate separate from ByteDance, but will be licensed from the Chinese company, will list for an IPO early in 2021.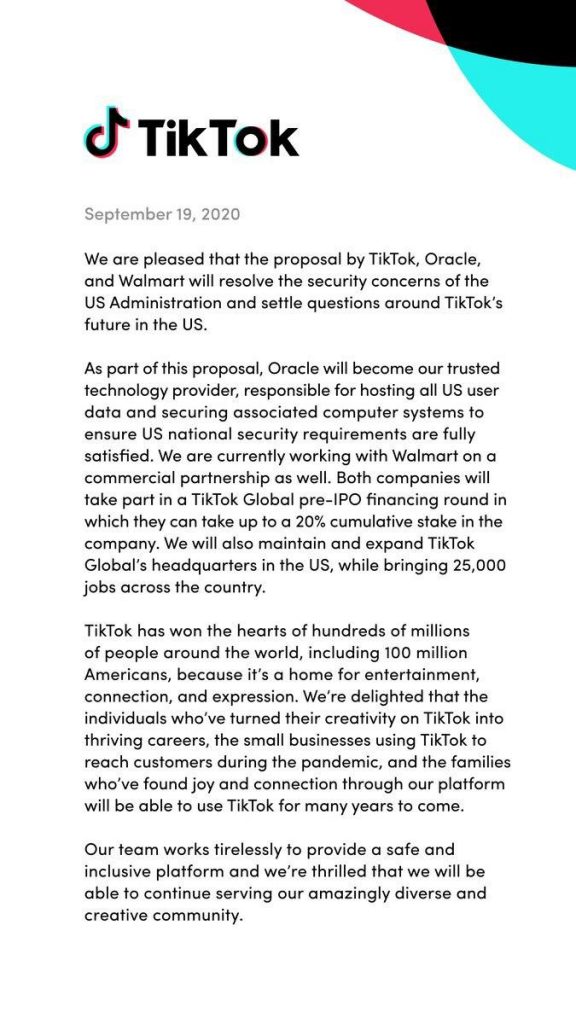 What about the remaining shared of TikTok?
The remaining 80% of TikTok would still be owned by its parent Company ByteDance. However, because 40% of ByteDance is owned by U.S. venture capital firms, the Trump administration can technically claim TikTok Global is now majority-owned by U.S. money.
TikTok said it would maintain and expand its headquarters in the U.S. while bringing 25,000 jobs across the country. Trump had said a new company would likely be incorporated in Texas.
According to this decision, TikTok is succeeded in staying alive in the United States, and Tiktokers would not have to worry about losing access to the app anymore.
Was this post helpful?
Let us know if you liked the post. That's the only way we can improve.