No feeling is more pleasant than enjoying hobbies and feeling at home, and to a blogger, no other social media is more pleasing and home-like as Tumblr. But, bloggers! Ever thought that you can make money on Tumblr through likes and also feeling at home? Yes, it is quite possible, and here is how.
How to make money on Tumblr?
Nowadays, people are increasingly exploring unique ways to invest and make money, and one such avenue is through platforms like Tumblr. If you want to make money on Tumblr, you should get more fans and increase the profile visits first. Then make money using affiliate programs or sponsored posts. Here is the detailed instruction on how you can make money on Tumblr.
1. Consider affiliate programs for making money on Tumblr
Affiliate programs are one of the most influential and profitable ways to make money on Tumblr. There are no costs to put those affiliate links in blogs and wait for people to click on them. The only thing needed to do is to create a high-quality blog (related to the service or product the link is trying to sell). Your blog must be engaging and easy to read, and it should as well provide valuable information to the reader.
For example, if you write on educational topics and offer helpful tips to students in your blog, it makes sense to put affiliate links to services and products that are of value to students. These can be links to memorization and time management apps, tutors' profiles, career advice platforms, writing services from different countries, like Canada essayservice.com, etc. The latter would fit perfectly in articles that offer essay writing tips, and links to tutor's profiles would look natural in articles that explain a particular topic in a certain discipline (e.g., article on history that talks about reasons for Napoleon's defeat at Waterloo).
Always remember that the value a blog adds to the readers is the main reason they will click on those affiliate links. Readers are aware and smart and can distinguish between an excellent blog and a spam one (that is stuffed with links to this and that company's website).
2. Build your target audience
First, let's distinguish between the viewers and the audience of blogs:
"Viewers" are those who view the content and may or may not click on the links provided in the text. They come to the Tumblr profile accidentally, maybe through search and other means. Only 10 percent of the viewers will finally turn into the "audience."
On the other hand, and as indicated above, the audience is the people who interact with the content, follow the feed and wait for your blogs to be published. They are the most likely users on Tumblr that will click on your targeted links.
To turn viewers to the audience in order to be able to make money on Tumblr, define the target audience. Answer these questions:
What do the affiliate links in your blog provide the audience with? What are the services and products they try to sell?
Who is the target audience of the blogs that need these services and products?
How will the services and products help the audience and give them the added value?
How can the content and blogs help people know more about services and products? What are some strategies for convincing them to purchase?
3. Use ads on your page
Using advertisements, especially Google AdSense is the most common way to make money on Tumblr. Let the page include some ads from affiliate companies, and they will pay per click.
Note: Most of the companies prefer to work with a blogger who has their own domain name. So try to register a personal domain name to seem more authentic to affiliate companies.
4. Mind the looks
The looks of your Tumblr profile is the personality of your career. Use Tumblr themes to create a professional look for the page. A page that looks prestigious will persuade more viewers to become your audience and read your blogs and convince more companies to work with you.
Try to visit other professional Tumblr profiles and get inspired. They will have tips you will come across in no other places. Also, try to know the psychology of colors so that you will choose a theme that fits the personality of the target audience to impact them more easily.
5. Upload pictures
This is a great way to readily make money on Tumblr. Upload some photos to your Tumblr profile and link it to another source that will pay per click. Images are fun and easy to comprehend. So try to choose a picture that visually impacts the behaviors of the audience and convinces them to click. Remember the pictures should be in line with the general theme and subject of your profile. An unrelated and improper image will result in a loss of followers and partnering companies.
6. Upload files
Some servers will pay ready money if you upload useful files to them. If you have helpful files, then try to turn them into cash. These files will later get downloaded by ordinary people, and for each download, you will be paid again. Just put the link to those files in your Tumblr, and you start to make money!
In the end, you can see the summary of making money on Tumblr on an infographic.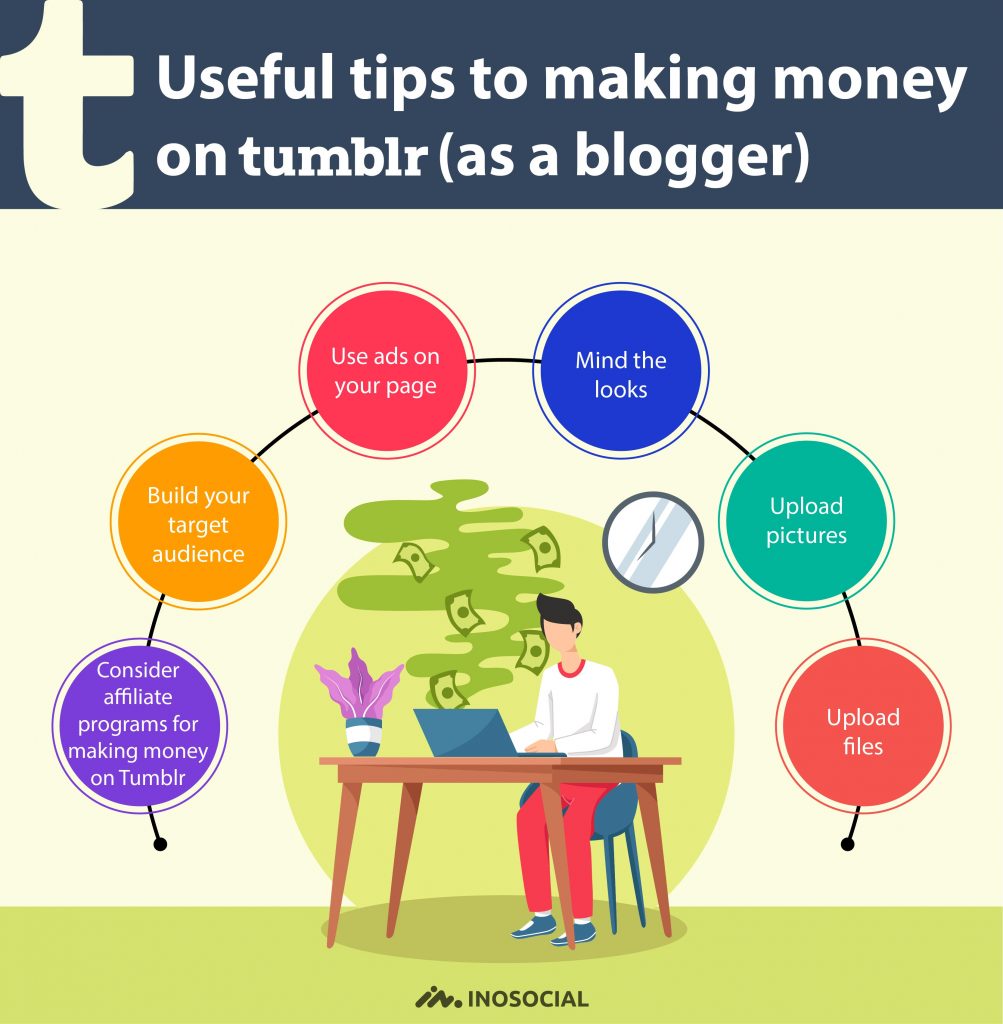 Conclusion
These are only a few tips for making money on Tumblr. Always remember that there are infinite ways to promote and monetize a Tumblr page, and this is possible to turn it to an unlimited source of income. Hands-on the keyboard and create!
Was this post helpful?
Let us know if you liked the post. That's the only way we can improve.