You must master affiliate research to find the affiliates of your competitors. Your competitor's affiliates earn by driving traffic to the selling website and get a commission on any purchases made from those recommendations. If your business wants to get ahead of the competition, you need to find out what they are doing to gain traffic.
However, you must first identify the affiliates of your competitors. Any websites that link back to your competitors' websites are their affiliates. In addition to being crucial for improving SEO results, backlinks also drive quality traffic that can aid your rivals in gaining new clients.
Most likely, your competitors have already conducted independent research to identify top-notch affiliates. Therefore, instead of searching the market for your affiliates, just find them to understand what they are doing differently. You can approach those affiliates to create your affiliate program after knowing which ones drive traffic to your rivals' websites.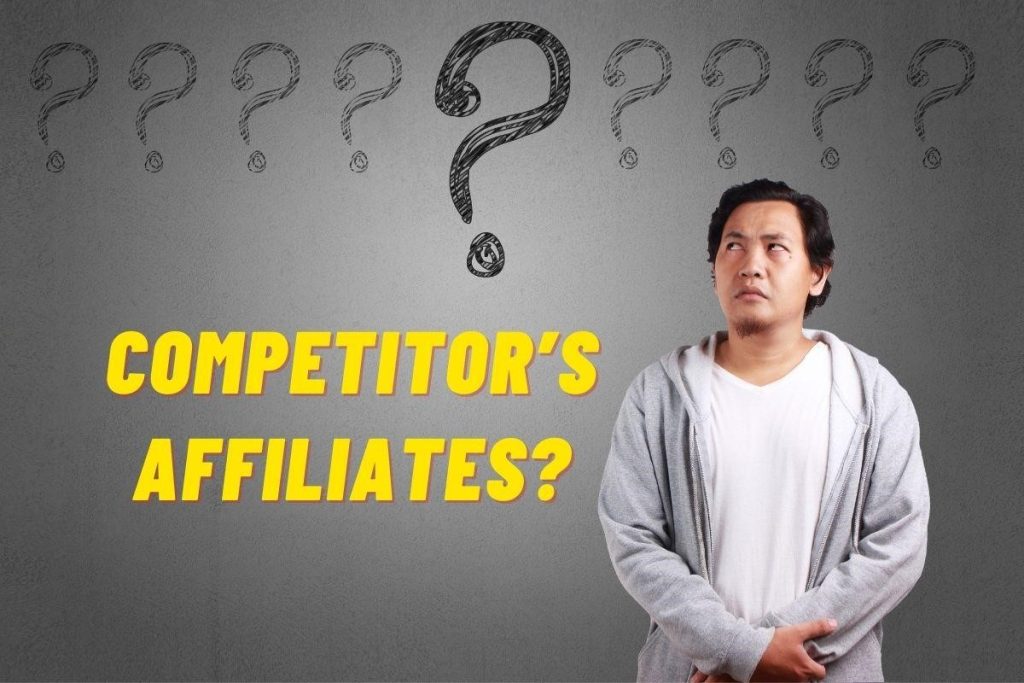 What Is An Affiliate?
An affiliate advertises a company on their website, with a unique link on the page, to get paid a commission for any purchases made via their link. In addition to adverts and your SEO, having affiliates for your business can help you attract more traffic.
If you are currently running your own program or are thinking about doing so, you can find affiliates directly from your rivals to grow your affiliate network.
Why Should You Analyze Your Competitor's Affiliates?
Analyzing your competitor's affiliates assist you in identifying your program's advantages, disadvantages, and opportunities. Competitor analysis is essential whether you are managing an established affiliate program or just starting. Here's what you can identify from affiliate analysis:
Choosing the proper network for your brand
What commission scheme to present
the terms and conditions of your program
Choosing the right affiliates to work with
How to motivate your coworkers
How To Find Your Competitor's Affiliates?
1. Find Backlinks Attached To Your Competitor's Domain
The backlinks that your competition receives are where we begin our search. You must navigate through the backlinks and discover the affiliates associated with them after entering the domain into the search bar.
2.Only Look For Affiliate Links
The pages connected to the website are listed in your search results. Even better, as these are rated pages that appear in Google searches, they have been checked to ensure they are not link farms or penalized pages.
Since you are particularly seeking affiliates, we will identify them using the filter on the left. There are many tools to find affiliate links that you can use.
Even though the filtered links are the affiliate link pages of at least one vendor, the links are not necessarily a part of the website's affiliate program.
But this next step can increase your chances of discovering the appropriate affiliate matches.
3.Filter The Results Using Relevant Keywords
The keyword filter will whittle down the lengthy list of results. Choose keywords pertinent to your industry, and you will only see pages that are useful to you.
But resist the urge to use branded words. Open wide. Pick one or two keywords related to your industry. This step's objective is to remove any competitor-linked pages that may not be within your area of expertise. You can now be sure to find sites that are more suitable for your own company.
4.Get Rid of Duplicates
You shouldn't be surprised if any of these pages are already a part of your affiliate program, as many affiliates promote multiple businesses. The most considerable harm would be time wasted trying to contact them. You must now remove the same affiliates from this list.
5.Use The Final List To Find Affiliate Strategies
Once you have the final list of affiliates, go to their website and check out what they offer. You will find blog posts and services consisting of their strategies. Carefully analyze what they do and compare it to your own.
You may even reach out to them via email or other means on their website. If you find it difficult to find competitor affiliates, you can contact an affiliate consultant for that.
What To Look For When Analyzing Your Competitor's Affiliate Strategies
If you don't know what you're searching for, then an affiliate analysis of your competitors is pointless. Assuming you have already done so, you can now begin to research your competition. You wish to extract this info.
Tracking Systems– The affiliate network or internal tracking system the company employs to manage its affiliate program
Rate of Commissions– The tiers, incentives, or commission rates they use to incentivize their partners to spread the word about them.
Description of Programs– The way they describe their program and the advantages affiliates receive by partnering with them.
Cookies– Cookies usually stay for 30 days but may differ according to the brand or vertical
Terms and Conditions– What is and isn't permitted when advertising the brand
Earnings Per Click– Joining an affiliate network will allow you to learn the average earnings per click (EPC) that affiliates receive from traffic to their website.
Assets– What materials or banners do they offer their affiliates as brand assets to help them promote the brand and draw in customers?
Average Order Value– How does this Average Order Value (AOV) compare to yours, and what results might you anticipate from your program?
Conversion Rate– This is important for determining how involved their program's affiliates are. Customer Offers: Do they allow affiliates to promote exclusive, scarcely publicized offers?
Target Affiliates– Depending on whether they work with a rival, you might begin to compile a list of target affiliates to work with.
Keep in mind that this may seem like a lot of work. But once completed, most of the work is finished for any upcoming projects. Networks, cookie durations, and program phrases are examples of elements that won't change frequently.
Bottom Line
To find your competitors' affiliates, you should go through these steps of affiliate research. You must learn what the other companies are doing to increase traffic if you want to outperform
Was this post helpful?
Let us know if you liked the post. That's the only way we can improve.