Nowadays, having an online store is necessary for all kinds of businesses with ever-increasing issues of a pandemic. All companies can set up an eCommerce using ready themes and sell their products there, even if the store is closed.
Why Shopify alternatives?
Building an eCommerce website is necessary for all kinds of businesses, including small, medium, or large ones. Most probably all large, or even medium-sized business have their eCommerce platform already. But these are small businesses, and retailers should think about making an online store that is accessible for all.
Why do we need an eCommerce website instead of a complete website? The reason is apparent. Now, many platforms are providing ready themes making an online store without having coding knowledge or being worry about the domain name, host, or anything else.
Shopify pros
Of course, Shopify is one of the best leading eCommerce platforms, but the main point about Shopify is that it is not suitable for all.
It seems that Shopify does work for large sales.
Of course, its features, designs, integration with Ordorro, being available on Instagram, user-friendly environments make it the right choice.
Shopify cons
extra transaction fees – you should pay about 2% for every transaction on Shopify. So, if you have recently started the online store, or you think that is too much for you, you should try Shopify alternatives.
You can only use the gift card if you have an advanced plan. There are also some features like real-time shipping rates that are locked unless you pay the extra money.
Because of the plugins and rough URLs, unfortunately, Shopify does not rank you on Google, and the not being optimized for search engines is its weakness if you want to have customers from Google too.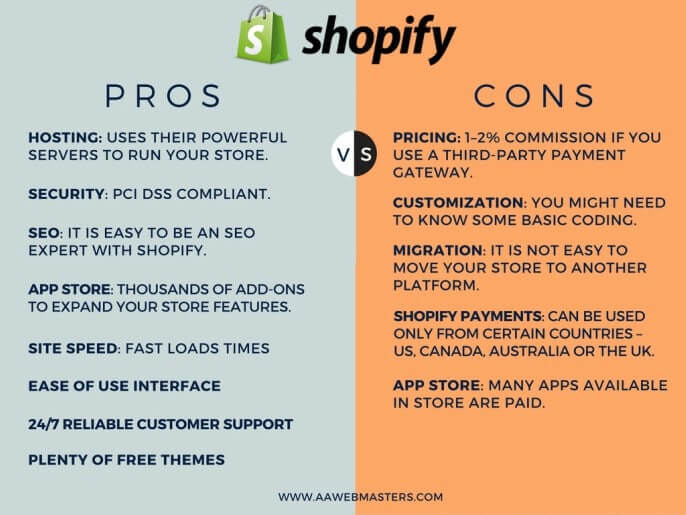 Best Shopify alternative
iLink is an eCommerce platform that helps individuals or brands to create their landing pages and online store. Using iLink iStore, you can build an online store, add your products (physical, digital, services) there, and add details, prices, purchase links, etc.
iLink landing page is a free service and is useful if you have multiple URLs. You can gather all the links on one web page and design it as you want.
ILink iStore is also customizable, and you can change it based on your need. Here I would mention some of the main benefits of using iLink iStore to build an online store.
Sorting out the products in iLink
While you can add iStore in your Instagram bio, or any other place, your audience can visit the page and sort out the products based on their popularities, prices, categories, brands, etc.
This would help serious buyers to choose better and faster. They can find the base of the product don the brands and prices they are looking for. Even if they are new to your store, they can see a wide verity of options in front of them, which can be sorted out based on their needs. So, using an online store catalog, you can tell customers what you have for them!
No competitors
If you sell on the other websites like Amazon, you realize that the algorithm would suggest other brands or competitors for the visitors. Even when customers are searching on Instagram explore, they face many companies selling the same products. Even Instagram would suggest similar accounts. However, when customers visit your iStore page (for example, from Instagram bio), they will not see any other suggestions from your competitors. This leads to more sales for your brands because all they see is your products.
Stunning online store
Being different has always been the key to success. iLink iStore has provided many fantastic options on their dashboard to look at the web page stunning. This would attract customers and keep them in your online store, which leads to more sales. You can build a modern online store with your design.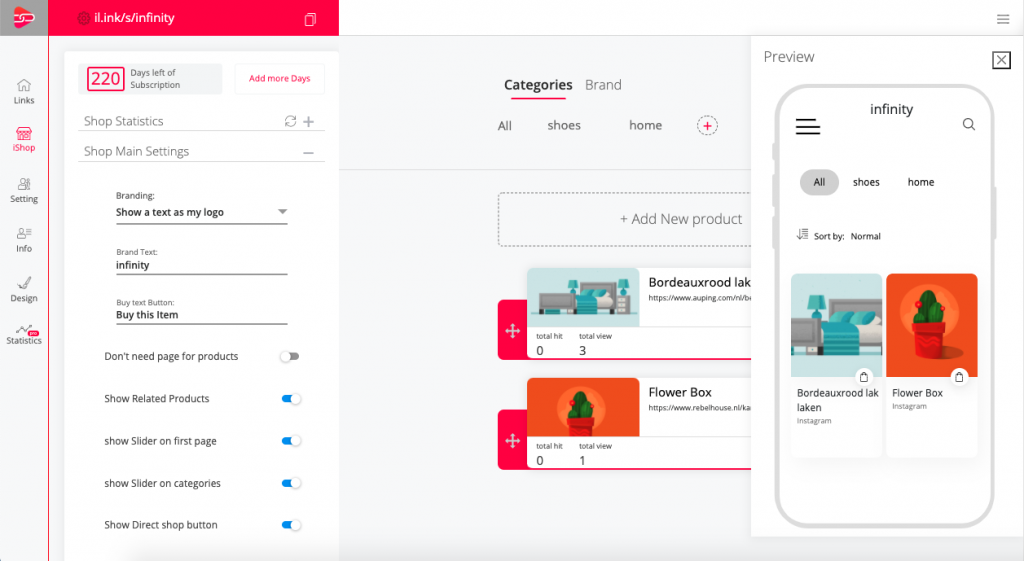 Customers from Google
iLink iStore is an SEO friendly eCommerce platform, and you will come to Google search. When you log in to your dashboard, on iLink website, when adding a product, you can add extra details describing the products. iLink is a blog and online store together, which helps you create the content of your product too. This will take you on the Google search engine, and users would visit the products directly from Google.
No coding knowledge
You may hear about how difficult it is running a website from choosing a domain name, hosting, coding, and all necessary items. However, using iLink you can build an eCommerce website with no coding knowledge, even with no specific knowledge about the online stores. All you need is uploading the pictures, adding the detail, title, purchase links, information, and info like this. You will enjoy making your eCommerce website with fast and efficiently.
Linktree alternatives
If you have already used Linktree to make your landing page, now you can have both an online store and landing page in one place and from a single dashboard. Building a landing page is another primary service of iLink, and you can even have an advanced design with iLink pro. The main point of this is you can create all with one account, and no need to have a separate dashboard, or report to build an online store, and landing pages.
Ever-increasing grow
ILink rank is going up day by day, and soon it becomes a leading eCommerce platform. So, having a unique username might be difficult later, like Instagram and Facebook. So, it is useful if you create your account (you can log in with Google too), and have iLink iStore in your bio of social channels.
Affordability
If you are more prominent or you are selling online from home, you might know how expensive it could be to create a website. However, with less than $10 per month, you can own an eCommerce website selling online. It is well worth it.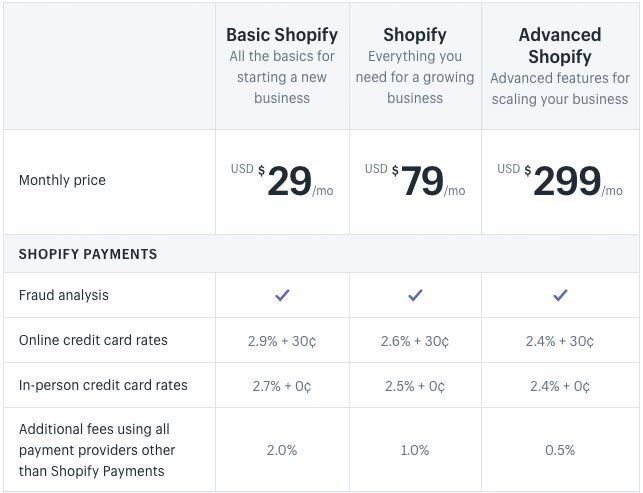 Growcer
Growcer is another major contender in the space of eCommerce platforms and is an excellent Shopify alternative. Developed by FATbit Technologies, Growcer is a grocery ecommerce platform that is designed especially for different niches in the retail or FMCG industry.
With Growcer, entrepreneurs can build, maintain and manage their online grocery marketplace with ease. A hyperlocal solution acts as a bridge to unify the gap between grocery retailers and consumers. Retailers can list their grocery items online for consumers to purchase using the platform.
Designed to boost sales and drive business growth, Growcer comes equipped with robust mobile apps for both buyers and delivery staff. Being a ready-made turn-key solution, Growcer comes with a myriad of outstanding features. Mentioned below are a few benefits of Growcer:
Growcer has been impeccably designed after rigorous brainstorming sessions. In the process, many ideas were scrapped to make the front-end design attractive and user-friendly.
Aesthetically pleasing, Growcer has an interactive interface with intuitive navigation. Its enriching appeal provides a coherent experience with better customer acquisition.
The UX/UI elements are carefully planned and placed to serve the users appropriately. This means that the interface design facilitates smooth user interaction, rather than expecting them to adjust their behavior to the product. The user-centered design approach amplifies engagement.
Fully Customizable and Lifetime License
Built with agile methodologies, Growcer is a fully customizable white-label solution that offers a lifetime license. Tailored to meet business requirements, the look and feel of the product can be enhanced to make it more appealing to users' eyes. With direct access to eCommerce developers, Growcer can be custom-built to match your brand's identity.
Growcer comes equipped with easy-to-use Progressive Web Apps that go in sync with your eCommerce marketplace. Being a mobile-friendly platform, users on any device like laptop, tablet, desktop, and more can be captured by Growcer. It also provides robust and intuitive apps for buyers and delivery staff.
Can Launch Marketplaces in Different Niches
Having a marketplace that caters to a specific niche has an advantage over other platforms. As there is domain specialization, the products and services offered by a niche-based marketplace are more specific.
Growcer, in conjunction with customized features and functionalities, can be used to launch marketplaces in several niches. These are – grocery, pet supplies, electronics, pharmacy, liquor/wine, farmer products, and more.
Impeccable Features for All Users (Admin, Seller, Buyer, Delivery Staff)
Growcer is an effective eCommerce solution that helps you streamline crucial components for your online grocery marketplace. It has in-built features for admin, sellers, buyers, and delivery staff that offer radical flexibility for an enthralling experience. Listed below, are a few elements:
Admin:
Product Catalog System,
Delivery Staff Management,
Multiple Revenue Channels,
Advanced Reports and Statistics,
And More.
Sellers:
Delivery Slot Management,
Order Cancellation Request Management,
Order Refund Request Management,
Subscription Plans,
And More.
Buyers:
Order Tracking,
Multicart,
Guest-User Checkout,
Single Item Cancellation,
And More.
Delivery Staff:
Define Radius,
Delivery Order Management,
Accept or Reject Orders,
Route Navigation to Sellers and Buyers Location,
And More.
Free 1-Year Technical Support
The team of Growcer believes in maintaining long-term relations with its clients and customers. For a smooth ruffle-free experience, Growcer offers 1-Year of free technical support to look after any unforeseen surprises like:
a) Server-side scripting/programming errors/bugs
b) Logical bugs/calculation-related errors/bugs
c) Connection errors/API integration errors
That said, Growcer improves transparency between clients and their customers by eliminating the chances of any lags or errors.
Yo!rent
The aforementioned eCommerce platforms are suited for online selling operations and daily deliveries. However, not every online business follows these business models. With the expansion of the rental industry, online rental businesses also require a robust eCommerce solution to suit their needs. Yo!Rent is one such solution that is precisely  developed to resolve the various problems of online rental businesses. 
With the help of Yo!Rent entrepreneurs can launch a single vendor or multi-vendor rental eCommerce store. Through this store, they can rent out several types of products including furniture, medical equipment, adventure gear, party supplies, boats, cars, bikes, trucks, RVs and various other vehicles.
In terms of launching an online rental business, Yo!Rent is not only an alternative to Shopify but even better and more reliable in several terms.
Dedicated Features to Resolve Rental Challenges
Rental businesses face problems like complex pricing, inventory management, return management, repair and maintenance of damaged goods and much more. With features such as advanced booking calendar, rental security deposit, eSign, agreement management, product inspection and return, Yo!Rent stands out as one of the only few rental platforms meticulously developed to support essential and non-essential rental operations.
20+ Payment Gateways and Tons of APIs
Irrespective of rental or selling model, cart abandonment rate is a serious problem for all eCommerce businesses. Poor choice of payment options is one of the reasons behind high cart abandonment rate. With 20+ payment gateways, Yo!Rent makes it possible for business owners to provide customers with their preferred payment methods with minimum transaction rate.
On the other hand, Yo!Rent also supports various third-party business tools like MailChimp, Aftership, Taxjar and Quickbooks to help rental business owners simplify numerous business operations. They can select a tool that they trust and continue lending products.
Localization settings are important for an online rental business. Yo!Rent has features like multi-currency and multilingual support, GPS enabled map view, location-based product sorting and custom pickup slots.
It also has a price surge feature that enables business owners to capitalize on sudden increase in demand in particular regions for products like wedding dresses, RVs and cars.
The chat module allows customers and product owners to handle local matters, such as negotiate pricing, clear queries or discuss the pickup location.
Tailored Themes for Various Niches
The team behind Yo!Rent has also developed captivating themes for various industrial niches. These themes use color psychology to represent the ideal expectations of the industry and leave a powerful impact on first impression, making your online rental business look professional and formidable.
As Yo!Rent is fully customizable, business owners can also customize its themes any time they want.
One Year of Free Technical Support
Like Growcer, Yo!Rent also offers one year of free technical support to all its clients. This support is to ensure that the platform does not hurdle your business operations due to any technical flaws.
Array of Helpful Features
Along with the aforementioned features, Yo!Rent also has an array of various other important features including:
Bulk import/export
Catalogue management
Tax management
SEO optimization
PPC module
Multi-user CMS
Promotions and discount codes
Loyalty program
Bulk discounts
Real time stock availability
Multiple revenue streams
Other eCommerce platforms
You can also try some other eCommerce platforms, like, Shopify, BigCommerce, WooCommerce, Volusion, LemonStand, 3dcart, BigCartel, Magento, and Wix.
All of them helping users to create their eCommerce platform. However, not all of them are easy to set up or user friendly like iLink, but you can give a try.
Overall
It seems that Shopify is the most popular eCommerce builder website on the market, but it looks not fit for all size businesses. Small businesses or retailers might not be able to pay all transaction fees, or fees for extra features to sell on Shopify. So, it is logical to get other alternatives like iLink that have the same quality at affordable prices. It is well worth it to try.
Was this post helpful?
Let us know if you liked the post. That's the only way we can improve.