When shopping online, especially when the excitement of a new purchase is at its peak, waiting for your package to arrive can feel like an eternity. This is where "Urge Delivery" comes into play on Shein. As one of the world's leading fast-fashion e-commerce platforms, Shein understands the importance of speedy delivery in satisfying their customers' desires. Here you will find the answer to "what does urge delivery mean", how to select it and its benefits.
What Does Urge Delivery Mean on Shein?
Urge Delivery is a premium shipping option offered by Shein, a popular online fashion retailer. This service is designed to expedite the delivery process, ensuring that your order arrives at your doorstep in the shortest time possible. The term "urge" signifies the urgency of the delivery, catering to customers who need their orders delivered promptly.
How Does Urge Delivery Work on Shein?
When you opt for Urge Delivery, Shein prioritizes your order over others. It is processed and dispatched from the warehouse at an accelerated pace. The package is then handed over to a premium courier service that guarantees quick delivery. However, it's important to note that the availability of Urge Delivery may depend on your location and the items you've ordered.
Urge Delivery is a premium shipping option offered by Shein that promises faster delivery times for customers who need their orders quickly. Here's how it works, step by step:
When you're ready to check out, look for the option to choose "Urge Delivery" and add it to your order.
Shein will work to get your order shipped out as soon as possible after you place it. When the "Urge Delivery" choice is chosen, most orders will be sent out within 24 hours.
Shein will put your order at the top of the list and try to ship it as soon as possible. It means that your order will be given importance over other orders that were made at the same time.
Once your order has been shipped, you can track its progress through the Shein website or app to see its progress.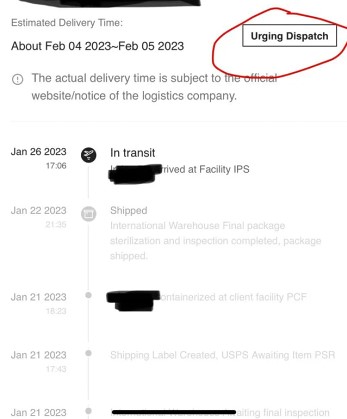 How to Select Urge Delivery on Shein?
Selecting Urge Delivery on Shein is straightforward. Once you've added your desired items to the cart, proceed to checkout.
Here's a step-by-step guide on how to select Urge Delivery on Shein:
Add the items you wish to purchase into your Shein shopping cart.
Visit your shopping cart and click "checkout" to proceed to the shipping page.
From the list of shipping options, select "Urge Delivery".
Confirm your shipping address and complete the payment process.
How to Track Your Urge Delivery Package?
Tracking your Urge Delivery package is easy with Shein's user-friendly interface. Once your order has been dispatched, you'll receive a tracking number via email. You can use this number on Shein's website or app to monitor the progress of your delivery.
Tracking your Urge Delivery package on Shein is a straightforward process. Here's a step-by-step guide:
Log in to your Shein account.
Navigate to the "My Orders" section.
Find the order that you want to track.
Click on "Track" or "View Details" next to the order.
You will be redirected to a page with detailed information about the current status of your order.
Please note that tracking information may not be immediately available and can take a few days to update after your order has been shipped.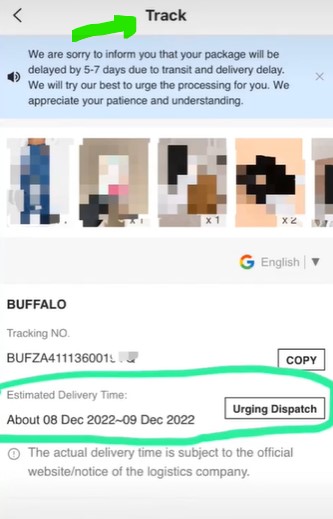 All Benefits of Urge Delivery
The primary benefit of Urge Delivery is its speed. It significantly reduces the waiting time, providing a convenient solution for last-minute shoppers. Additionally, it offers detailed tracking, giving you peace of mind as you can monitor your package's journey.
Faster delivery times: Urge Delivery ensures that your order is processed and shipped out as quickly as possible, reducing the waiting time for your package to arrive.
Convenience: If you need an item urgently, such as a last-minute gift or an outfit for an upcoming event, Urge Delivery offers a convenient solution.
Priority processing: When you select Urge Delivery, your order is given priority over others, ensuring that it is processed and shipped out as soon as possible.
Detailed tracking: You can track the progress of your Urge Delivery package through the Shein website or app, giving you peace of mind as you monitor its journey.
Customer satisfaction: By offering faster delivery times and detailed tracking, Urge Delivery helps to improve the overall shopping experience and increase customer satisfaction.
What Are All Of Shein's Shipping Options?
Shein offers several shipping options to cater to various customer needs. These include Standard Shipping, Express Shipping, and of course, Urge Delivery. The availability and cost of these options may vary based on location and order details.
FAQ
Is urge delivery on shein free?
No, Urge Delivery comes with an additional cost due to the premium services involved. The exact fee will be displayed during checkout.
How much is Urge Delivery?
The cost of Urge Delivery varies depending on several factors including location and package weight. You can view the exact amount during checkout before finalizing your order.
What does ready to deliver mean?
"Ready to deliver" means that your order has been packed and is awaiting pickup by the courier service.
What does it mean when Shein says waiting to be picked up?
"Waiting to be picked up" indicates that your order has been processed and packed, and is now waiting for the courier service to pick it up from Shein's warehouse.
Can I get refunds on urge delivery fees Shein?
Shein's refund policy on delivery fees may vary based on specific circumstances such as delays or errors during delivery. It's recommended to check their official policy or contact their customer service for accurate information.
Was this post helpful?
Let us know if you liked the post. That's the only way we can improve.