Guest blogging, also known as Guest posting, is somehow an exchange in the content between two business websites, which is a very effective way of marketing your business.
It is a well-known fact for bloggers or business owners that blogging is one of the many ways they can increase the traffic of their website or blog and Guest blogging is a method on marketing one's blog which is still a very effective and highly used way of getting more attention to your blogs.
What is Guest blogging?
Guest blogging also known as Guest posting is somehow an exchange in the content between two business websites in which you would offer to write a blog for a business website that has the same niche as you or is at least somehow related to your business. In return, you'll get the chance to give backlinks and to link the blog to your blog, and this way, you have used that website's audiences and views to get more traffic for your blog. However, if you don't want to put in a lot of effort you can also use Guest Posting Services to get backlinks faster.
Guest posting on similar industries' websites is used mostly to drive more traffic to a bloggers site and is still a very popular blog promotion method. You might still be thinking of why should I post a blog on other people's websites? How can that benefit me? And most importantly, what is the goal of becoming a guest blogger?
Let me explain that If you own a startup business to grow and nobody yet knows about it, the guest posting strategy is very effective and cost-worthy ways you can try out to reach more relevant audiences and get more traffic on the website. This is not only for startups or small businesses, and even larger companies can benefit from blogging on different similar blogs as a guest.
Why is guest blogging important?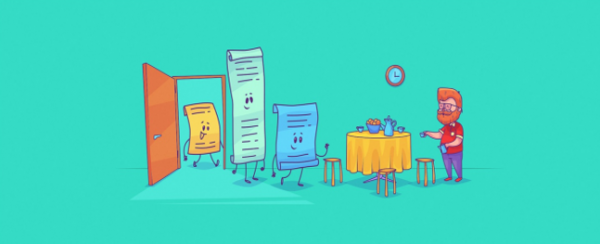 You might be thinking it's just useless to write on someone else's blog as a guest, but you surely are unaware of the benefits becoming a guest blogger can have for any businesses' growth and websites' traffic.
It is not important whether you are an individual blogger or a large corporation, having a good guest blogging strategy will help in increasing business sales and so many other things. To convince you to start a unique guest blogging strategy, below, I'll mention some of why is guest blogging important and what are its benefits for any business:
Shower your site with more Traffic
The more backlinks a site has, the more credit it gets. By having a good guest blogging strategy, give your site the opportunity to get backlinks from different sources, and this boosts businesses' credit a lot. The more online traffic you get, the better business would grow, and if this traffic is achieved through links, it would directly be counted as more organic engagement which is all a business website needs for popularity.
When you write a guest blog in relevant niches, this will help to show you as an authority, and you will be known as someone who knows about that subject and has quality knowledge. That builds up more credit on your website, so you'll get more clicks on links.
Build more visibility and search engine authority (SEO)
Becoming a guest blogger on websites with high domain authority and in easy words, the blogs which are visited more and are popular among users can help anyone to become more visible and gain more search engine authority. When we guest post on a well-known website, we are opening our site's arms to a huge amount of traffic without investing in advertisements or buying links from other sites and without applying lots of SEO tactics.
If you apply a good guest blogging strategy and publish a blog as a post on another blog and include your blog link (which is usually in the author bio), these links are crawled by the search engines and no one can imagine how beneficial that can be for blogs' SEO and visibility.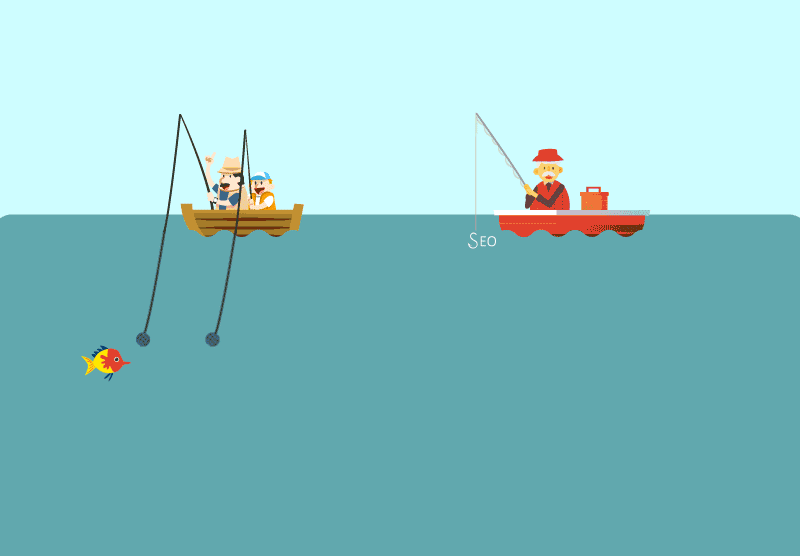 An effective and cheap marketing method
Imagine you are representing a new business that nobody still knows about, and you have wisely chosen online marketing over traditional marketing because you know it is more effective nowadays since social media and internet have conquered the world and can connect millions of people all over the globe to each other.
You do not have enough budget to start paying different authorized sites to advertise your business, and you cannot consider Influencer marketing since it costs too much! So what is a cheap way to market your small business?
Think of guest blogging as an option because this way you can market your own business or startup easily with actually no cost and your voice would be reached to a lot of new audiences and benefit from another website's popularity and traffic and make them your audiences as well.
Disappointing fact: Here pops up a sad truth that some sites might want the guest blogger to pay for publishing guest blogs, which is normal and might be because of the high amount of traffic that site has, but even if we had to pay, in most cases it is worth it, and it costs less than other marketing strategies. But it is yet better to find sites that offer us free opportunities to guest blog.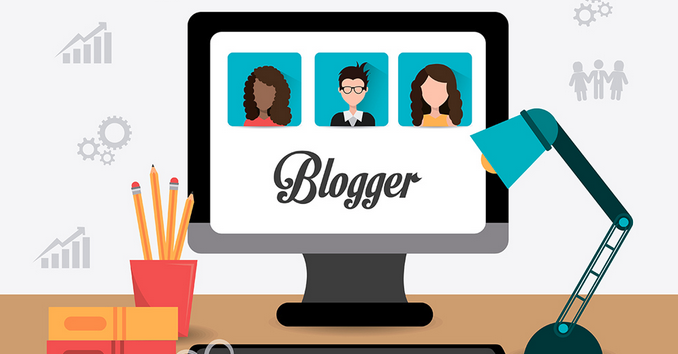 Develop credits and become more reputable
One of the biggest benefits guest blogging has for us is the reconnection we get from it. When we want to submit a guest post on a blog, in most cases we have to add a short bio of yourself, write our names and at last upload, a profile picture of that helps us to be known and noticed amongst the similar bloggers of our niche, and our work can be recognized easier.
Remember when posting as a guest on a website, you are getting a bit of a site's audience and attention because the audiences of that site trust that specific host blog and would also trust your content. So try to create good content that is relevant and gives the audiences an answer to their questions and do not just try to advertise all the time and give them free information and solutions. Besides that, be a little creative and give smart backlinks and advertise a bit about your business and its offers.
That's why we recommend finding relevant websites because if you just publish content anywhere that has nothing to do with what you do, it would be considered as spam, both by the search engine and the audiences of that site and you have somehow ruined your name and reputation this way. So just be on point.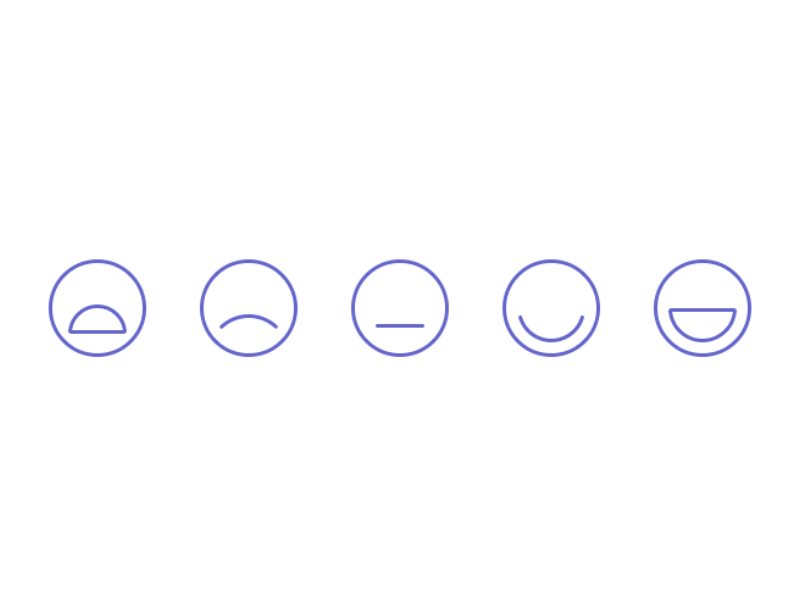 Gain more writing skills and experience
I have to confess that I have started my own writing just to answer questions that I was interested in on platforms like Quora and Reddit. Things like animals and movies, but gradually I thought, why not write a bit more professional on a specific subject? That was when I chose social media as my main topic and started reading articles about it and began writing articles and Instagram and other social media platforms.
Practice makes perfect, and that was proved to me after I kept guest blogging on different sites. I was becoming better and better in writing as days passed, and that was because I needed to write appropriately so that I could get my guest blog published on many sites since so many of the host blogs are so picky about the articles they publish and you should think a lot and plan your content before writing, and that's how you can improve and the more you improve the better you can market your business, and you'll create more informative and worthy blogs for guest posting.
Build Influence and relevant relationships
As told above, Guest blogging is somehow an act of exchange with which you would offer to write an article for a blog as a guest, and in return, you'll get the chance to give backlinks in the blog. Businesses can help each other this way, and both sides can benefit from this. When you guest blog, make sure to make a useful and beneficial article for the host blog because that can be a start of a partnership that starts from a single guest blog and might later turn into a partnership or long-time content exchange.
Another mentionable thing when marketing businesses with a guest blogging strategy is that you should have healthy online connections and relationships so that the act of networking would be easier for you. If you have special knowledge or are introducing a similar business on another site, guest posting can help you a lot because this way you can build relationships both, with new audiences and your niche's markets bloggers for further partnership and content exchange.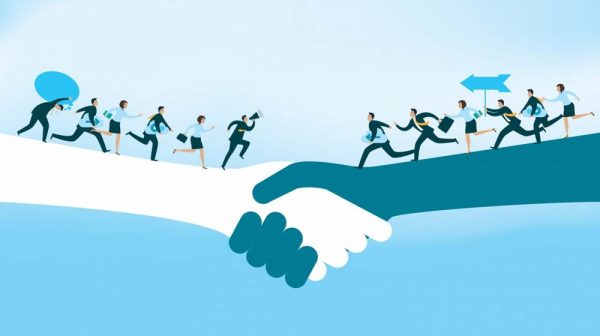 Know other's opinions and get criticized
Use other people's ideas and welcome new ideas and criticism. If we keep posting on our sites, we might not receive even a single comment or email because we are not that big yet or people do not feel comfortable sharing their opinions with us. But when guest posting on other sites which are bigger than us, we were noticed by a lot more people who do not care much about what you do so they'd freely criticize your business and content by pointing out to its flaws. This will let us use their ideas to improve marketing and business strategies.
Grow social media accounts
As a business, it's important to care about a lot of things rather than just the traffic of the site, in order to be successful. Build strong social media profiles so that the people who search for you would see a powerful and trustworthy business rather than a profile with no credit, activity, and followers.
If you want more customers and audience, be active on social media as well as other sites and becoming successful on social media accounts, requires to be seen, use guest blogging as a bridge that people can use to connect social media profiles. After writing a great guest blog, people might want to reach out to you to read more and get to know you better, so they'd come up searching your name on social media platforms, or they'll be easily redirected to your profiles from the information you have written on the author box below the guest post. The more people reaching out to your social media accounts the more audience you get for your business.
How to become a guest blogger?
Now that you know how beneficial guest blogs are for your business's visibility and popularity, I want to show the steps one should take in order to establish yourself as a credible guest blogger. At this stage, you are wondering how to become a guest blogger, so here we go to get more information on becoming a guest blogger:
Choose a specific niche and stick with it
I mentioned above as well that you should have a specific niche to write about to establish yourself in that specific niche. This is so important for staying relevant. You should not be known as somebody who jumps from one field to another. Just try to make yourself an expert in the niche. The articles and guest posts you write should be related to your business and what it offers, so stay within your niche.
Have your own blog and keep it updated
It would be very difficult and almost impossible if you do not have any sites or blogs in which your style of writing and content can be evaluated. Moreover, this means that you are not a reliable source and might not be allowed to share blogs on so many sites as a guest if you do not have something to show off and to prove yourself with. So the first step in becoming a guest blogger is to develop a blog and to fill it with good quality content about your business and niche.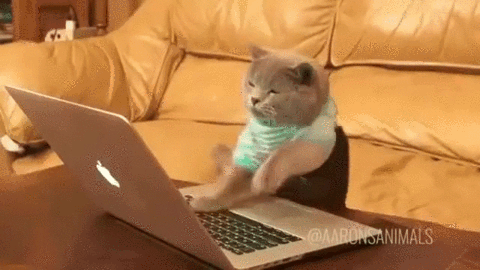 Have a stable social media presence
If you are seeking to benefit from the traffic of a site, have something to offer in return to the host blog as well. After you submit an appeal for a guest post, someone from the host blog would definitely investigate a bit about your business and its authority to see if your blog is worth being published on their site or not. So, be active on various social media platforms, and have some followers and activities to show any visitor who you are and why they should trust you.
Why would someone want to allow a business which has zero followers and activities on their twitter or LinkedIn account to guest post on their site?
Team up with others in the industry
Guest blogging opportunities might be just in front of your eyes, and you might be ignoring them without realizing it, and that's because you think of all other bloggers as competitors, which is a huge mistake in marketing. Team up with some of the business blogs which have the same niche as you, and this way, both of you can benefit from exchanging content and traffic.
Contact the blogs you want to guest blog on
The last step and meanwhile the most important and sensitive step to start guest blogging is to contact the site you wish to share a guest post o and write to them about interests, experiences/skills in writing and your businesses' niche.
After that, give them the link to the site in order that the blog's owner visits your website for evaluating writing and getting to know the business to decide whether or not to accept your guest blogging appeal or not.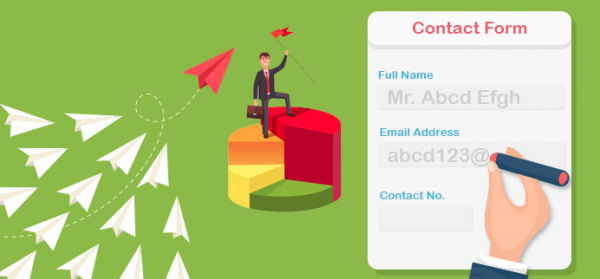 How to Find Guest Blogging Opportunities (Where can I guest blog?)
It can sometimes be difficult to find sites that would accept guest posting or even if they do, they might not consider every blog as a worthy one to be published on their site. To find yourself some opportunities to guest blog on bigger sites, consider doing the steps below:
Make a list of similar blogs
If you wish to use guest blogging as a marketing tactic to grow your business and increase the traffic of the site, consider blogging on sites that have the same niche as you. So the very first step is to search for them to find them. Just head to Google and search some keyword phrases describing your niche. After Omitting the ad results, the first 200 results are the best and are more useful for you to guest post on.
Imagine you want to write a guest post on "marketing." The keywords would be things such as: "how to start marketing," "how to market your business," and "marketing tips." This way, find the top sites similar to your niche, and then you can opt to appeal for guest blogging on them.
Find out which sites accept Guest blogs
There are two ways to find out if the chosen sites in the list accept guest blogs or not. The first way is to look throughout that specific site in sections like "contact us" to see if they have mentioned anything about guest posting or not. In some sites, it is written as "write for us," which means that the website is inviting the guest visitor to submit posts.
Another way is to search your keywords with the following search terms: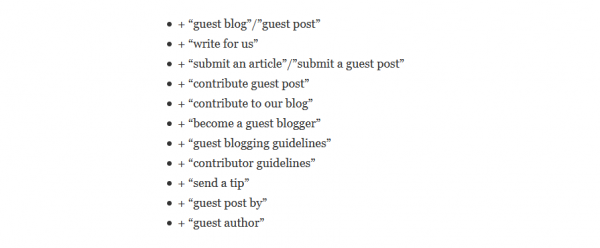 In order to find the relevant sites that accept guest posts from others, you need to search in the format above. The picture is taken from https://www.forbes.com/sites/lilachbullock/2019/02/22/how-to-find-guest-blogging-websites-4-easy-tips/#22578e2931bd.
Use tools that help you find guest blogging opportunities
There are some tools that are very useful in finding guest posting sites and give you the best guest blogging strategies. Use Alexa's Find Similar Sites for finding websites similar to yours. Although none of such tools are specifically built for this purpose (for finding guest blogging opportunities), they can prove to be very useful to your search.
Tip: Now that you have made the desired list of websites you want to submit a guest post to, research whether these sites have writing guidelines or not and read the tips and guidelines carefully so that your post would not be taken down or face any issues while being published.
Conclusion
Guest blogging has been a very effective marketing tactic over the years because of the great number of benefits it provides for a business. It increases traffic, credibility, visibility, authority, and search rank of your website with the given backlinks, and it is cost-free. Guest blogging is a must-use strategy for every small to big business wanting to reach out to new audiences.
Was this post helpful?
Let us know if you liked the post. That's the only way we can improve.