You may already know the fact that you can buy YouTube likes and views to increase the online visibility. But if you want to promote your videos and images observes on the YouTube platform, you should follow some practical tips of videos and image size cause of your visitors to take advantage of your videos.
Before publishing your videos on this hugely popular social media, it is better to know some noticeable prerequisites to play your video clips on a variety of devices. So, you need to have the best video size for this aim.
How to change YouTube video size
As a YouTuber, you should know how to edit videos and change YouTube videos to make them look exactly as you like. Luckily for you, YouTube offers good editing options, such as the ability to create captions, blur faces, and add effects. You also have the option to adjust the dimensions of the video by editing its aspect ratio.
Did you know that you change the video to stretch to a 16:9 ratio or crop it to fit? To do that and make those changes, you need to add a dimension tag to the YouTube video manually.
If you are willing to change YouTube video sizes, then follow the steps below:
Head to YouTube and log in.
Tap on your username at the top right to open a menu.
Fid "Video Manager" and tap on it.
Tap "Edit" to change the dimensions of any video you desire.
Place your cursor into the tag field.
Paste in your desired dimensions using one of the following codes: "yt:crop=16:9," "yt:stretch=16:9," "yt:stretch=4:3" or "yt:quality=high."
As the last step, click "Save."
What is the best YouTube video size?
YouTube supports widescreen computer displays 16:9 aspect ratio player (with a width of 16 units and a height of 9). It is the most common aspect ratio for about nine years in desktop and TVs. It used to be difficult to upload high quality or full-HD videos on YouTube, but now there is no limitation for, you can upload a high volume of content with a high-quality and optimized format.
Recommended YouTube video dimensions: 426 x 240 (240p), 640 x 360 (360p), 854 x 480 (480p), 1280 x 720 (720p), 1920 x 1080 (1080p), 2560 x 1440 (1440p) and 3840 x 2160 (2160p).
Let's start with some basics of uploading YouTube videos.
What does resolution mean?
The number of horizontal and vertical pixels on a display screen.
You are allowed to use these resolutions options to do your job well. Otherwise, you will produce a video with black bars on the sides and as a result of a low quality.
In the picture below you can see 7 different types of video resolutions with their names.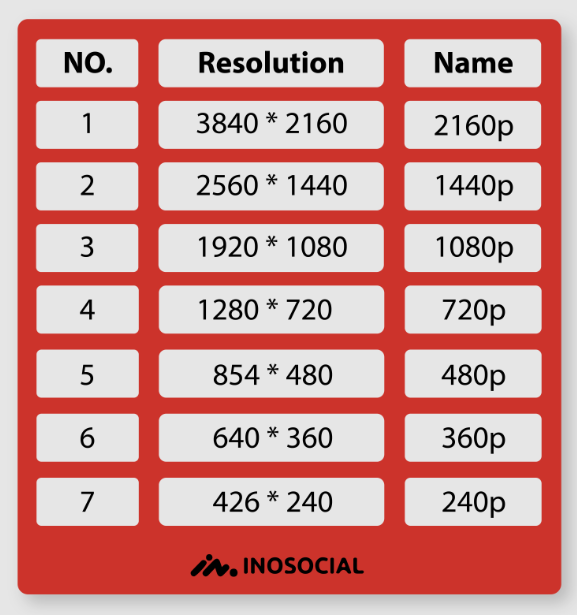 The most appropriate one is the first option 2160p, known as 4K as well.
The second one is proper resolution also but as not high quality as the first one(4K).
1080 p is the same as Full-HD) high-definition video modes(
360 P is standard as the common resolution of the websites.
240 p is the resolution for uploading a video.
Changing YouTube video quality
You can have this adjustment on YouTube both from your mobiles and desktops
To change the YouTube video quality:
Go to YouTube and play a video
Select the Gear icon
Select the quality (should be the last option)
Select any quality you prefer
Tip: the highest quality of YouTube video is 1080 but this may change according to the video you are playing. You should see what are the available qualities for that video.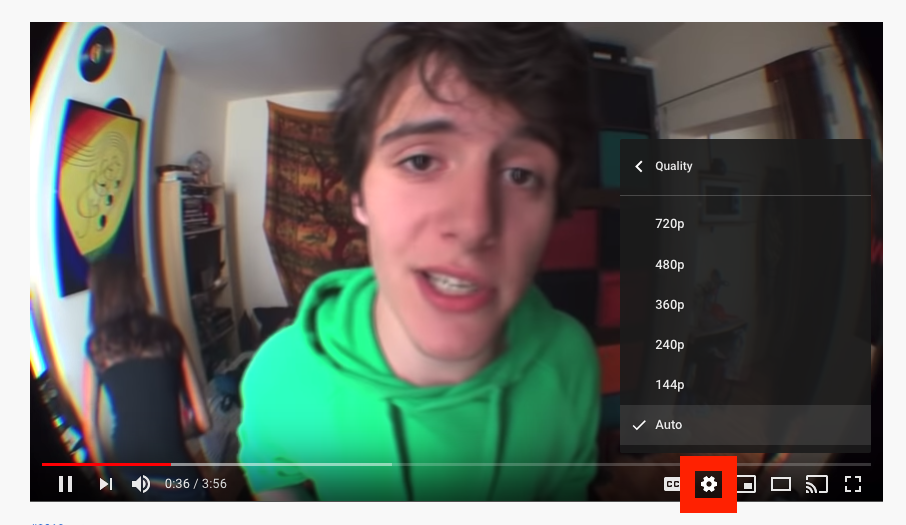 What is the best YouTube cover photo size?
Image is an eye-catching thing in getting the attention of users to view your videos on YouTube. It is vital to select a suitable channel cover photo before your video is going to play.
1.YouTube cover photo size 
The point with the channel cover photo is its optimal size, which is normally 2560 pixels wide by 1440 pixels tall. So, the recommended size to upload your cover image on YouTube is 2560 x 1440 pixels. The main thing you should take care of is that your channel cover appears in different forms, in multiple kinds of devices such as mobile, desktop, TVs. So do your best to design it in the correct dimensions well enough to display properly.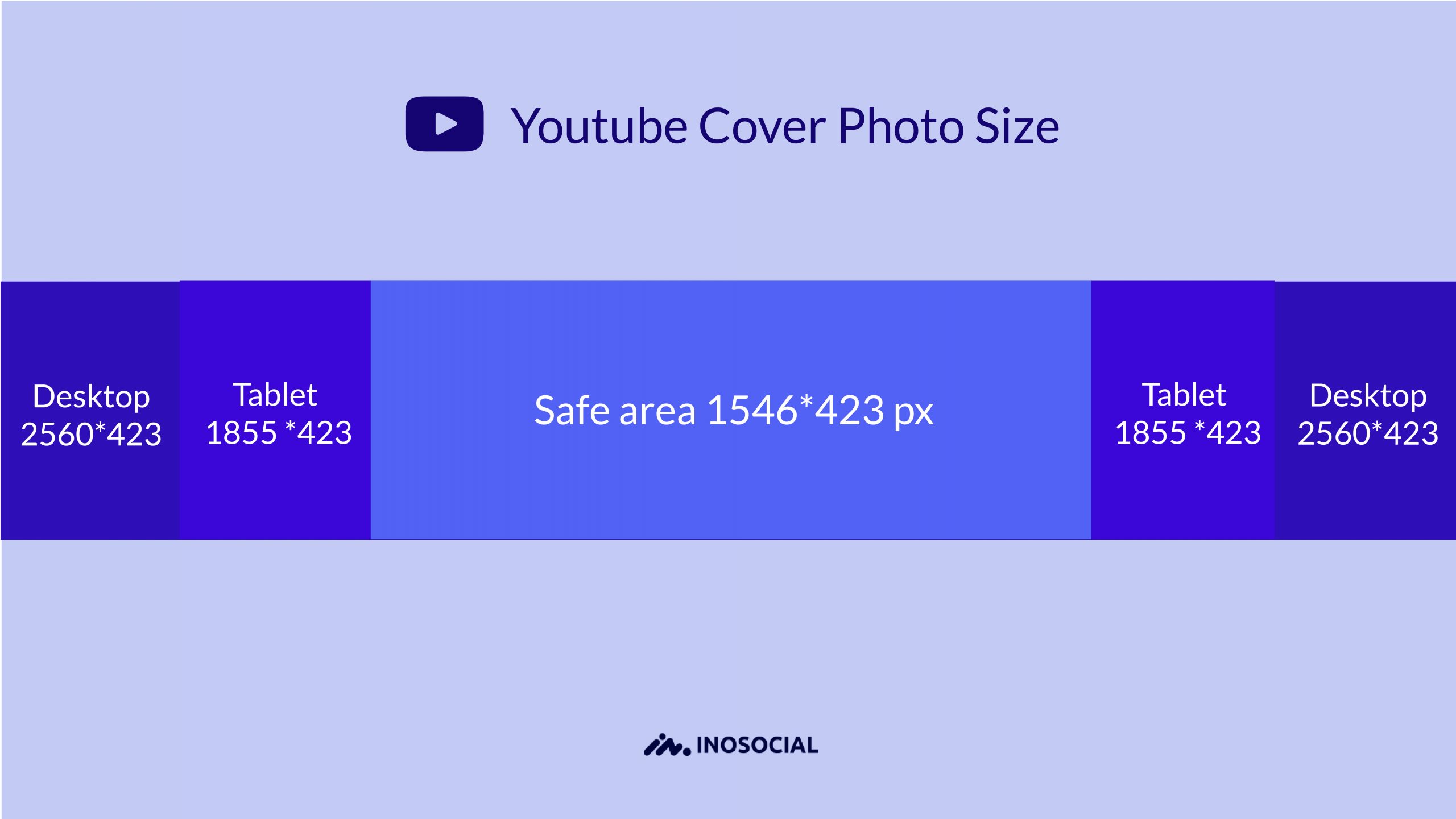 There is a box in the center of the above picture, with the size of 1546*423, it called the safe area, which is visible in any device. I mean whatever you upload as an image, it surely can be visible in this area in all kinds of devices. If you are going to open YouTube on your TV display, the image will cover the specific size of the background 2560 x 1440 pixels. Also, the standard format of the image is 2560 x 423 pixels for desktop display while the visible area will be 1855 x 423 pixels in tablet display.
In fact, you don't have to worry too much about what image size you should use for your YouTube cover photos. There are many free online tools to help you make a 2560*1440 pixels YouTube cover quickly. One free YouTube banner maker you can try is Fotor.  It offers easy-to-use design tools and a range of presized YouTube cover templates. Simply choose a template that suits your needs, then customize it with your own text and photos. In just a few clicks, you'll have a YouTube cover image that looks both appealing and eye-catching.
2. The profile photo on YouTube
Its typical size is 800 x800 pixels as well as your YouTube channel icon. According to this particular size, it is better to have a personal image on or your brand logo to confirms your account identity.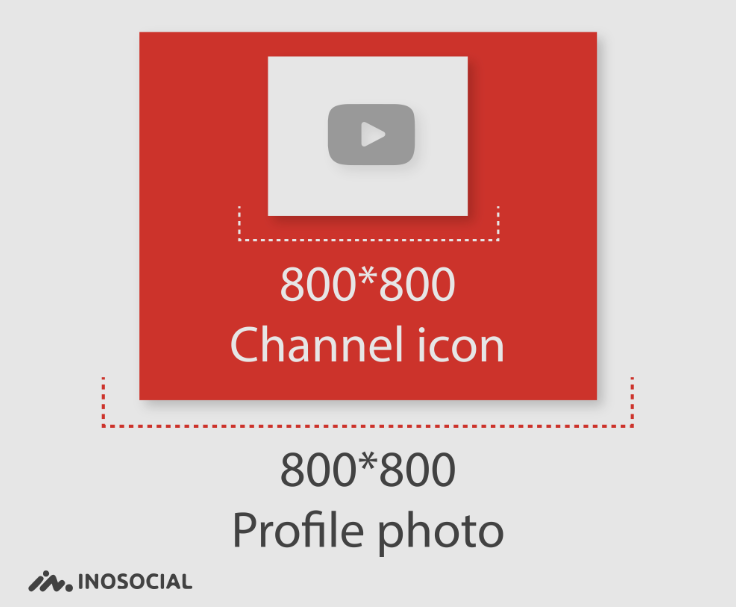 3. YouTube Thumbnails
It is a copy of a large image, but in small dimensions which are used for a total overview of the photo, which has made it easy for viewers, by clicking on this smallest image(Thumbnail) to watch the videos.
Your photo should be 1280 x 720 pixels, with a minimum width of 640 pixels. A ratio of 16:9 is ideal as it's used most often in YouTube players and previews.
Also Read: "10 Best YouTube Video Downloaders"
The ideal characteristics of thumbnail photo
Minimum width: 640 pixels
Maximum file size: 2MB
Recommended ratio: 16:9
Popular file type: Image files, including.JPG, GIF, BMP, or.PNG
Was this post helpful?
Let us know if you liked the post. That's the only way we can improve.