In the world of technology and an ever-increasing number of apps, every business needs to be up to date. Using the best app to promote every business is necessary. Many of these apps are free to use and easy to set up. You can also check the progressive web apps and encrypted file sharing.
What are the top apps for every business?
Here is the list of necessary apps that every business can use on their phone, to perform better and faster. This would help to get more connections, increase productivity, manage files, and documents. Some of them are great if you are running the business social media accounts.
1. iLink landing page
iLink is a platform to build a landing page (like a webpage on a website). In this landing page that every business need, they can share and connect all their social media accounts, essential links, videos, or audios. iLink would merge all the links in one single webpage, which is easy for customers to reach the business. They can share the unique URL in their social media or any other places.
If you want to use the iLink on the mobile phone, you can use any browser such as Safari, Chrome, Firefox on smartphones.
To use iLink, all you need is going to il.ink and set up an account.
Alt: iLink landing page
2.iLink online brochure
iLink has another service for a business called iStore to add their products or service in an online catalog. So, if you are running a business, you can create a collection of your products with their detailed descriptions (that is optimized for search engines), picture, price, link to buy, etc.
The same as iLink, you will have a single URL for your online store to share with customers. They can sort the products to find the best suits for them.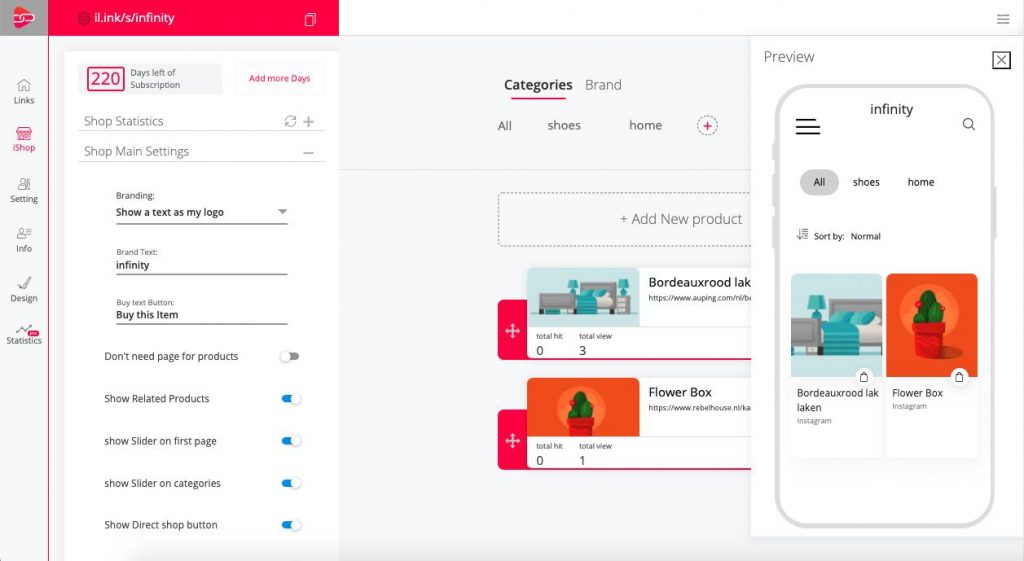 3. Zoon cloud meeting
During the pandemic, the need for cloud meeting increased. Now, the Zoom app for both android and iOS devices is an inevitable part of every business that work online together. It seems that zoom is the best cloud meeting app for all types of business.
4. WhatsApp business
WhatsApp business app can enhance the quality of the conversation by automating and sort and quick response. So, if you have many customers, or you are using WhatsApp to give support, you should switch to a business account. It's easy, and you can set it up quickly within the app. Also, there is an opportunity to verify your identity. So, this would enhance the customer's trust.
5. Scanner app
If you have no access to any scanner, you can easily use your mobile phone to scan and sign documents and share them in any formats. Using the scanner app is also a great way to keep the documents in your account. This is among the best business apps in the app store.
6. Facebook page manager
Facebook page is used to promote a business product, and since Facebook has billions of users, it can bring lots of customers for a business. However, a company can have more than one Facebook page. Using a Facebook page manager, you can have all pages in one app, and this would increase your speed.
7. Call recorder
If you have any interviews or phone calls, you can record the voice to keep the sound. Using call recorder is easy
8. Trello organize anything
Trello is one of the most amazing apps with all the options required to organize the tasks. You can create different boards with different lists, and assignments to do. There are also options to add date, time, team projects, and some other fantastic options.
Trello app can be used for personal or business use. In its free version, you can easily manage all your task in a team. If you need the further advanced option, you can upgrade the account.
9. Social media manager
Since social media is an inevitable part of every business now, therefore having a social management tool would save you tons of time and energy. However, there are many social media management tools available on the market in which Hootsuite, Buffer. Later, Instazood is among the best and well known.
10. Winner picker
Running a contest in social media can attract many followers and fans. Picking a number, or a comment, or like can be made using the winner picker tool. These tools are free of charge for small accounts, with a few likes or comments.
If you are going to use a winner picker on mobile, you can use any browser such as Safari, Chrome, or Firefox. All you need is to copy and paste any post URL and insert it in the tool. It will show you the winner.
Was this post helpful?
Let us know if you liked the post. That's the only way we can improve.