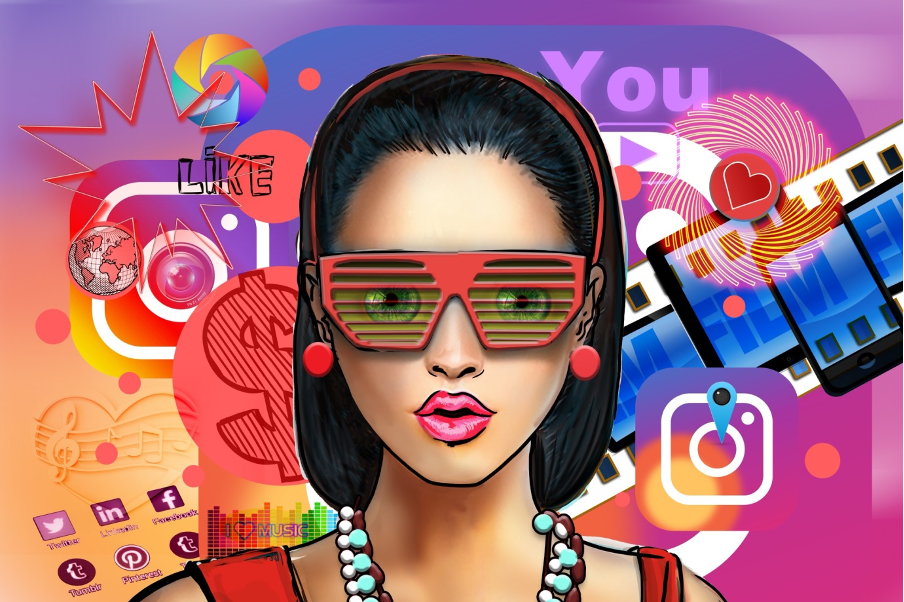 71% of adults in the United States use Instagram.
It's an insanely popular social media channel, but it can be a bit confusing at first for new users. 
Are you new to Instagram? Do you want to learn the ins and outs of the app before making full use of it? If you answered yes to either of those questions, you're in the right place.
Read on to get a complete guide to Instagram for beginners that covers everything you need to know to get started on the right foot.
Posting on Instagram
The first thing that anyone new to Instagram should learn is how to post.
There are a few different kinds of posts that we'll cover: posting to your profile, posting to your story, posting a reel, and going live. You can create all those content via Instagram post maker.
Posting to Your Profile
Posting to your profile is the easiest out of all posts, so let's start with that. 
These posts will show up in people's feeds (what they see when they first open the app) and your profile (you can click on your profile by tapping the icon at the bottom furthest to the right).
To make this kind of post, tap the plus sign you see at the top of the app and click the first option, "post."
From here, you can choose any photo from your phone and even edit it right in the app! Once you're happy with how the picture looks, you can click "next," and you will see a few options, including a space to create a caption and tag people.
Posting to Your Story
Posting a story is another way that you can share content on social media. 
You'll follow the same steps as above (clicking plus sign, then click story).
From here, your camera will open, and you can either take a photo now or tap in the bottom left to upload an image. Try playing around with all of the fun add-ons that Instagram has available for stories.
You can add music, add different effects and filters, add text, and more! Once you play around with these features for a few minutes, it's easy to see what they all do, and they're easy to find again because they're all labeled within the app.
One thing to note is that stories go away after 24 hours, unlike feed posts which stay unless you delete them.
Posting a Reel
A reel is a short video that you can post that can show up on your main profile, in your reels section, or both (you choose when you make it).
Posting a reel is similar to the process of posting a story (clicking plus sign, then click reel) because you have tons of options within the app to use. 
Start by choosing the length, picking any effects you want to use, and then record! You can edit it afterward to truly make it your own.
Going Live
Going live is the most unique out of all the types of posts. You find it in the same place as the other options. From here, click "live," and you will do just that.
This post is a live post that people can tune into in real-time and interact with you. After the live is done, you can save it and post it on your profile so that people that missed out can see it, or people that want to rewatch it can.
Interacting with Other Accounts
One of the best parts of using Instagram is being able to interact with other people! Of course, there are many ways to do that, but we'll cover resharing posts, commenting, checking out your explore page, messaging, and viewing stories.
Resharing Posts
Sharing other people's content is a great way to show your support and show things you're interested in without posting your content.
You can do this by taking a screenshot, but there are other ways too. Check out more about resharing a post here.
Commenting
To comment, click on the caption of a picture you're looking at, and a text box will pop up for you to type in.
You can even tag people by typing "@" before their name and clicking on them when they pop up. This gives them a notification to see your comment.
Messaging
To send someone a private message, click on the icon that looks like a paper airplane in the top right of your app. From here, click the pencil and paper icon in the top right.
Now all you have to do is type in the person's name and craft your message. You can message multiple people or video chat with someone by clicking the video camera icon instead.
Viewing Stories
Anyone who has a story posted will pop up right at the top of your screen when you click on the app. Click on the little bubble that shows their photo, and it will show whatever is in their story.
Tap your screen to click through, swipe right to skip, or swipe up to react or send a message.
The Explore Page
To get to your explore page, click the magnifying glass icon on the bottom of the screen.
Here, you will search for people or things by typing on the box at the top. 
Below, you will see an endless feed of content that Instagram curates for you based on the people you follow and the type of content you interact with. This is a great area to find new accounts to follow!
A Quick Guide to Instagram
This simple guide to Instagram covered the basics of using Instagram to ensure that you can post and interact with people from day one.
From posting a classic feed post to being bold and going live, you will know how to share your ideas with the world. If sharing isn't your thing, you will still be able to comment, find new content, and message as many people as you desire.
Instagram is a wonderful way to take advantage of social media, and this guide will get you started with ease. If you would like to find more helpful information like this, please take a look around the rest of the site!