The entertainment industry is a multi-billion dollar sector that has been thriving for decades. Movies and TV shows have been the cornerstone of entertainment for years. Whether it's in the cinema or on your TV screen at home, there's nothing quite like sitting down and watching an excellent movie that keeps you captivated. In recent years watching movies and TV shows has become much easier and more convenient than ever before too!
With the rise of streaming platforms like Netflix, Disney Plus, and Amazon Prime, entertainment is never far away. Thanks to the internet and modern technology, you can tune into a movie or TV show from anywhere, at any time. You can use a laptop, smartphone, or smart TV to keep yourself busy, and that's one of the most incredible advancements that we have seen over the past few decades. However, the only problem with these streaming platforms is that they are both expensive, and they are known to suffer severely from geo-blocking restrictions. This leaves most users frustrated and looking for another way to watch movies and TV shows from the comfort of their own homes.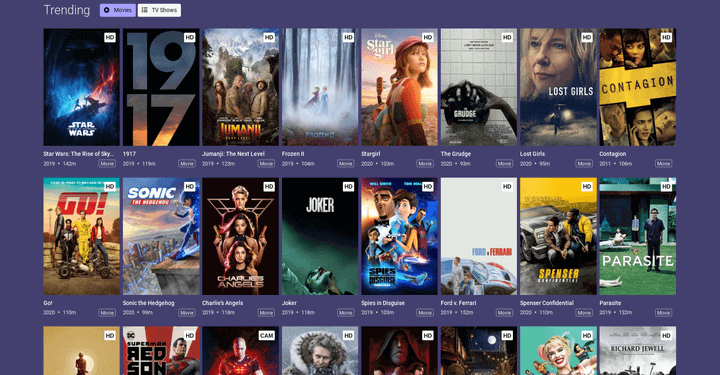 How to Watch Movies and TV Shows for Free?
Luckily though, there are some ways that you can watch all the latest movies and series for free no matter where you are in the world. However, you will need to make sure that your device is kept safe and secure if you're going to use the free streaming sites — we'll tell you about the best cybersecurity tool you can use below. You can even use the same tool to access new content on streaming platforms (like Netflix, Amazon Prime, and Disney Plus). Keep reading to get your next movie night sorted!
The Trouble With Streaming Platforms
Modern streaming platforms is sleek, intuitive, and incredibly popular. The likes of Netflix, Amazon Prime, and Disney Plus are growing rapidly and they have thousands of different movies and series available to watch. However, it depends on where you are accessing them from!
Many users have noticed that the U.S. versions of these streaming platforms have the widest and most comprehensive range of movies and TV shows. This has left many internet users frustrated as they pay the same price for less content. However, the different content comes down to the copyright and royalty laws that streaming platforms need to navigate when releasing content to stream in specific countries.
The content is also curated based on the country where the user is based. For example, if you're in Japan, you will see more Japanese movies and TV shows than if you were situated in Germany. This is understandable, but it can be frustrating for Japanese users who are traveling abroad and want to stay tuned in to their movies and TV shows. The same goes for anyone who travels abroad and loses access to the content on their streaming platforms.
However, there is a way to tune into another country's region of the streaming platform using a cybersecurity tool — we're going to dive into the details of that tool shortly. What's important to keep in mind here is that streaming platforms use your device's IP address to pinpoint its physical location. An IP address is simply a unique string of numbers that serve to identify your device on the internet.
Free Movies and TV Shows
There is another way that you can enjoy movies from the comfort of your own home. However, there is some additional risk involved, so it's not ideal for everyone. This method involves using one of many free streaming websites that are available on the internet.
There are plenty of websites that stream content online — from Putlocker to 123Movies, you can watch an endless amount of movies and TV shows on these websites. These websites are not illegal in all countries, but there may be some countries where they are illegal, so always check your local laws surrounding free movie-streaming websites.
The biggest risk to using one of these websites is that they do not host the streams on their website. This means that you can't be sure of the exact source of the streams — they could be unlicensed or illegal. They could also be set up by crafty cybercriminals who are looking to take advantage of unsuspecting victims. Skilled hackers can use illegitimate links to install malicious software such as viruses, spyware, and ransomware on people's devices — especially if you're not careful!
To overcome this risk, you need to make sure that you're using premium cybersecurity tools to protect your devices while streaming movies and series on free streaming websites.
Protecting Your Devices
The cybersecurity tool that you need is a virtual private network or VPN. VPNs are handy security tools designed to secure your connection and allow you to browse the internet anonymously. This will prevent anyone else from monitoring your online activity or keeping track of your browsing history — this includes the government and your internet service provider. For this reason, VPNs are excellent for keeping your devices secure online, and that's why you need to use the top premium VPNs for free movie streaming websites such as Putlocker.
VPNs can also spoof your device's location, which is why they help access new content on your premium streaming service. While using a VPN, you can connect to a secure global server in a different country or city around the world. The VPN will create a virtual tunnel for your connection to pass through the server, meaning that it will appear as if your device is accessing the internet from the server's location. So, if you connect to a server in the United States, you can access content that is only available to U.S. citizens.
You need to make sure to use a premium VPN at all times! There are plenty of free VPNs available on the internet, but they are not worth using. Premium streaming platforms can detect and block free VPNs, and they come with slower connection speeds that will cause free streams to buffer and drop in image quality. On top of that, free VPNs also have weaker encryption and security technology.
Was this post helpful?
Let us know if you liked the post. That's the only way we can improve.