you ever heard of the Instagram search tool? Have you ever used it? Instagram search tools are applications that can provide you with searches on your post profile or hashtags. Here are the best Instagram search tools.
Instagram search tools
Instagram search tools give you unique features, including the fact that you can use these tools to search and analyze a person's profile. You can also use the Instagram posts search tool. Search and analyze Instagram hashtags or other items on this social network. This tool can help you to see the profile of competing users and check them. Also, if you are looking for a specific video or image post, you can quickly find it and use it by searching. But what is the best Instagram search tool?
Ingramer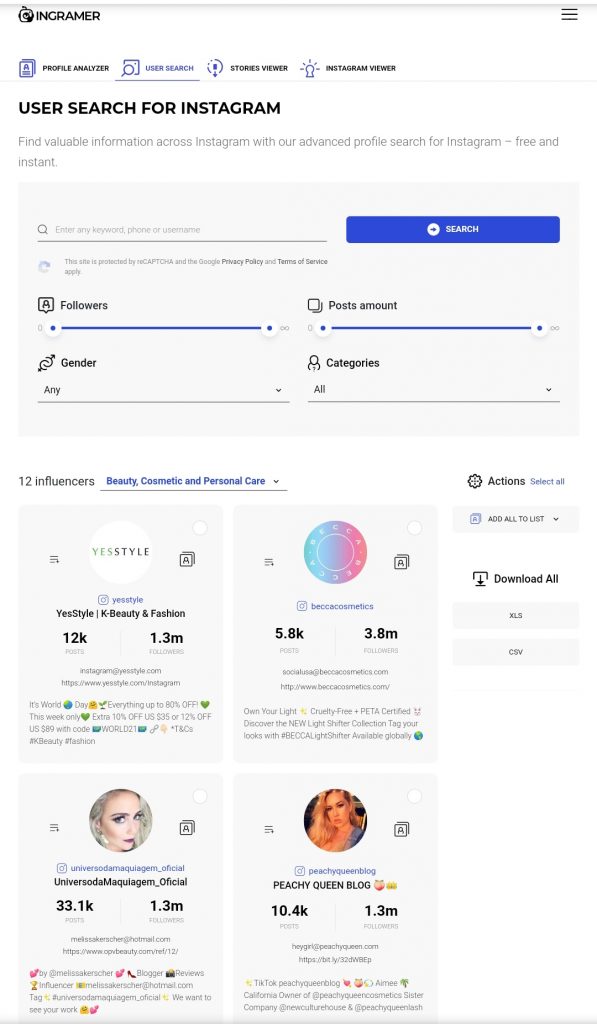 As we have already explained, Ingramer is one of the best useful websites for Instagram, in addition to the fact that there is a professional search tool on this website. You can use the Instagram search tool on this website to check a person's profile and analyze followers or check the level of engagement of people, as well as the number of posts on this page during the day of the week or month.
To use the Instagram search tool on this website, you must first enter the tools section and then the profile search. In this section, you can enter the name of the Instagram profile you have in mind in the box in question to open other information.
There is also a professional search section on this page where you can find Instagram influencers by category and filter their posts by number of followers, number of posts sent, or page engagement. You can easily find the best Find pages related to your category on Instagram.
Bigbangram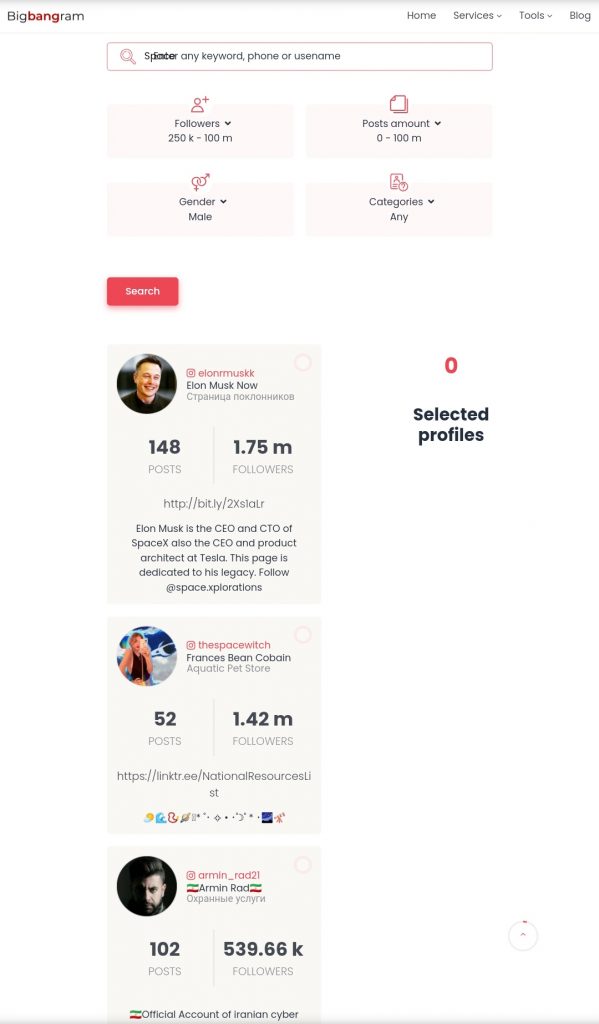 There is another increase in Instagram search that can provide you with very professional and advanced searches with different filters. This tool is available on the Bigbangram website and provides you with many features. These features include hashtag search, username search, phone number search, and more. Filters are also available based on the number of followers, the number of posts, the gender of the followers, and the main category of the page in question.
Using this Instagram search tool, you can easily search and examine the pages you are looking for in your category based on the number of followers or the number of posts or even the gender of the followers. You want to find posts from a competitor page and publish them with a few changes on your Instagram page. With BigBanGram website, this will be very simple and easy. Just enter the name of the category or page you want in the first box, then change the filters, and finally select the search option.
Keyhole
If you are looking for an Instagram search tool that can provide you with Instagram hashtag profile information live or on time, the Keyhole website is one of the best tools that, in addition to having tools for analyzing and checking the profile page of profiles and hashtags. Allows you to search for anything on Instagram and check it out live or on time. For example, you can search for a hashtag, put it in your hits, and check the weekly hashtag and how it is used on Instagram.
In this way, you can follow the trend hashtags every day or every week and use any of them that had more searches and feedback on your page. You can also check and search the Instagram profile page and visit them. On the Keyhole website, simply see and use the amount of activity or even the posts offered in this offer. Keyhole is one of the most powerful tools for timely checking on Instagram and searching for profiles and hashtags.
Socialrank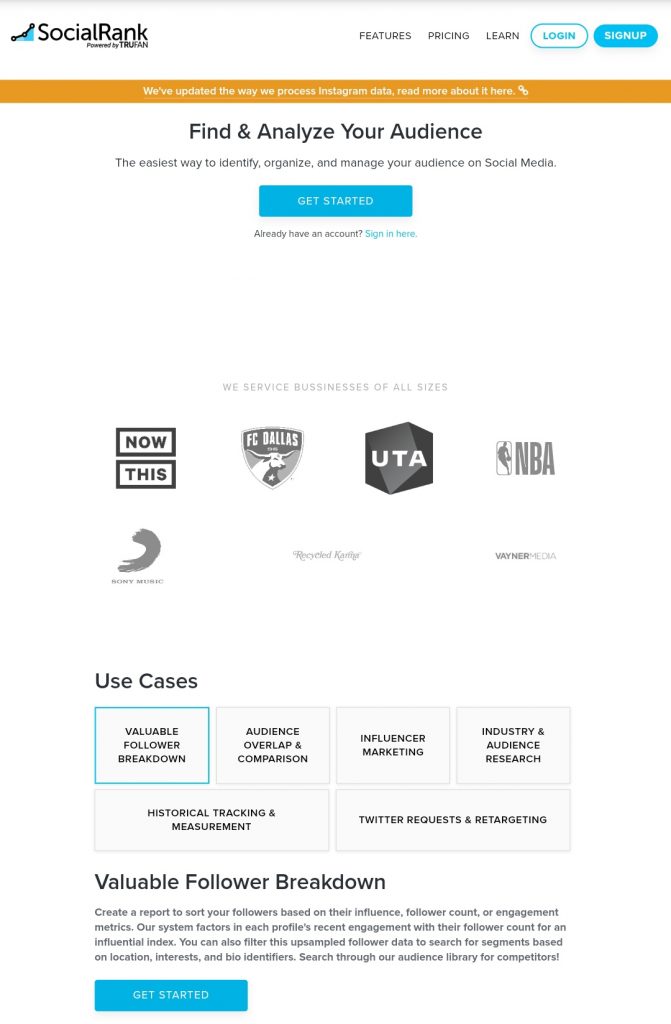 Another search tool of Instagram, of course, has only the capabilities of the previous tools, but it can also check and analyze your followers. The website is Socialrank, this tool specifically targets your page followers and categorizes them. And it can even show you their profile based on the bio or emoji they use.
There is even the ability to filter users and followers based on the number of followers, the number of hashtag posts or the level of their page interaction. Of course, after searching for followers and setting goals and filtering, you can add the desired output file to Get a tabular or Excel form from this website.
Bonus Social Media Management Tool: Vista Social
Vista Social is a modern, feature-packed and affordable social media management tool that's perfect for agencies or brands.
Vista Social's all-in-one social media marketing features include:
Post publishing
Highly customizable and automated reports
Social analytics
Reviews management
Social listening
Direct Instagram reels publishing
User tagging
Etc.
Compared to most social media management platforms, Vista Social is far more affordable since it charges per social media profile connected and not per seat.
Vista Social's free package allows you to connect three social profiles and include one user. Its paid package is only $3 per social media profile connected, while you can add unlimited users and social media profiles. Create a free Vista Social account today.
Conclusion
Each of the Instagram search tools gives you a special feature that you can use to improve the quality and enhancement of your Instagram page. But which tool is best for you should try and use it according to your goals. Have you ever used these tools? Let us know in the comments!
Was this post helpful?
Let us know if you liked the post. That's the only way we can improve.