Art is always fun, and it can be more happy-making when accompanied by a high salary. Photography of scenery and architecture is an example of this compound; it has both challenging and financial features, and you are guaranteed that your taken photos can always find their customers among real estate companies.
Is it really profitable? Then, how to become a real estate photographer? Understanding more about real estate photography and its details may help you decide if the career matches your skills and goals. In this episode, we will approach answering these questions;
Why should we think about being a real estate photographer?
How much is a real estate photographer salary?
What are the best real estate photography jobs?
How to become a real estate photographer?
Finding real estate photography near me
Why become a real estate photographer?
Real estate photography jobs are responsible for providing colorful photos with the least quality and criteria to be printed on real estate brochures' main pages. These images can be taken either by the photographer themselves or by utilizing a drone. Real estate photographers may also take photographs of model home builders, designers, home decorators, or architects.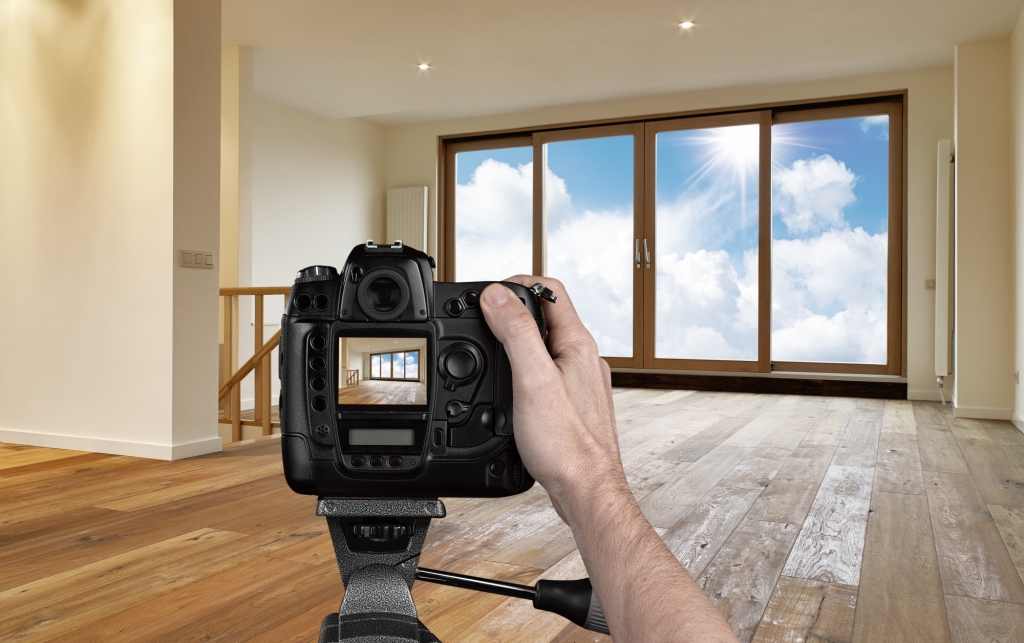 Note that being a real estate photographer is much more than a simple photo shooter; you are responsible for managing the pre-production and the post-production of your photos. Furthermore, you may also have to provide pre-photo decoration and post-photo enhancement and editing
Real estate photography is more interesting than you may dream about. Just make sure you have enough enthusiasm to continue the route of becoming a clever agent for your real estate boss!!!
How much is a real estate photographer salary?
Being a great real estate photographer requires much more than getting a single "certificate." As a result, you need to practically show how much creativity and professionalism you can add to your work. A typical real estate photographer earns an average annual income between $43,200 and $64,800. Salary ranges can vary widely depending on your skills, education level, certifications, and the number of years you have spent in your profession.
What are the best real estate photography jobs?
Nowadays, more and more companies are trying to get their desired employees from the ocean, so you have to be alert enough to apply for the job position you are created for. Similar to many skill-related jobs, you can find nice real estate photography jobs on Indeed, Upwork, or even LinkedIn. Here, we have gathered some real estate photography jobs which can be attractive and alluring;
Real estate assessment photographer
Day shift / part-time
Salary of $50 per hour
Midfield Enterprises, Atlanta, GA
Real estate photographer and drone pilot
Part-time
Salary of $22 per hour
An eagerness to learn photography – no experience is needed
Full Package Media, Dallas, TX 75240
Real estate photographer for events
Full-time
Estimated salary of $52,000 per year
Photographer with a background in real estate, weddings, portraits, and design
Atlanta, GA
Freelance real estate photographer
Part-time
Salary of $40 per hour
New York Multifamily at Marcus & Millichap
Real estate photographer with 3D/Matterport creatives
Contract
Salary of maximum $200 per hour
Need a person with a great eye for detail, responsible, reasonable, and who can provide both real estate and 3D scans
HomeStar Video Tours, Phoenix, AZ
Real estate photographer and 3D design expert
Contract
Day shift
Salary of $55,000 per year
HomeTourVision, Kissimmee, FL
How to become a real estate photographer?
Once you have gotten your reasons to start your real estate photography career, you are ready to pack your bag to begin raising your skills as the occupation's requirements. Six steps are needed to get the golden key to open real estate companies' hearts for yourself;
Study photography
The photography principle is an extensive knowledge that a photographer needs to learn. These lessons will give you a clear eye for camera equipment, lighting, artistic views, and compositions. If you are a newbie in the photoshoot business, maybe you need to attend a college, university, or art school and earn a bachelor's degree in fine arts with a focus on photography.
Camera equipment
The next level is more budget-related to your learning skills. A real estate photographer must have basic photography gear to start shining in the real estate sky, so open your PC and review all listings and specifications about photography equipment, including the camera, camera lens, tripods, and lighting accessories. Being a cheapskate is not recommended here; hence, maximize your budget, so you have enough choices for purchasing.
Get familiar with your camera and start shooting
Buying a camera is hard work indeed, but learning the way it works can be even harder. Take time properly to understand the efficient use of the features and settings of your camera. Maybe you need to spend hours as an expert changing your camera lens or taking photos of property specifics in various lights and angles.
After you feel confident in your practice, it is time to offer to take free photographs for a local realtor or contractor. These services provide free marketing photos, so you can develop your skills and experience to get ready for a real condition.
Become proficient in editing software
Raw media material is not an object your client saw in their dreams. As you know, photographs need adjustments and enhancements. In this case, you have to take several courses in learning photo editing software to crop, add light, expose, and sharpen your images. Note that real estate companies are not willing to wait for a century for your editing process; therefore, clients often expect a quick turnaround.
Create a portfolio
Any photographer needs a portfolio representing their best work and demonstrating their skills to potential clients. As you provide your photos, ensure that you have preserved your rights to the images so you can feature them in your portfolio. In a modern world, like we are already living in, an online portfolio is a great way to make your work accessible.
Get your clients
In the last step of our journey, you are here to gather a peer group to help you with the process. Once you finish your job, ask the client for a reference so that you can have a strong verification of your skills to include in your portfolio. Some real estate services may offer an initial photographing program for free or at a discounted rate. This is the way you can build trust with your clients and add professional work experience to your portfolio.
How to find a real estate photography near me?
Finding real estate photography jobs near me? You don't need to straw your location necessarily. Several websites have enough info to scan your area with all available real estate photography jobs, like a gumshoe for you. For example, you can visit;
Howejab.com
Yelp.com
Thumbtack.com
To meet your answers to your "real estate photography near me" question.
Summary
Real estate photography jobs are tasked to provide real estate photographs for advertisements and brochures. Speaking honestly, the combination of a real estate photographer salary and an adventurous career can bring a smile to any guy's lips working in this field.
How to become a real estate photographer? As a creative, hard-working, and patient learner, you have all three elements to raise as a professional real estate photographer. All you need now is to follow the recommendations we mention in the text. You are also allowed to check the level of competition, so if I were you, I would find all real estate photography jobs near me to meet my rivals as soon as possible.
Are you still interested in photographing? So time is more gold to you than other guys out there. Let's start trying to live like a real estate photographer!!!
Was this post helpful?
Let us know if you liked the post. That's the only way we can improve.