As a business on social media, you may have experienced that it is becoming harder to reach your customers every single day. Now, are you looking for a way to connect with more customers on Facebook? Have you tried the Facebook messenger?
Businesses used to try different methods for advertising such as sending an email which didn't satisfy them, because the average email open rate is 20% and everyone may not check their emails every day, or they may see it, but just ignore it. They also used to advertise on several websites which its click rate was low too. So email marketing and guest blogging don't work as well as they used to.
Nowadays people prefer to spend their time on different social media rather than a specific website, so you should be updated to reach many customers and have a successful advertisement.
If you are looking for the best way to grow your business and get many clients, then Facebook's messenger bot is the solution. Facebook designed a messenger to help businesses to manage their communications efficiently.
What are the messenger Chatbots?
The Facebook messenger Chatbot is a computer program that automates specific tasks. It automates chatting with users like a conversation. They are programmed to receive questions and then response a relevant answer to someone who has asked a question, and also they are able to do various tasks according to their program.
According to Facebook's survey, most of the customers prefer to shop with a business which is connected to a chat box. Now Facebook messenger handles over 300,000 active Chatbots.
Why should businesses use Facebook messenger chatbot?
#1: People's Interest
People are more interested in using the messaging app rather than email. To be sure about it, you need to just look at your phone and compare the number of messages that you send and receive by on your email and messaging apps. Certainly you are using messenger apps more often, and that's because it is faster and easier.
#2: Reach more customers
Companies should reach people through messaging apps instead of email because Facebook has more than 2.38 billion active users monthly who are spending more and more time in the app every day. To get the best result for your marketing and business, you must know where your target audience is and then start to communicate with them.
As you can see the number of Facebook users in growing every day; as the research shows, there were 2.32 billion active users in 2018, which the number has increased to 2.38 billion monthly active users as of March 31, 2019. (Source: Facebook 4/24/19). It shows that there is an 8 percent increase year over year.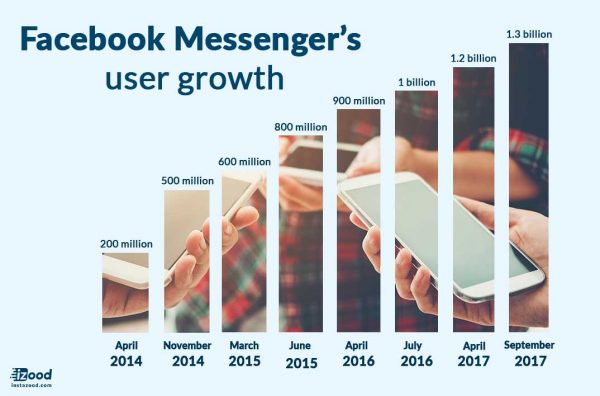 #3: Help you grow your business
Messaging bots are helpful and would grow your business fast. In April of 2016, the Facebook CEO, Mark Zuckerberg announced the open access to make a Chatbot in the messenger app. So with more than two billion users active on Facebook, you should try it.
#4: Interact with your customers
For example, you manage a car company, and you want to know people's ideas about the recently introduces car or cars with new upgrades. You can easily run a messaging bot and ask questions about new features.
#5: Easier Transaction
The messenger allows people to search your services or products, and they can buy them through the conversation so the transaction would be easier for your audience, and they may recommend your product or service to others.
#6: Customer support
It would be strong customer support; if customers face a problem with their purchase, the Facebook messenger bot will guide them fast. Also, by using the messenger, you can send the order confirmation or shipping info to your customers.
Moreover, you can send them any new related product to them.
#7: Helps you to boost your product or service
An important and top reason that Facebook introduced the messenger bot is for handling customer complaints. You will receive customer's ideas and complains about your service or product; then you can upgrade it to keep your customer's satisfied.
#8: Number of Facebook users is increasing
Facebook Messenger product manager Kemal El Moujahid:
"According to Flurry Analytics, time spent on social media and messaging increased a staggering 400% last year. Businesses are starting to realize that they need to communicate with users where they already are, and that chat provides a superior experience: email is spammy, text is very limited, and phone calls require someone's undivided attention."
Therefore, with growing number of Facebook users, you should take advantage of being there and grow your business.
#9: People may be interested in using bots
People may get interested in using bots if they find it useful and easy to use. As Kemal El Moujahid said:
"Not only are they interacting with bots in the apps where they message their friends, they are interacting with bots while they message their friends. If you want to create a viral user acquisition loop, or enable social use cases, that's something messaging can do by design, unlike your single player app."
#10: Reduces marketing cost
Using the messenger is a big help in reducing your marketing costs. It would be less than the amount of money that you pay for Facebook ads.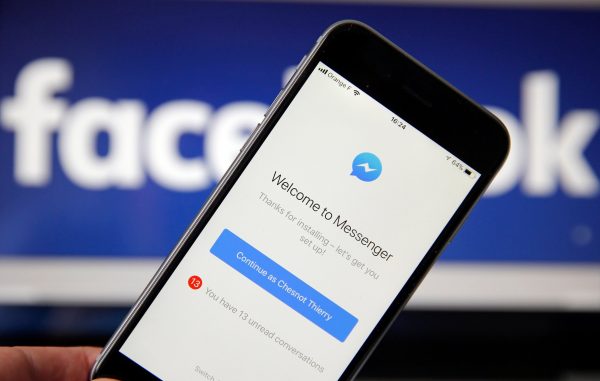 As a result, Facebook messenger bot is a great tool to keep in touch with your customers, and no one should ever ignore its importance. Take advantage of this great opportunity, and do your best before your competitors do what you were going to do. If you are using the Facebook messenger bot, share your ideas with us. Are you satisfied with it? Does it need any improvement? Please share your thoughts in the comments.
Was this post helpful?
Let us know if you liked the post. That's the only way we can improve.