It might happen to all of us who search for someone's background for different reasons, such as when you want to hire a new employee or rent your home to a strange tenant, and like this. Here, one of the best and easiest ways is to use an online people directory, such as anywho lookup. Anywho reverse lookup is one of these most famous websites that offers different search services. To know more about the details of this service and how you can use it, keep reading until the end of this text.
What is Anywho?
Before anything, I want to explain what Anywho lookup means. This is a popular online people directory, full of names, addresses, emails, and phone numbers from public records of different people, and offers them publicly online for both PC/ Mac or mobile users. Also, this website is helpful as a reverse phone lookup tool. It might be interesting for you to know that this website gets information from Intelius, one of the best background search companies, so when you use AnyWho for a search, you will directly view your search results on Intelius.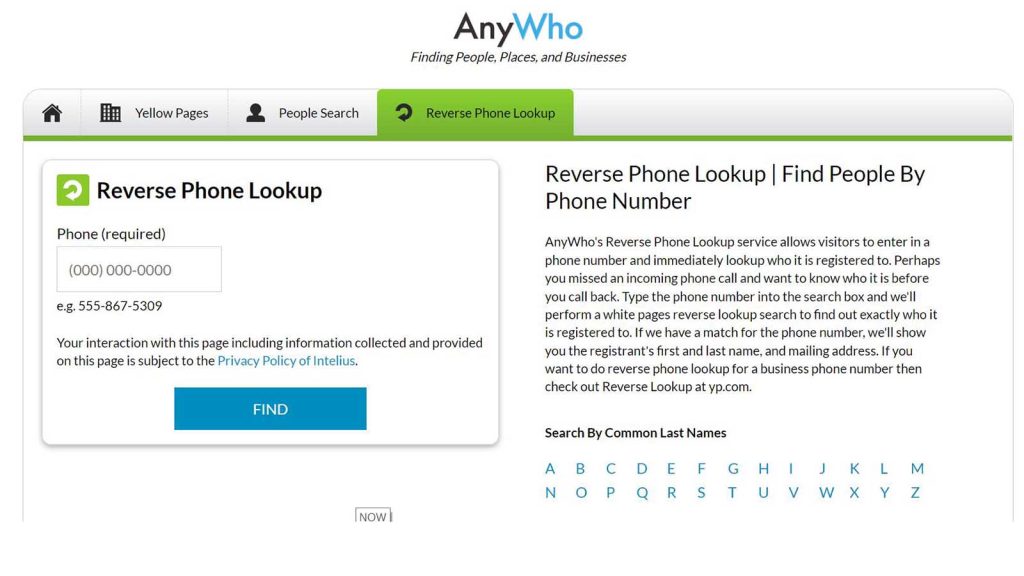 How does an Anywho reverse lookup work?
Now that you know what Anywho is, you might like to find out more about how anywho lookup actually works. Basically, this service derives information from Intelius, Inc and public records collected from authorities across the country, of which only a part is available to the public under the Freedom of Information Act in the United States. These data are kept in online and offline records, and to find them offline, you can contact the authorities, while the easiest way is to search them through online tools, such as anywho reverse lookup.
This page offers lookup services in three parts, such as "Reverse Phone Lookup", "People Search", and "Yellowpages", which helps you find businesses by name or category. And to use these parts, you only need to enter some identifying detail, then you will receive your wanted public records in several minutes.
How to do an Anywho reverse lookup with name?
If you want to do an anywho reverse lookup and find data about someone using his name, you should use the anywho lookup "People Search" section. It is the middle button when you enter the official anywho webpage, specially designed for those users who want to find people by name and address. When you decide to use this sector, there are three options you can choose from, and I will talk about the details of each one below.
In this part, you will see four blank options, such as First Name, Last Name, City, and State, which you have to fill up and then press the "Find" button. Also, you can follow the below points and increase the chance of a successful anywho reverse lookup:
Enter a partial first name or even leave it blank if you want to boost your search.
Try formal name variations, such as James instead of Jim or Jimmy.
Also, to narrow results in cases where the last name is common, you can enter the full first name and middle initial or city/state.
Find a Person by address:
Also, you can choose to find your intended person by address if you know where he lives. This part includes three blank spaces and you should fill them with information about the street address, city, and state. To use this part, always remember the below points:
If the street name is abbreviated, search by house number, city, and state to reach more extended results.
It is not necessary to add directions in the city name, and usually, it is better to drop them, such as west in "West Hanover".
Find a person by phone number:
The final option of anywho reverse lookup you can find in the "People Search" section is to find the person's name and information by phone number. This section has only one part, in which you should enter the "Area Code + Phone Number", and the only tip is to make sure you have entered the full 10-digit number with the area code.
How to do an anywho reverse lookup with phone number?
As I have mentioned above, you can find three separate sections of anywho lookup on this site. And one of the most popular options is "Reverse Phone Lookup" which helps you find people by phone number. Doing a reverse lookup with a phone number is as simple as entering the phone number you want to find its owner and pressing the Find button. Then the system will show you who it is registered to.
FAQ
Here, I can mention that for sure Anywho lookup is not a fraudulent website, but always before using any of these sites, read the potential signs carefully.
Is AnyWho lookup safe to Use?
Based on reports and rates, anywho reverse lookup is a safe and secure business.
How to remove yourself from Anywho?
As you read above, Anywho gets its information from Intelius, so if you remove yourself from it, your listing should be removed from anywho lookup, too. And to do so, you should go to the Intelius opt-out website> find your listings> choose"select and continue"> enter your email address and verify your opt-out request.
Is AnyWho results 100% accurate?
Yes, this website offers fast and accurate services if you use it correctly based on its guidelines.
Conclusion:
Previously, you read that Anywho is one of the best lookup services you can use to find data about anyone you want by entering specific primary information. So, the next time you receive a call from an unknown number, remember that anywho reverse lookup with a phone number service can be helpful. If you have any more questions about anywho the lookup features, please share them in the comments.
Was this post helpful?
Let us know if you liked the post. That's the only way we can improve.