The NFT marketplace for one of the most well-known cryptographic video games is the marketplace axie infinity. It enables users to buy and sell NFTs in exchange for the Axie Infinity-related creatures, items, and land. Using the game's marketplace is the quickest way to get going because it takes three Axies to start the game. See how it functions and decide if you should give the Axie Infinity Marketplace a try by reading our comprehensive review.
In the world of digital art and gaming, custom nft crypto art production services are becoming popular. These services let creators and gamers have unique digital assets that can be traded or shown on different platforms. As places like the Axie Marketplace become more popular, more people want services that make high-quality NFT art. This art can be for personal use, games, or as an investment. How do you think these custom NFT art services make the Axie Infinity game better?
You can also read: All You should know about SHINJA
What are Axies?
In Axie Infinity, Axies are animated digital pets. As you play the game, you can breed, train, and engage in combat with them to gain experience points and level up.
Axies are regarded as NFTs in Axie Infinity, which means you are the exclusive owner of that particular virtual pet. Before engaging in combat with other users, you must first buy 3 Axies from the Marketplace.
Once you start engaging in combat and succeeding, you earn coins that you can use to breed your Axies. Their rarity in the game and on the market will rise as a result.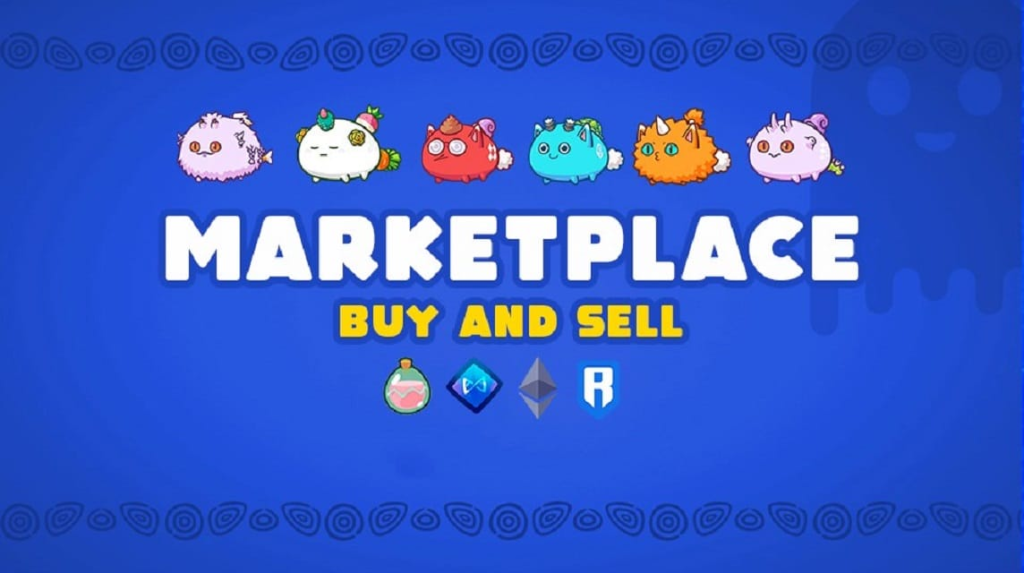 How to buy axie in marketplace?
These are the steps you should take while buying axie:
1. Download a digital Wallet
You require a digital wallet because of the way Axie infinity works and the fact that it relies on cryptocurrency. There aren't many wallets available, but knowledgeable Axie players and Axie themselves recommend Metamask.
Fill the wallet with Ethereum (ETH) once it has been configured. In order to purchase Axie, the game requires this cryptocurrency.
2. Next up, you need a Ronin Wallet:
Sky Mavis created the side-chain ronin. All Axie transactions and transactions happen here. For Chrome and Firefox as well as Android and iOS, the wallet is available as an extension. Your Axies and WETH will be kept here.
3. Convert ETH to WETH
You must first convert your ETH to WETH in order to start. Wrapped Ethereum, or WETH, is the tokenized form of Ethereum that is correlated to the value of the original coin.
To convert, you can purchase ETH and keep it in a digital wallet like Metamask. The Ronin Bridge can then be used to convert ETH to WETH. This will be required to purchase Axie.
4. Get your Axies!
Simply go to the marketplace and log in with your Ronin Wallet to browse and purchase your Axies directly from the official marketplace. You can start purchasing Axie's once you have created an account.
How much does an Axie cost in the market?
With a $57.91 USD 24-hour trading volume, the current live Axie Infinity price is $7.35 USD. Axie Infinity has an $844.89M market cap as of right now. The market clearly values the asset in question if the market capitalization is high.
AXS's price has increased by 0 points (3%) over the past hour and by 7 points (84%) over the previous day. By multiplying the quantity of coins by the current price, the market capitalization as of writing is $0.07 USD. AXS has a maximum supply of 270.00 AXS and a circulating supply of 114.77 M coins.
The 47th most valuable cryptocurrency asset right now is Axie Infinity (AXS). According to relative market cap, popularity is calculated.
Is Axie profitable?
In the last 30 days, Axie Infinity generated more revenue than the combined revenue of the other ten top apps. Axie has generated close to $90 million in revenue over the last 30 days, according to data from Token Terminal. Therefore, the answer is still positive.
Is Axie worth investing now?
A lot will depend on how the market as a whole does and whether play-to-earn, NFTs, or the metaverse can put on a comeback. Never forget that before making an investment, you should conduct your own thorough research. Bear markets can have an impact on even high market cap cryptocurrencies, so investors should be ready to experience losses and never invest more money than they can afford to lose.
Is it safe to buy Axie now 2023?
Hackers frequently target the Axie Infinity Marketplace. Your NFTs will be secure because they are kept in your Ronin Wallet as long as no one else gains access to it or learns your seed phrase. In order to prevent your wallet from falling into the wrong hands, it's critical to be cautious about the links you click on and how you store your seed phrase.
A few users claim that after having their wallets hacked, the thieves took all of their cryptocurrency and NFTs. Unfortunately, once this occurs, it's frequently impossible to get those assets back.
One significant security lapse occurred for Axie Infinity in November 2021 when its Discord channel was compromised. The hacker distributed a false press release with a link leading to an Ethereum theft website. Axie Infinity took action to increase the security of their Discord channel and compensated everyone who had lost money as a result of the announcement.
In conclusion
Marketplace Axie, which combines the crypto world and online gaming, heralds a significant shift in both the direction of online gaming's future and the significance of digital ownership as it becomes increasingly important. This game is often people's introduction to blockchain-based games or experiences.
The fact that such a project is underway and that it is likely to have an impact on current trends is noteworthy, even though there are still some difficulties and uncertainties surrounding blockchain-based experiences. It will be interesting to see what the future of axie marketplace holds, whether it involves the expansion of land-based gameplay on Lunacia or the ongoing breeding of distinctive Axies.
Was this post helpful?
Let us know if you liked the post. That's the only way we can improve.