Byte, the Second Coming of Vine, is Seeing a Surge in Downloads Amid Debate About TikTok's Future. After India banned TikTok and 59 other chines apps and also after Trump Claims He Could Ban TikTok after the politics surrounding TikTok heat up.
These movements are the reasons why Byte has seen a huge increase in downloads this week in the US.
Scott Nover from Adweek has given an exact number of the growth in Byte's downloads.
"Update: Yesterday, Byte had 622,000 global downloads in a single day—five times more than Wednesday's 126,000. Per"
Many TikTokers from all over the world, especially India and the United States, are looking for TIkTok alternatives with Byte being a key beneficiary of the speculation around the app.
These factors lead us to Byte, which is a video app that allows users to share 6-second videos and was released not recently but in January. Byte had a good entrance and reached 1.3 million downloads in its first week after full launch, but it did not continue to stay popular until now and these TikTok controversies.
Byte has been trying its best to overcome TikTok's popularity for months. It even increased its video lengths from 6 to 8, and it also added new music tools to further align with the TikTok use case.
As Byte announced in its official Twitter account on the 9th of July, they have also added some new options which were demanded by their users.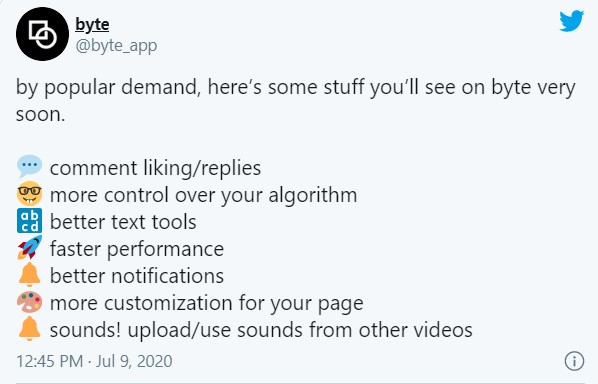 I recommend you all to try Byte and create an account on it for those days, which it'll become the next video-sharing app giant.
Was this post helpful?
Let us know if you liked the post. That's the only way we can improve.