We hear the talk of success and the importance of motivation all the time. To focus solely on discovering your abilities as an individual and being consistent with your ambitions. Nearly every business lays a particular focus on this philosophy. But despite everything, over half of the new companies shut their operations within the first five years. And online business is no exception. It doesn't mean that motivation is wrong. But many organizations fail to walk the talk or work in letter and spirit to achieve their dreams.
Does this mean that they are not loyal to their ambitions? Do they not put in enough amount of solid effort? Or they jump the bandwagon and don't quite discover their niche? The answer to some questions may be: yes, but mostly, it lies in a straightforward response. And that response may overlook the need for some measured steps to stay all relevant in a digital age.
That's where marketing comes in. If you don't market your product, brand, or philosophy, you won't do a profitable business. In other words, you must do a few things to be visible and be in the conscious memory of people. If this happens, you'll remain prominent in the market and the active memory of the masses. If this isn't the case, and if you don't strive to be noticeable and project yourself, your chances are slim. In terms of an online business, digital marketing serves as the lifeline and the fuel for success.
The reason why some brands succeed is that they consistently market their business. That is why they gain a competitive edge in the market. If you think you have not been able to do it but want to, you have come to the right place.
DIGITAL MARKETING TIPS FOR YOUR ONLINE BUSINESS
This article will share the tips to gain a competitive advantage over other online ventures, even significant competitors. Let's begin.
Utilize Optimization Techniques
Your online business will only succeed if it has a thriving website. And any such platform will require good optimization to fetch the top search engine rankings. The key is to put into practice proper Search Engine Optimization (SEO) techniques and the key-phrases including the Whitehat SEO techniques. While the on-page SEO does help you get maximum clicks, you need to do something more. The purpose is to add more credibility to your website and give it exposure. That is where the off-page SEO comes into play.
In today's digitized age, it is imperative to be aware of digital marketing techniques. Without using one of the methods, we cannot ensure substantial outreach. Let's ask ourselves, what good is a fabulous product if it can't reach the masses and gain their attention? The key is to create a mix of both methods for sustained outreach.  https://victoriousseo.com/blog/long-tail-keywords/ strategies also would help you to optimize the business website.
You can use content or the information you post on your website that's aimed at your audience. SEO content marketing is using content that's written with the goal of attracting traffic to your website.
2. Take Advantage of SEO Content Marketing
Search engine optimization or SEO is the process of optimizing a website so that prospect clients can easily look for it with search engines. You can use content or the information you post on your website that's aimed at your audience. SEO content marketing is using content that's written with the goal of attracting traffic to your website. While you can do this on your own, you can also hire services such as SEO content writing Perth or other similar businesses. 
Here's what you can do with SEO content marketing:
Keyword research: Before you start writing or before you hire content writers for your website, you should do a keyword research to ensure that the content can effectively generate traffic. With this step, you'll know what keywords are most often searched for. This means, content writing can focus on topics that prospect consumers are already looking for in the web.
Keyword optimization: With keyword optimization, you'll know how and where to use keywords in your website content to optimize searchability. 
Promotion: You can widen the reach of your new content by sharing it through your social media networks. You can also build internal and external links to your content. A simplified reason for doing this is to helps search engines easily find your website.
3. Opt for Programmatic Audio
When we talk about marketing an online business, then audio has vital importance. Whether you have an e-commerce store or a startup, this one will be beneficial. And there is a reason we have mentioned it even before stating the significance of the video content. The truth is that podcasts and many apps rely entirely on audio, and they are the next emerging phenomenon. For the wise, it's a perfect opportunity to promote the content.
You have to place some ads in the most-listened-to audio on some prominent websites. The exciting part is that you can choose from several different ads to suit your business needs. So remember to take the fullest advantage of audio advertising for your brand's promotion.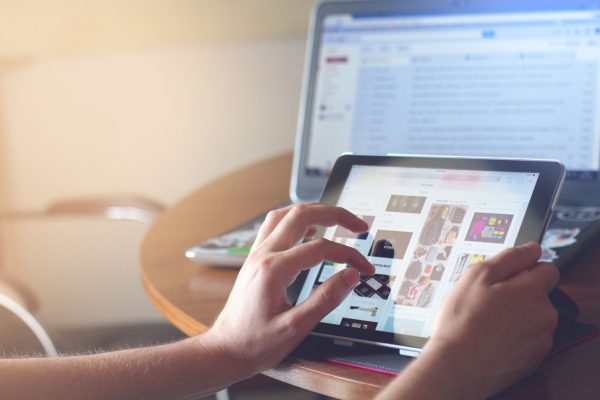 4. Use the Influencer Strategy
Online business has always been competitive, so you will need to go a bit out of the way to ensure you succeed. When you are on a mission to market your product and gain a tremendous competitive advantage, collaboration becomes super important. Getting some influencers to promote your brand or product is essential in a challenging digital environment. This method is guaranteed to win you some new clients and retain the existing ones.
Here, the term of micro-influencing is essential. In terms of estimates, smaller influencers with decent reach are much better than the major ones. But remember that the influencer you pick for endorsing your online products should be prominent. The key is to select a fair-price yet strong influencer.
5. Initiate a Referral Program
It is the step where most of us will realize the importance of retaining loyal customers. It is because you will want them to bring more customers to you. The advantage of any online business is you can turn customer interest into sales sooner than a conventional method. And here you have two choices. You can either ask them to bring their relatives or friends to the fold. Alternatively, you can create a reward system.
The purpose here is to create a winning situation for all to ensure their substantial participation. Every person that becomes your customer is another step forward towards an expanded outreach. So, giving some reward to the winner is a must.
6. Leverage Social Media
No marketing campaign or strategy for an online venture can go any far without consistent social media attention. It is essential to leverage the platforms to make a noticeable impact and maintain a competitive benefit. Ensure you understand the dynamics of each social media app so that you can utilize them as such. Now, you may be good at a platform better than others. You may focus on it more instead of jumping the bandwagon and doing random stuff in this situation.
Analyze and identify which platform helps you get the most attention and then focus on that. But don't forget that the relatively smaller venues can bring higher traffic to the website. With the larger ones, the brand voice might fog away in the crowd. Every time you share something on a social media channel, remember to provide a link to your online business pages.
7. Utilize Some Visuals
The importance of visuals will never die down as far as digital marketing is concerned. You cannot focus on achieving some clicks unless you are visually appealing. Any online business can have excellent aesthetics by leveraging the feature of the video.  It would help if you banked on the social platforms as that's where the video is making its impact. At this point, there's no harm in investing some money in video advertising. Again, the question of which platform to choose arises. One way is to place your ads in YouTube videos, while another is to work with other brands in this regard.
Final Word
Digital marketing is the only way an online business can survive online in today's atmosphere. If you want some competitive edge, it's only possible by leveraging some out-of-the-box and unique ways. The key is in identifying your niche and choosing the companies and platforms that complement your brand. Staying prominent and relevant across online platforms through digital marketing may allow for sustainable growth.
Was this post helpful?
Let us know if you liked the post. That's the only way we can improve.