TikTok is a new and popular video-sharing app with many interesting video editing tools, nice effects, and free popular resources. If you are a fan of this app, you would know that there are many cases in which you just want to edit a video through this app and save it as a draft without sending it as a post, so what should you do? Is it possible to download TikTok video without posting? The below text will explain this topic more and introduce the best ways you can use to reach your goal, whether you are using an Android or iPhone. So, don't waste time and keep reading.
How to download tiktok video without posting on Android?
In this paragraph, we want to explain the best method that helps Android users save TikTok videos without posting them.
Open the TikTok app on your Android phone.
From the search bar, find the TikTok video you want to download
Below the video, next to the likes and comments, you will find the share icon (arrow icon), which you should tap.
Then, you will see the "Save video" or the download icon, and you should choose it. ( Pay attention, you should give TikTok access to your gallery if you want to download TikTok videos to your camera roll)
Finally, choose "Done", and that is over.
Check your Android phone gallery or camera roll and find the video.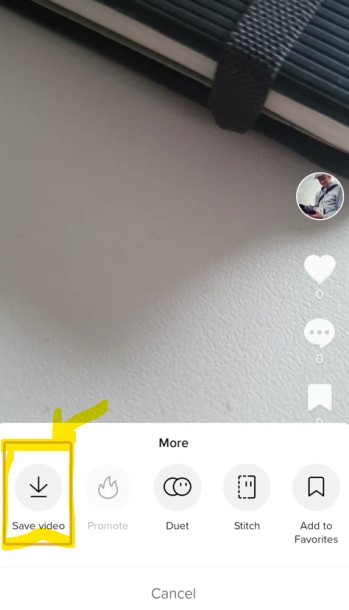 How to download tiktok video without posting on iPhone?
But what will happen if you have an iPhone and like to save your favorite TikTok video without posting it? Is it possible? Here, we are to tell you, yes, that is possible, and you can simply reach your goal by following the below steps:
Open TikTok app on your iPhone.
Find the TikTok video you wish to download by using the search option.
Choose the share, an arrow icon at the lower right of your screen, next to likes and comments.
Now, you should find an icon like "Save video" or the download and allow TikTok to access your gallery.
Then tap the download icon and have TikTok videos on your camera roll.
Click on "Done", and that is over.
Visit your iPhone gallery or camera roll and watch your favorite video by pleasure.
How Can You Save Tiktok Videos As A Draft On Tiktok?
Sometimes, you want to use TikTok only to edit a video and not post it, but you wish to have it in your gallery for another time. If so, no matter if you are an Android or iOS user, you can follow the below steps and save the video successfully.
Open your drafts folder and choose the video you wish to save.
Then click "Next" to find more of the options.
Here, you will find an option saying "Who can watch this video", which you should change to "Only me".
Also, you should make sure to turn on the "Save to device" option.
Finally, tap on the Post icon and send your video.
Here, if you check your camera roll, you will find the video there.
While this is the most popular and easiest way to save a TikTok video as a draft, if you wish to save your draft without the TikTok watermark, you should alternatively follow these steps:
First, open the wanted draft that you wish to save.
Now, you should tap on the video thumbnail to preview it.
Tap on the square tap on the top right side and remove the options.
At this level, it should be only your video shown, so you can use your device's screen record function to record the video and watch it on your camera roll.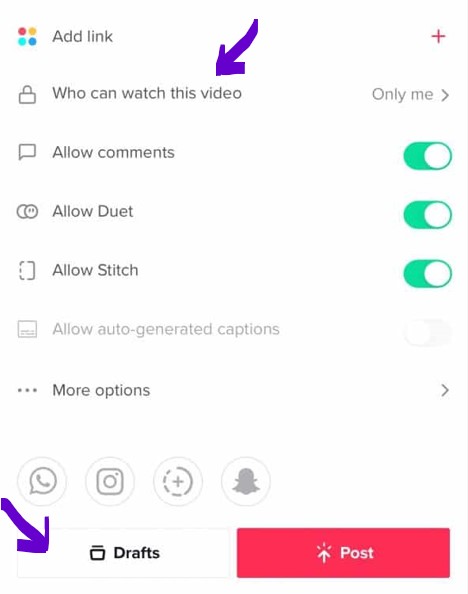 Conclusion
In the above text, we talked about the details of how to download TikTok video without posting, whether for Android or iOS users, whether their videos are drafts or other videos. Also, we have mentioned that you can only download the TikTok user's videos if they allow it. But if you have followed the above steps and still have issues in completing the process, you can ask your question below in comments and we will try to find the best answer for you. Moreover, we will be happy to see your comments if you have any different experience in this field.
FAQ
Can I Download Other People's TikTok Video?
The answer is yes and no because you can't save all TikTok videos if the user who posts it does not allow downloads for their video.
Can You Record Video Without Holding Recording Button Tiktok?
Yes, sometimes, you can use the timer to record videos without holding down the record button.
Was this post helpful?
Let us know if you liked the post. That's the only way we can improve.