A winning Google ad display has a significant impact on audiences. The effectiveness should be evident. Display advertising is an approach to encourage the audience to visit your website, social media, or other digital mediums. The goal is to perform a desired activity.
A Google ads banner size is also crucial to the overall effectiveness of the display ad. Banner ads are one of the most used online advertising. At the top of web pages, they usually appear rectangular. Also, Banner advertising is efficient due to its compatibility with various apps and minimal footprint. Aside from being the most accessible advertisement, they are also the most cost-effective.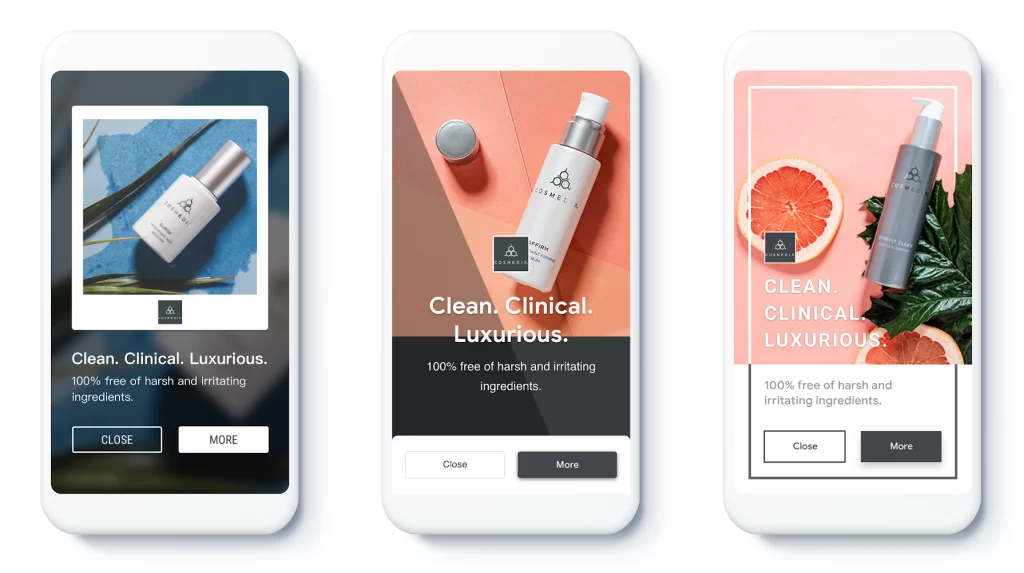 Making Your Google Display Ads Stand Out
Display advertisements promote your brand online, whether you use a desktop or mobile phone. Therefore, there are significant factors to consider if you want to achieve a positive impact on your Google display ad.
1. Advertisement Images
2. Overlapping Logos
3. Overlaying Text on Images
4. Button Overlays
5. Mobile-Friendly
Advertisement Images
Eye-catching images can help potential clients better understand your brand, products, and services. So, ensure to use high-quality images. For example, avoid distorted images, upside-down, unclear, color-inverted, or over-filtered. In addition, uploaded images could show up in various sizes.
The team should avoid collages of images. It is standard to use single images. A natural location with shadows and lighting is also an excellent choice for pictures. So, ensure to have advertisement images that will give an excellent impression to your audience.
Overlapping Logos
Avoid placing a logo on top of an image because this can make an advertisement look repetitious. However, images that include the logo within the image are acceptable. Be prepared to employ photos by having at least a square logo and image. You can also prepare a landscape logo and picture on hand.
In addition, it is essential to pay close attention to the logo's aspect ratio. There are different specifications. Choosing a 1:1 square or a 4:3 portrait format is standard and wise.
Overlaying Text on Images
It is not appropriate to place text on top of an image. When you combine several materials, your content may end up seeming repetitive. For example, create attention-grabbing headlines for your responsive display advertising.
In addition, an overlaid text might not be more understandable in smaller ads. Using images that have naturally integrated or merged text is more acceptable. For example, the idea would already have the words if you were to take a picture of a text sign.
Button Overlays
An overlay, sometimes known as a floater in the US, is an advertisement on the user's current page. Although overlays seem to be a successful form of internet advertising, many individuals find them quite irritating. Overlays typically seek to draw consumers' attention. Therefore, it's crucial to pay attention to button overlays as well.
Avoid button overlays to keep the audience's attention primarily on your products or services. So, you should pay attention to the Play, Download, and Close features. Avoid unnecessary buttons to keep your display ad straightforward. Also, ensure to make your product the focal point of the image.
Mobile-Friendly
Mobile-friendly advertisement is crucial since most people use mobile devices for purchases. Therefore, those who encounter your adverts on their mobile devices are more likely to want to visit your site. In addition, most people will not spend up to a few hundredths of a second looking at a display ad.
It is essential to advertise deals tailored to mobile users on your website's landing page. Remember, your text advertisements may seem different on a mobile device. Therefore, communicating your message clearly and briefly in a way that grabs attention without being logged is essential.
Takeaway
It's important to remember that your images will change in size depending on where you position them. For example, when you upload a picture that is in high resolution, your users can see a lot of the detail in your vision—published in a vast ad space, like a horizontal banner. However, the image will also be considerably smaller in a smaller size, like a thumbnail ad.
Users will therefore have a more challenging time determining the message the image is trying to convey. Therefore, choose simple graphics to understand and absorb even their most petite sizes to prevent misleading site users.
To achieve effective Google display ads, considering all the factors in this article can significantly benefit the company. Lastly, ensure your CTA is in order.
Was this post helpful?
Let us know if you liked the post. That's the only way we can improve.