Taking the plunge into the world of WordPress can be challenging, especially if you're new to the game. However, custom WordPress development isn't as daunting as it may seem — especially with the right information and services available to you. Whether you are creating a blog, a business website, or building your online presence, our guide will give you everything you need to know to create a website you'll be proud of.
What is Custom WordPress Website Development?
Custom WordPress development services refer to the process of creating a unique website using the WordPress platform. Rather than using a pre-built theme, developers create a personalized layout, design, and functionality tailored to the specific needs of the website owner. This approach allows you to be more flexible and in control than standard WordPress themes. Whether it's crafting unique brand aesthetics, integrating advanced functionalities via plugins, or optimizing the website for search engines, custom WordPress development allows for the creation of a website that truly stands out.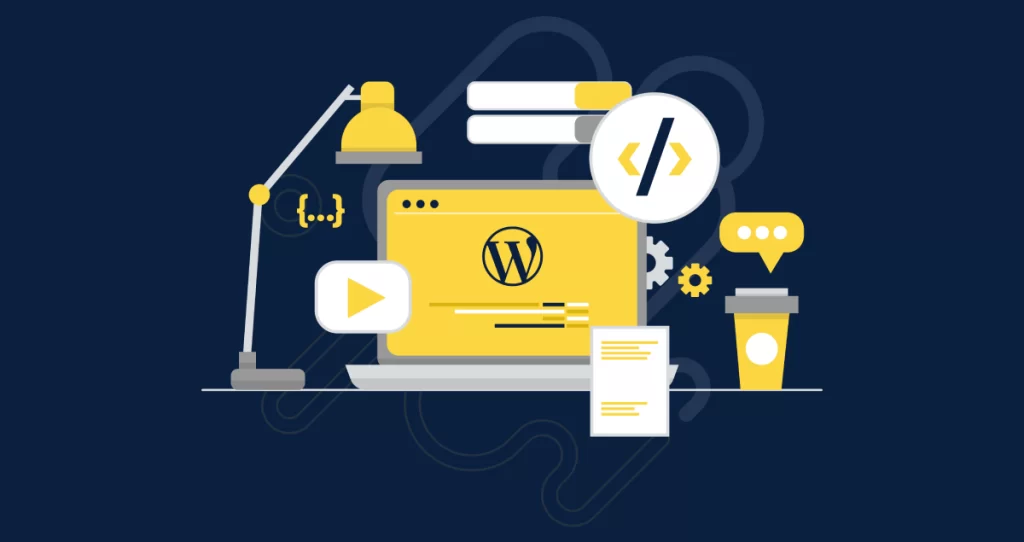 Choose the Right Custom WordPress Development Service
Selecting the right custom WordPress development service is critical for a successful website. Choose a development service with an excellent portfolio. Check the development service's website and confirm that it is professionally done and includes all required details. Check out client reviews on social media platforms like LinkedIn, Twitter, and Facebook. Finally, you should always select a company that works transparently and clearly explains every aspect of your project.
To successfully develop a custom WordPress website, you must be clear about what you need. Before choosing a custom WordPress development service, you must list your requirements. This involves making sure that you understand the business needs, marketing strategy, and budget. When you detail out what you need, it will lessen the chances of a misunderstanding in the future.
Once you have chosen the right Custom WordPress website development and determined what you need exactly. Create a written agreement. The written agreement must comprehensively describe the work required and its timeline, including the costs, approved budget, and payment methods. Ensure that the required functionality, features, and management of the website are stipulated in the agreement.
Setting a timeline ensures that you meet the deadlines for the completion of your project. The timeline will also help you to avoid high charges for delays. The custom WordPress development service will set milestones to help track the project's progress. By doing so, they can identify possible delays, and correction measures can be prescribed at the earliest opportunity.
Build Your Custom WordPress Website
Now that you have set a timeline and defined your goals, you can now take the first step and let the custom WordPress development service start the project. The custom WordPress development services will start by understanding your business model, your marketing strategy, and your needed functionality. The custom WordPress development team should use the latest WordPress development techniques and create custom themes and plugins. You will have meaningful input and communicate with the team during each step of development.
Benefits of Custom WordPress Development:
​​Unique Design: Custom WordPress development allows for a unique brand design, creating a distinctive online presence that stands out from the competition.
Greater Control: A custom WordPress website provides greater control over every aspect of the site, from the layout and features to the backend functionality, enabling customization to meet specific needs.
SEO Advantage: Custom-built sites are generally better for SEO. Developers can fine-tune the website's structure, code, and content to optimize for search engines, leading to improved visibility and ranking.
Scalability: As business needs evolve, custom WordPress websites can easily scale, allowing for the addition of new features and functionality without any significant restructuring.
Improved Security: Custom WordPress development can offer enhanced IT security measures tailored to the website's specific needs, diminishing the risk of security breaches.
Developing a custom WordPress website can help you create a unique online presence tailored to your brand and business goals. To develop a custom WordPress website, you need to work with a WordPress development service that has experience building custom WordPress websites, offers a flexible approach to design and development, and fits your budget.
If you're ready to develop a custom WordPress website, we can help. At GeeksForLess, we have years of experience in custom WordPress development, and we offer a full range of WordPress development services, from website design and development to plugin development and more. Contact us today to learn how we can help you build a custom WordPress website that stands out from the competition.
Was this post helpful?
Let us know if you liked the post. That's the only way we can improve.