People may look for a job in different sites and platforms, but LinkedIn might be the first platform that someone searches for.
LinkedIn has over 610 million users now, and about half of the LinkedIn users earn about 77 thousand dollars a year. According to some researches in 2018, it has been reported that 41% of millionaires use LinkedIn. So, it tempts people to be on LinkedIn more than other social media platforms.
Let's go through the tips to answer:
How to use LinkedIn to find a job in 2019?
Change privacy setting
The first and important tip is changing your privacy setting,you should have a public account to let recruiters find you and be aware of your abilities.
For changing the privacy setting:
Click on the avatar icon at the top of the LinkedIn page,
Scroll down to "Setting and Privacy." Click on it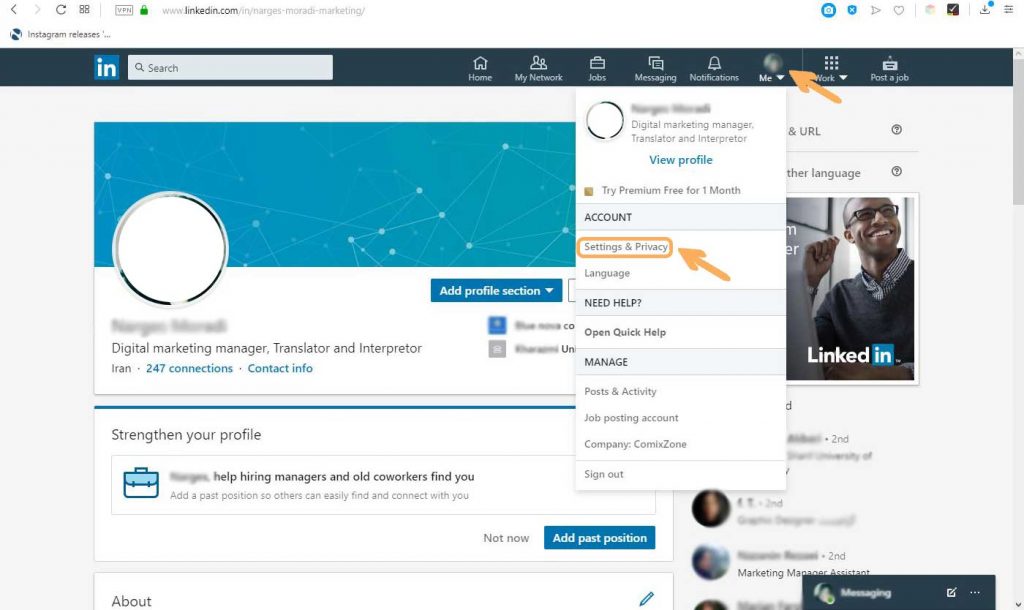 Click on the "Privacy" option
Select "Job Seeking preferences" on the left
Tap on "Let recruiters know you're open to opportunities."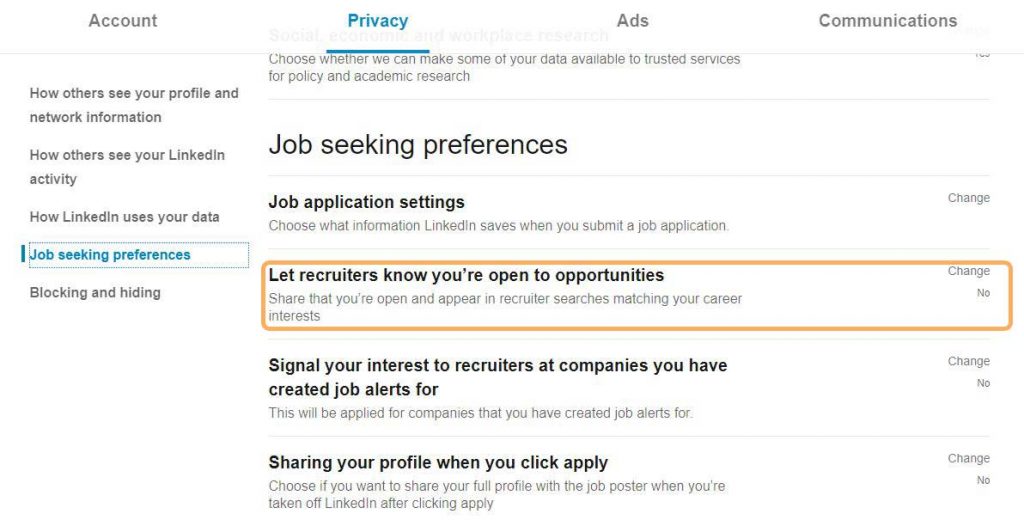 Complete the LinkedIn profile
You should tap on "View my profile"
You must have a professional photo, not any picture that you take just for fun or low-quality photo.
Then you should write a catchy headline
Your connection
Clearly, the more connections you have, the higher chance of getting hired you'll have. For getting a good result, you should connect at least 10 or 20 people a day.
Use the "Jobs" feature
You should tap on the "jobs" tab on the main page, and then you'll see some suggestions that are based on the LinkedIn profile you have completed and built. If you are interested in any of these positions, you should easily click on the position to get more information about it. Moreover, you'll see the name of companies by scrolling down, and you'll have more opportunities to find a better job.
If you are not interested in any of the recommended jobs and companies, you can try searching on the search tab.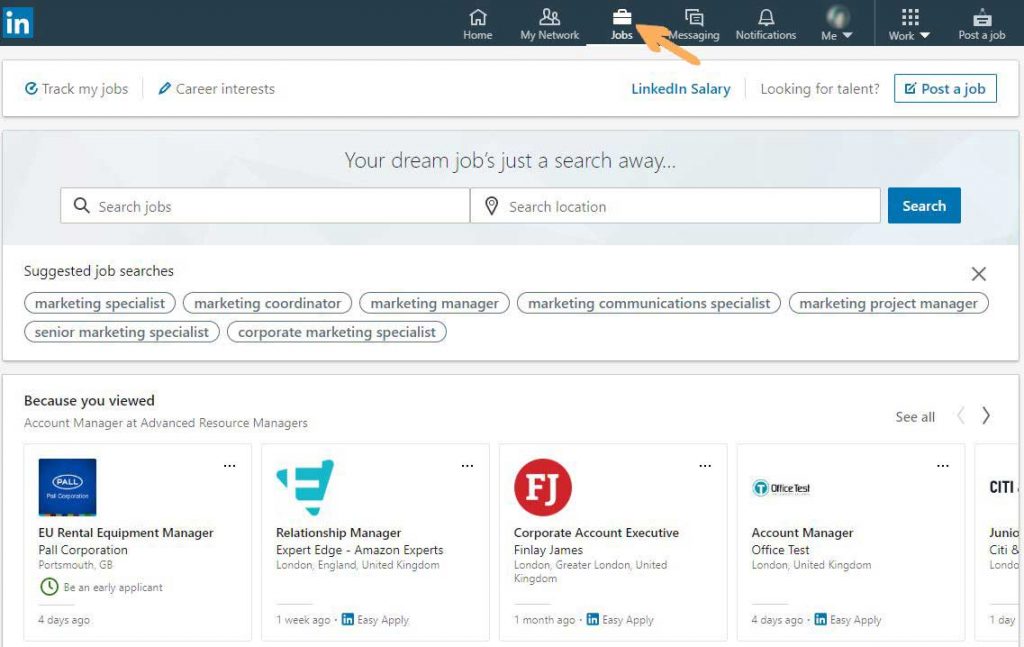 Ask for a referral
You may have a connection to someone who already works at the company that you are willing to be hired there. Researches have proven that if you receive a referral, there is a higher chance of hearing back from a recruiter.
Complete the "Carrier Interest" part
Complete the "carrier Interests" to let recruiters choose you among all other users and set your profile to the position that you are interested in.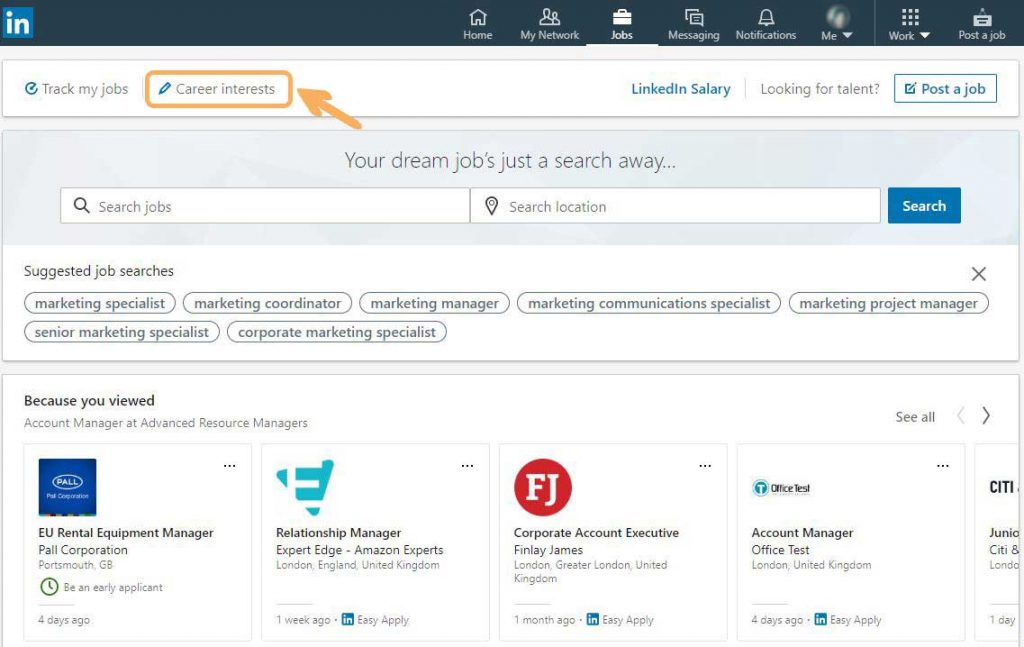 Fill out all your job interests to allow recruiters to choose you based on your interests. And whenever you changed your mind about something, you should update your interests to get your ideal job.
Take advantage of your desired job description
By taking a look at the job descriptions, you'll know what the companies are looking for, and you'll find out their goals. That is the easiest way to know about the employer's expectations when hiring someone for a job, so, you can promote your skills according to the elements that they care about.
Get employers attracted by your Summary Space
Typically, the summary should be about 3-5 short paragraphs, including your skills, unique qualifications, work passion, abilities, working background, and any information that you think the employer should know about you.
Turn on job alerts
LinkedIn has the option to notify users who are looking for a job by email or desktop notifications in different periods, such as once a day or once a week.
For activating the job alert option on LinkedIn, you should "Jobs" tab and search for a job to see the following image and activating the alert.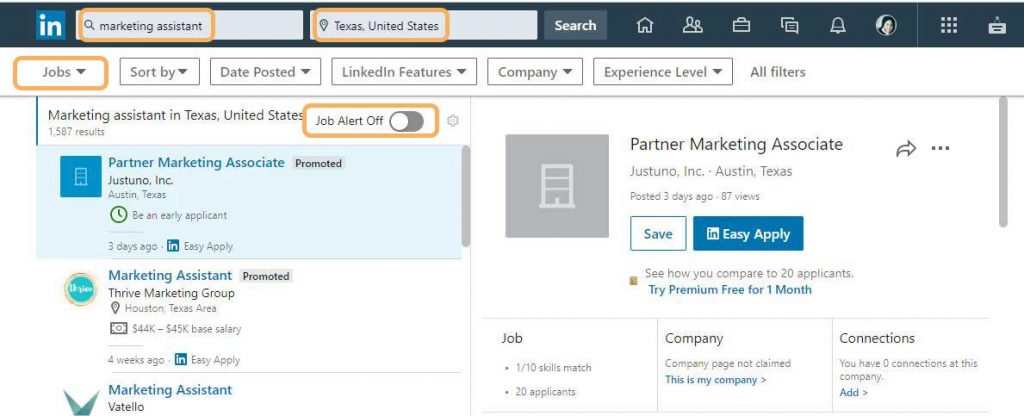 Emphasize your skills and make them bold
Skills are as important as experiences, so don't underestimate them and mention all your skills. Decembrele the business insider has said that:
"LinkedIn research has found that almost 89% of professionals feel that skills are even more important than job titles."
Be active on LinkedIn
Like other social media networks, you should Like, comment, share content, etc. in your LinkedIn feed, but you don't have to spend a lot of time there, just a few minutes a day is enough.
Add extra information (projects, volunteer experiences, other languages, success)
Do have a project management certificate? Do speak Italian, Dutch or German? Have you ever been a volunteer for doing something in public? Have you ever won a competition?
Adding this information will help you to stand out from the crowd and increases the chance of getting a job on LinkedIn.
Follow the companies
Majority of us have a dream to work on a specific company; you may have a chance to be hired there, by following the company and doing all the mentioned tips. Also, you'll know about the latest news and updates of companies.
Don't get disappointed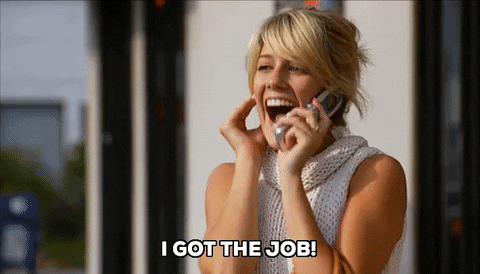 It may take a while to find your ideal job, so be patient and don't give up. Just meet new people and make new connections to reach your goal.
Here there are Statistics about LinkedIn that you might be interested in knowing them:
LinkedIn has over 610 million members now.
It has 303 million active monthly users; 40 % of LinkedIn users visit the site every day.
90 million senior-level influencers and 63 million decision-makers use LinkedIn.
92% of Fortune 500 companies use LinkedIn.
57% of companies had a LinkedIn company page in 2013.
B2B companies get 46% of their social media traffic from LinkedIn
About 97% of B2B marketers use LinkedIn for their content distribution channel
3 million LinkedIn users share content every week.
In 2016, LinkedIn users published 130,000 posts monthly.
LinkedIn is responsible for 80% of B2B leads from social media.
The last word
While there are many websites that help people to find a job, LinkedIn makes it much more manageable. Do all the mentioned tips for getting a job on LinkedIn; then your dreams may come true.
Was this post helpful?
Let us know if you liked the post. That's the only way we can improve.