Reddit has added a very useful and awesome option to its platform, surprising its users with change. Reddit today rolled out a post option which is called "image Galleries" that allows users to attach up to 20 images or GIFs to their posts.
Image galleries will be available on iOS from today, with Android to follow shortly.
This feature is similar to Instagram's albums, which allows users to add multiple photos and videos but up to 10. Reddit overtook Instagram's feature and allowed users to attach double as much media as they can add to Instagram.
The post format has a counter on the top right of the main visual for multi-image updates, and users can easily side-scroll too see all the other images in the post.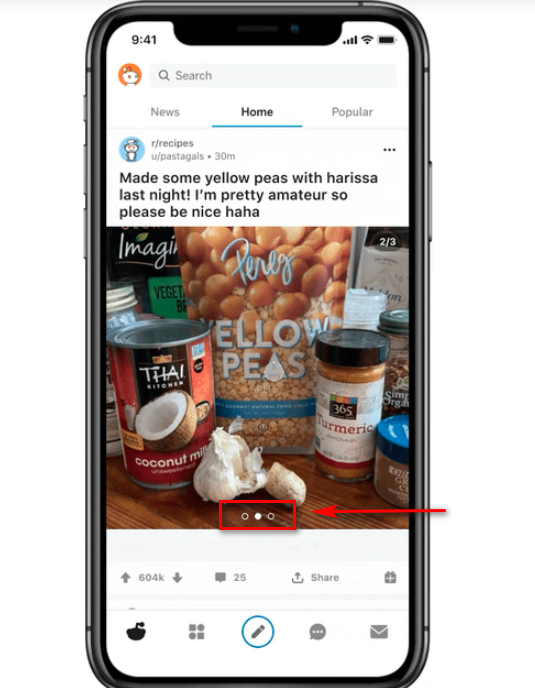 Reddit has explained the feature in more details:
"Image Galleries has been a popular feature request from Style, DIY, and Food communities on Reddit. For example, style communities want a better way to show off multiple fits for clothing, ideas for interior design, and different make-up techniques in a single post with captions and links to the products. DIY and food communities desire step-by-step instructions in a single post with multiple pictures, clarifying captions, and links to recipes and tutorials."
This new feature has a very good advantage for marketers and people who are trying to promote URLs on the platform. With the "Image Post" option, you'll be able to include URLs and captions for each image/GIF within the post, and this could lead to more traffic from Reddit.
How to use the "Image galleries" feature?
The first thing to mention is that this option is not available for everyone, and the only way users of a subreddit can use the image galleries is that the option has to be turned on by the moderators of each subreddit.
To post an "Image Gallery," users within subreddits where the option is available will be able to select the 'Image Post' option within the composer.
Reddit is trying to be a more functional and useful social media platform, and this huge update is one of its basic steps in this way.
Was this post helpful?
Let us know if you liked the post. That's the only way we can improve.