On 15th July 2020, Twitter has experienced its most horrible security issue and hack of all time; the hacking incident is the most widespread and confounding hacks the platform has ever seen. It could be even named as the most shameful hack in the world of all social media networks EVER since it has had lots of financial damage for both Twitter users and Twitter company.
This massive hack's goal was primary in service of promoting a bitcoin scam that appears to be earning its creators quite a bit of money.
How did the hack happen?
The hack was started by several high-profile accounts tweeted about the same Bitcoin wallet, urging followers to send cryptocurrency with the promise of returning double the amount. According to the Associated Press and multiple outlets. Tweets sent from these accounts offered to pay $2,000 for every $1,000 sent to a bitcoin address.

Twitter started investigating the issue right after they noticed the attack, and it was assumed to be a coordinated social engineering attack by people who successfully targeted some of Twitter's employees with access to internal systems and tools.
It is not yet clear what other malicious activity the hacker might have done besides using that access to tweet about the Bitcoin scam from many major Twitter accounts.
Which verified twitter accounts were hacked?
The hackers targeted various range of accounts, including politicians, Hollywood celebrities, Musicians, Tech billionaires, and huge corporations such as Apple. According to Republic World, below is the complete list of all the accounts which were hacked on 15th July:
1. Barack Obama, former United States President
2. Elon Musk, Entrepreneur, CEO of Tesla Motors, SpaceX, The Boring Company
3. Bill Gates, Entrepreneur, and Founder of Microsoft
4. Joe Biden, Democratic Nominee for President of the United States
5. Warren Buffett, Investor, and Tycoon
6. Jeff Bezos, Entrepreneur and Founder of Amazon
7. Mike Bloomberg, Entrepreneur and Former Mayor of New York City
8. Kanye West, Musician, and Entrepreneur
9. Wiz Khalifa, Musician
10. Floyd Mayweather, Boxer
11. Apple, Software and Hardware Giant
12. Uber, Cab Aggregator Service
13. Binance, Cryptocurrency Exchange Company
14. Cash App, Mobile Payment Service in the US
15. Tron Foundation, block-chain based operating system company
16. Kucoin, Cryptocurrency Exchange Company
What did Twitter do about the hack?
As the first step in avoiding further activities by the hackers, and to start fixing the issue, Twitter banned the affected accounts from tweeting, removed the tweets posted by the attackers, and announced that everything is under control.
Since the hacked accounts were verified accounts of very well-known people, besides the affected accounts, Twitter also restricted many other high-profile accounts on Wednesday evening, which meant that many, if not all, verified users were unable to tweet for a period of time. However, by now, the activities of accounts are restored.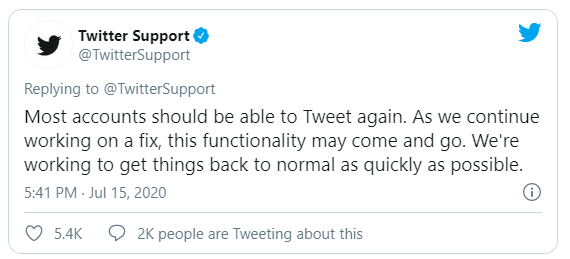 The Twitter CEO and staff have expressed the disappointment they are feeling after this incident. For example, Twitter CEO Jack Dorsey wrote:
"Tough day for us at Twitter. We all feel terrible this happened. We're diagnosing and will share everything we can when we have a more complete understanding of exactly what happened."
Product chief Kayvon Beykpour also wrote on his personal account that:
"Our investigation into the security incident is still ongoing, but we'll be posting updates from @TwitterSupport with more detail soon. In the meantime, I just wanted to say that I'm really sorry for the disruption and frustration this incident has caused our customers."
Twitter is now said to be returning the money users lost to this malicious activity soon.
After this awful security incident, Twitter shares are decreased by more than 4%, and people are starting to have trust issues with Twitter. We hope that twitter comes out of this mess successfully and gains its users' trust again.
Was this post helpful?
Let us know if you liked the post. That's the only way we can improve.