Snapchat is one of the most popular messaging apps for young people. It's great for sharing little moments with your friends and talking to them. One of its qualities is that when you send a picture to someone, it's available for a limited time and after that, it will be disappeared.
Now we will see the problems of Snapchat and the way for fixing those problems.
How to know if Snapchat is down?
Many users reported (especially iPhone users) that they couldn't log into their accounts. But Snapchat's support team said that it was a minor issue and after that they fixed it.
First of all, if your Snapchat was down and it didn't work, you should close the app and open it again. If that didn't work, you can uninstall Snapchat and then reinstall it.
If the problem is your cellphone, you should restart your phone and see if it's fixed or not.
Another thing that you can do is to clear the cache. Because Snapchat and other apps usually download a lot of cache and media, and if those files are corrupted it can cause Snapchat to stop working. You should clear those files but don't worry, you won't lose any data or snaps.
You should go to the Settings of Snapchat and clear its cache, like this; open Snapchat, open your profile, tap on Settings, scroll to the bottom, and press "clear cache"
Sometimes it might be because of your Internet, try another source or check if your internet is active and check your connection.
If you open Snapchat and the screen or snaps are not loading, it's probably because of your internet connection, turn off your data and turn it on again, or change your location. If the signal is weak, move closer to your router. Resetting the router may also solve the issue, even if your internet works on other devices. If you are using a VPN, try to turn it off and open the app again. Sometimes Snapchat might stop working if it detects any third-party apps, occasionally including VPNs.
If your internet connection is strong and you are sure that it works, your problem could be because you didn't permit Snapchat to use data.
How to fix when Snapchat is down?
So, in that case; open Snapchat, go to your profile, tap on Settings, tap on permissions, Missing permissions will display Tap to enable. This will open the system settings to adjust all permissions for the app.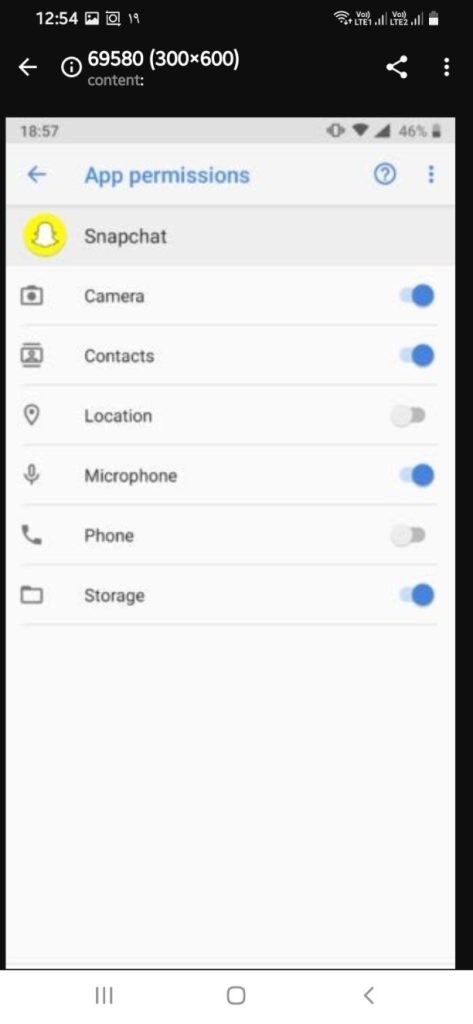 If you can't log in or use Snapchat, update the app.
Check to see if it doesn't work for you or other people have the same issue as well.
There is also a website that you can check to make sure Snapchat is working or it has problems at that moment. This is the website: "Down Detector's Snapchat page."
And you will see one of these two sentences: "No problems at Snapchat", or "Problems at Snapchat."
So you'll make sure that the problem is yours or it's from the app and it will be fixed eventually.
And You can also check the "Live Outage Map" to see if the issue is restricted to specific regions.
If Snapchat is up and it still isn't working for you, close the app and open it again.
If it didn't work, log out of your account and log in again.
When you log into your account, you can see your missed snaps.
If you can't send snaps to your friends and your internet connection is fine, you should try these solutions; restart your phone again, if it didn't work, try to clear your conversations. Doing this will remove all of your Snaps sent and received, so be aware that any unopened Snaps will be lost.
This is how you should delete your conversations; open your profile, go to settings, scroll down and tap on "Clear Conversation", select your conversations and click on "confirm".
If you've cleared the conversations and the snaps still aren't working, your next option is to remove your friends and add them back again. It might fix the problem.
Conclusion
This is how you can remove your friends on Snapchat; open your profile, tap on Add friends, then on My friends, and select your friends to remove them.
I hope this essay helps you to fix your Snapchat.
Was this post helpful?
Let us know if you liked the post. That's the only way we can improve.