Since 2011 Twitter has become the most popular short-text social media. It might happen for users to delete their tweets on purpose or accidentally, and recovering the tweets becomes an issue.
Let's start with a short brief about the possibility of recovering the deleted tweets. You might wonder which kind of tweets can be searched or viewed once you or someone else removed them?
How to Recover Deleted Tweets?
The first thing I must make you sure about is, unfortunately, you are not able to recover the deleted tweets, but you can find the similar tweets that others have published.
So, if you are looking for someone else deleted tweets or for Donald Trump's deleted tweets, I assure you that it is impossible unless you find similar posts.
Nonetheless, here I would mention some of the ways that you can look for some data on Twitter, which is the better and fastest way to find similar tweets. It means you should look for other tweets with the same topic.
Search on Twitter website
As I have mentioned before, it is unlikely that you can find the deleted tweets anywhere, but you can search on google to find the similar or exact text by putting the text in "….".
If you want google to find that text on the Twitter website adds the website address before the text, for example, site:twitter.com I lost my tweets.
This would help you to narrow down your search.

One way to see and find the deleted tweets is to look for them in a website that already crowded and archived millions of tweets like https://www.twipu.com
So, you can go to this kind of site and type in the deleted tweets text in their search bar. You can also find all archive from the specific account by putting the username just after the website name with a slash, for example, https://www.twipu.com/username
In this way, you would g to that person's tweets only, and it will help you narrow down the search.
Apart from the methods mentioned above, you can also find your Twitter data on its archive. You can send your request through the Twitter profile, and once you receive the email that the data is ready, you can download it as a zip file.
How to find old tweets
You might want to find old tweets for any reason. You might just want to retweet them, or you need to get some old data from them. Let me tell you that the first method to find old tweets is to scroll down long enough until you find the desired tweet, which is a very tough and time-consuming thing to do. That's why you surely would want some alternative methods to get back old tweets, and below I am going to talk about those two easier methods.
How to find Old Tweets Using Twitter Search
The most straightforward way to find old tweets is to use Twitter's own main search bar with the proper search pattern.
Log in to the Twitter account and head to the search bar to get started.
Type the below search pattern but with your own Twitter username and your desired date.
from:username since:yyyy-mm-dd until:yyyy-mm-dd
Here is an example of this method to clarify it more: from:inosocial_co since: 2017-04-14 until: 2021-03-06
To get all the tweets from your chosen date, select "All", since the default search results are sorted out by "Top."
This search function also works individually if you like tweets from a certain username or just a certain period of time, such as:
from: username (will show you all tweets by the @username)
since:yyyy-mm-dd (will show you all tweets done since yyyy-mm-dd)
until:yyyy-mm-dd (will show you all tweets done until yyyy-mm-dd)
How to Find Tweets with Twitter's Advanced Search
If you did not use the Twitter's advanced search before, let me tell you that this powerful search tool makes it easy to get date-range searches and find old tweets from your profile or another user.
Head to Twitter and login to Twitter.
Go to the Twitter Advanced Search page.
Scroll down until you find "Accounts."
Type the desired username with no "@ "in the "From these accounts" field.
To set a specific range of time, scroll down to find "Dates," select the start and end date.
When you are done, tap "Search," and you will get a list of tweets you were looking for.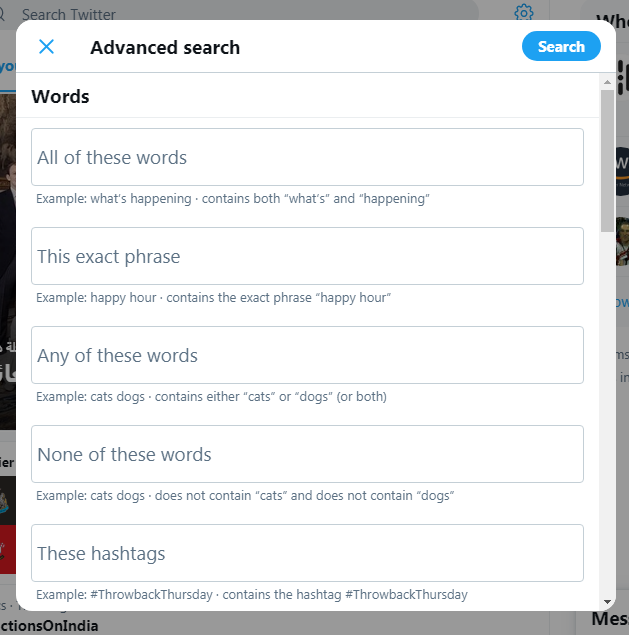 Where is the Twitter Archive of Deleted Tweets?
To get the archived Twitter tweets:
Go to your account and click on the three-dots icon under your profile photo
Select the setting and privacy
Click on your Twitter data
Enter your account password and click confirm
You can see the request data. You can download the periscope data too.
Once you request and the data is ready, you will receive an email notification from the connected email to our Twitter account.
Then from the setting, you can download the zip file of your Twitter archive.
Please note that I do not believe you could find the deleted tweets from months ago here. Still, you would receive the data that Twitter distinguishes as relevant and most valuable (as they have mentioned in the description of downloading tweets archive).
Was this post helpful?
Let us know if you liked the post. That's the only way we can improve.