YouTube is now is the second largest website all around the globe. With this huge amount of visitors and views, knowing who has subscribed to your channel or others is important. The instruction is given below to see YouTube subscribers of your or other channels.
By the way, " If you want to increase your subscribers, views and likes then you have to Buy Youtube Subscribers from BoostHill. " 
How to view your subscribers on YouTube?
You can only find out the list of 100 recent subscribers on YouTube studio but only those who had made their subscription public. When a user joins YouTube their subscription list is private until they switch to public. Then, you can see them in your subscribers' list on desktop only. To see the list of recent subscribers on YouTube:
Go to YouTube Studio and sign in
Open the Dashboard on the right menu and
Find the Recent Subscribers
Click See More
You can see your YouTube subscribers if:
The user chose to make the subscriptions public
The user subscribed to the channel within 28 days (almost a month)
You can NOT see your YouTube subscribers if:
A user makes their subscription to YouTube as private
The account is identified as spammy
Please notice that You should first sign in to your account. Tip: from the top menu you can select a timeframe and sort out the list by subscribers count
If you still could not find the list of your subscribers using YouTube studio you can find them at https://www.youtube.com/subscribers .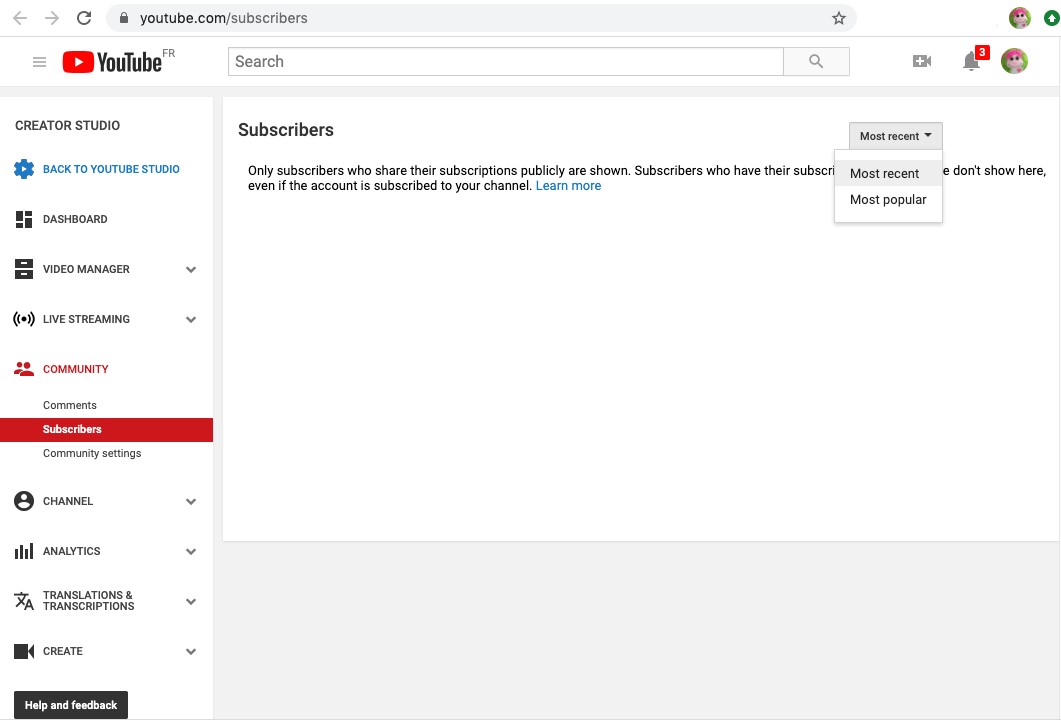 Reaching thousands or even million followers (subscribers) on YouTube is now is very essential for every business. Though, there are many tools to grow YouTube accounts like YouTube analytics, or YouTube scheduler but still seeing who is your subscriber is interesting.
Though, YouTube has put an option for its users to choose whether they want to be seen in other lists of subscribers.
How to see your YouTube subscribers on mobile?
The same as a desktop you can see subscribers list from a mobile phone but you should first login to your YouTube account. And the point is that you can access the most recent subscribers on the mobile app.
Though, if you want to see a full list of subscribers you should use the desktop version of YouTube and follow the instruction as stated above.
You can also access the full list through mobile phone but you should use a web browser like Safari, Chrome, or Firefox on mobile phones. Then, follow the steps as stated above (see the subscriber list on desktop).
To see the YouTube subscribers on mobile:
Open YouTube app and sign in to your account
Tap on your profile picture
Tap on your Channel just under your name
From there you can see the information of most recent subscribers

You can access and change this option through YouTube channel settings. As it is shown in the picture below. If you turn on "keep all my subscriptions private" on YouTube, no one can see your name on their list of subscribers.
Conclusion
YouTube is getting bigger and having a lot of subscribers can be important for all YouTube users. However, YouTube does not allow you to see other subscribers list despite other social media like Instagram but it allows you to see the full list of subscribers on desktop and recent ones through mobile apps.
Was this post helpful?
Let us know if you liked the post. That's the only way we can improve.