Instagram Direct Messages are one of the most underestimated tools when it comes to social media marketing. If businesses find out about the potentials of the Instagram DM, they will start re-planning their social media marketing strategy, giving a special space to DM marketing on Instagram.
The fact is that having a small business is a two-folded reality. While you don't have a large business's troubles and headaches, there is much to do to survive the ever-tightening competition in small businesses' trail – save the desire to grow into a large corporation. One of the vitals to a small business's survival is, no doubt, having a consistent marketing strategy.
That said, this blog post is dedicated to Instagram Direct Messages and Instagram DM marketing
let's take a look at some Instagram statistics regarding brands and businesses.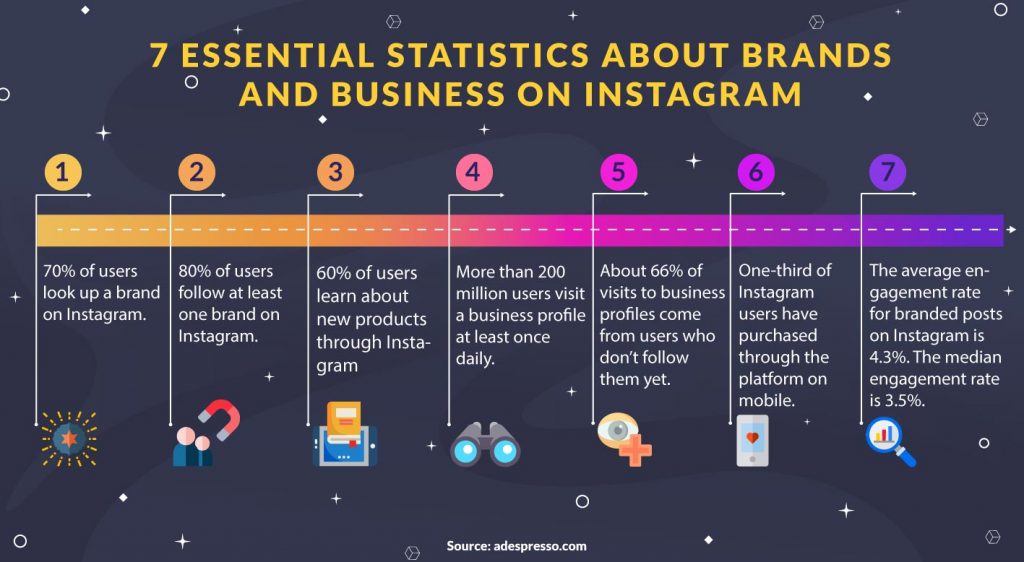 As revealed by adespresso.com, brands and companies are having a large portion of Instagram attention for themselves. Keeping these numbers in mind, let's see what a small business can do to benefit from this situation.
What is DM?
Instagram DM, also known as the Instagram Direct Message, is a free feature that lets the users message each other on Instagram. Texts, images, links, videos, stories, and posts can be sent through a DM. Instagram Direct message is both a private and group chat feature. Facebook has developed a free stand-alone app for it, called Threads from Instagram, in which only circles of close friends can get in touch.
You can access the Instagram direct messages on the top right corner of Instagram home: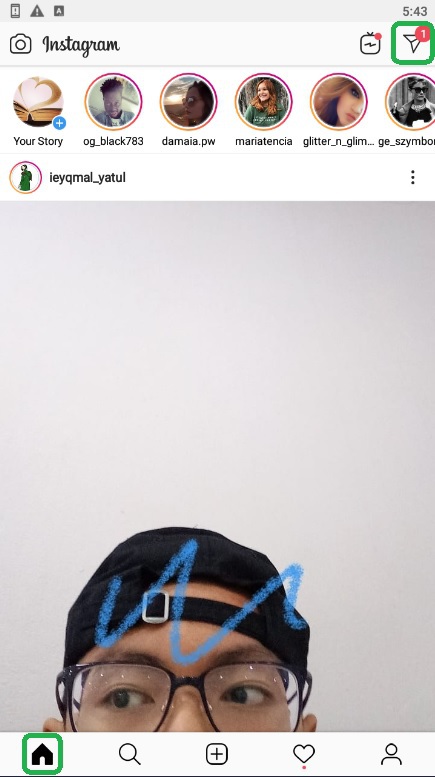 How to use Instagram DM for small businesses?
Instagram DMs make up to 56% of the sales on Instagram. Therefore, having a consistent plan for DM strategy on Instagram brings about more sales and profit for small businesses and brands.
While the Instagram DM mechanism seems quite simple, most people don't know how to use it for brand and product promotion goals. So, here are the most effective ways to apply DM marketing on Instagram:
Use Instagram DM to welcome new followers
Welcoming new followers will nurture the relationship between the brand and the audience. When greeted warmly, new followers know that you care, and it leads to more loyalty on the side of the audience.
Promote new products and updates through Instagram direct messages
DM is a great tool when it comes to product and update announcements. In a message, tell your customers what is new and what is to come. People love to hear on updates because this gives them a feeling that they are interacting with a live and dynamic business.
Offer your Instagram followers great discounts in DMs
Exclusively crafted DMs for offering discounts lead to incredible amounts of conversion both in sales and Instagram performance.
Hold contests and contact the winner through Instagram DM
Starting a competition and announcing it through DMs, and also following up the winners with direct messages give the feeling of exclusivity and specialty to a brand's followers. Use the Instagram DM free tool to its fullest and hack your sales growth.
There are also four trust factors to consider before making up any messages for marketing purposes on Instagram (and any other social media):
Accuracy
About 99% of customers pay attention to the accuracy of advertisements before trusting a brand; accuracy in terms of product explanations, related statistics, prices, quality, etc. If you are going to mislead your audience, then wait for losing them, because they will compare the information provided by you with other sources. So talk about both the positive and negative aspects of your product in the direct message.
Exclusivity
Make your customers feel special. Send them Instagram DM's that seem as if crafted only for them. Know their needs and tastes, and divide them into different categories. Then crafting an exclusive direct message will be more comfortable. About 77% of people also consider exclusive ads when it comes to trusting a business.
Transparency
It is fascinating that 97% of people also care about the mission of your business. Inform them in Instagram DM what your product does, which problems it aims and how it's going to solve them.
Choice
Offering different choices to your customers makes up another important factor based on which people choose to trust you. Having a variety of relevant and exclusive choices is important to 95% of the customers.
Add these trust elements to your previous mindset on Instagram DM marketing and start selling;)
Are there any tools for Instagram DM marketing?
Well, as a business page owner on Instagram, you know how frustrating it is to keep up with the growing number of your audience and followers and build a customer-care oriented relationship with them. You need to send Instagram direct messages to:
Welcome new followers;
Promote new products;
Announce discounts;
Shout-out new updates on the brand;
Hold contests and connect with the winners; and
Reach out to reply to received messages from your audience.
How much time and energy will it take from you to, for instance, welcome at least 200 new followers a day, manually? Or wouldn't it be frustrating to let know all of your followers, one by one, about a new product, or a recent update, or a discount, or whatever?
Honestly, just thinking about it drove me insane, were I about to market my brand on Instagram.
There are few web-based platforms out there that let you do the DM Marketing on Instagram right from the comfort of your PC desktop. A few of these tools are in line with Instagram's terms of services and guidelines and the rest are literally spotted as spam by Instagram.
These platforms are called "Auto DM Bot" or simply "Instagram Auto DM." But what are these tools and why are more businesses using them?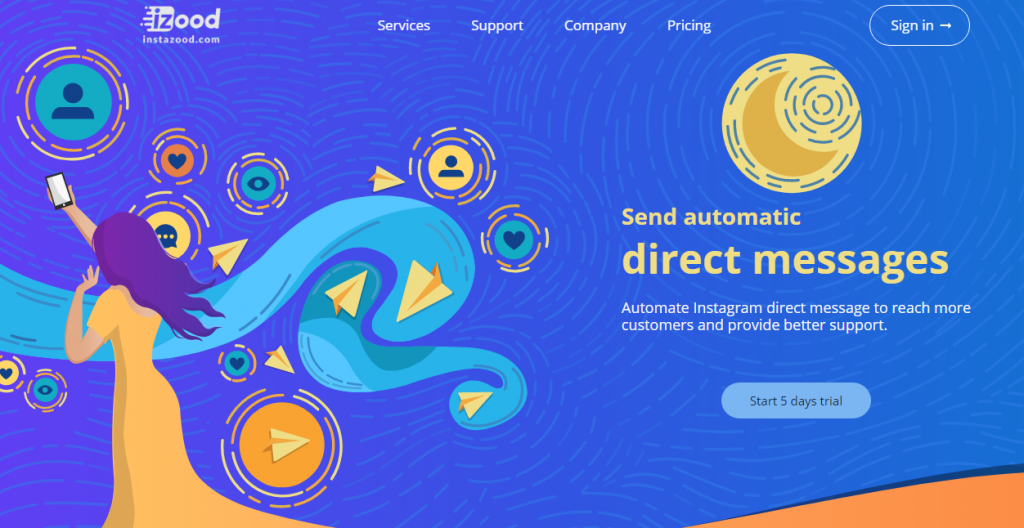 What advantages does the Instagram Auto DM tool bring to businesses? It automates all the processes mentioned above to save your time and energy and boosts your Instagram performance efficiency.
So what is a DM bot? a DM bot or Instagram Auto DM is a service that automates the process of your DM marketing. Using a DM bot, you can:
DM people from a PC desktop.
Draft messages.
Choose users to group-send messages.
Customize lists and messages.
Attach images, links, and hashtags to your messages.
Apply custom filters to DMs.
You can use the Virtual User Instagram Bulk Message Sender Bot for sending direct messages on Instagram. you only need to provide the Bot with the text of the message and the list of target audience's IDs so that the Bot sends your message to all these IDs one by one automatically. 
Don't worry about collecting prepare your target audience's IDs, because this Bot can extract the people's IDs from the different atmospheres (followers, the target audience's followings, people who have liked posts and left comments on your target post, and also your intended hashtag) and deliver to you in an Excel file. 
Ability to send various messages to each person

Ability to forward various posts to each person

Ability to extract IDs (extract followers, followings, people who enter like and leave comments on the posts and extract people who have sent you messages before)

Ability to use multiple accounts

Ability to change account automatically

Ability to set the bot for a long time 

Permanent and no need to pay for sending each direct message

No need to charge the bot monthly 
Also, for more information about Advertising & Marketing on Instagram refer to the Virtual User website. 
What are Instagram DM limits?
An Instagram Direct Message text can be no more than 1000 characters. Also, users might get action blocked if they send more than what is allowed on DM for 24 hours. Although there is no approved source of information to say what the limits are, most of the time, people are allowed to send between 50 to 100 Instagram DMs during a day. However, it doesn't mean that if an Instagram user sends, say, about 30 messages in a day, Instagram won't hunt them down.
The fact is that Instagram has different parameters and criteria to set the Direct Message limits for every single user (which they have never revealed in a formal mode of publicity). These might include:
User's amount of activity on Instagram,
The profile's age, and
The number of user's connections on Instagram.
What might get you DM action blocked?
Sending the same set of messages over and over to the same or different Instagramers;
Exceeding the hourly limit of message numbers (which differs from user to user); and
Getting reported as a result of sending messages to non-followers.
To Wrap Up
As most of the brands and businesses under-use Instagram DM for their promotion, small businesses have a great chance to advance their sales through DMs. Take your time and plan a comprehensive strategy with the help of Auto DM tools.
Was this post helpful?
Let us know if you liked the post. That's the only way we can improve.