When discussing cryptocurrencies, the first few names that come to mind are those of the market leaders, such as Bitcoin (BTC), Ethereum (ETH), Solana (SOL), and others. Yet, as cryptocurrencies gained popularity, a large number of additional altcoins (or Bitcoin alternatives) entered the market.
Additionally, a number of meme coins or meme cryptos have emerged recently and caught the attention of investors. ShibaDoge (SHIBDOGE) is one such meme coin that is now in the spotlight, partly because its name combines the two most well-known meme coins, Shiba Inu (SHIB) and Dogecoin (DOGE).
Shibadoge price is $0.000000000000000078, with a 24-hour trading volume of $6.75K.
You can also read: Exploring the World of Decentraland (MANA): A New Dimension in Virtual Reality
What is the ShibaDoge?
ShibaDoge describes itself as a community-driven utility coin that was created by SHIB and DOGE whales to benefit both communities. The ShibaDoge ERC-20 token trades on the Ethereum network under the symbol SHIBDOGE.
According to its website, the cryptocurrency is automatically deflationary, which means that with each purchase and sell transaction, its supply is reduced. Furthermore, gradually lowering the supply, also raises its value.
On December 24, 2021, the cryptocurrency went live with a 420 sextillion token supply. 50% of the total supply was burnt during launch. The project wants to employ Web3 and Decentralized Finance (DeFi) features to provide its ecosystem more value, according to its whitepaper.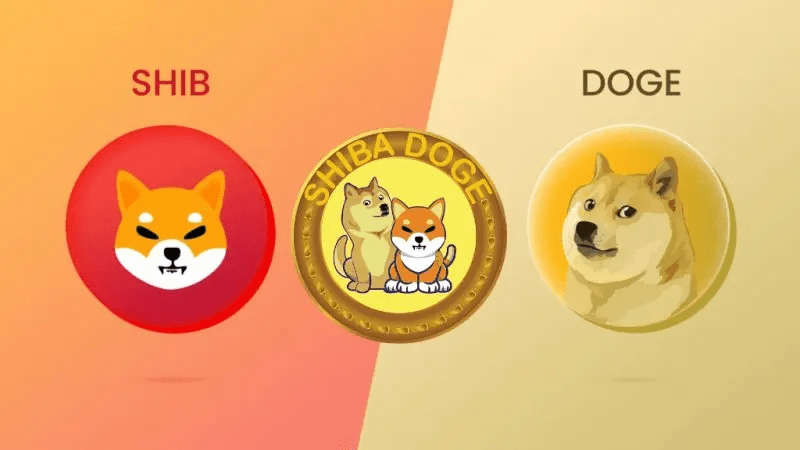 This coin mainly aims to unite the Shiba Inu and Dogecoin communities. Achieving 1% or more of the combined total community of the two meme coins is the project's short-term goal.
The combined market capitalization of the two meme coins is around US$40 billion, or roughly 5 million token holders.
In order to achieve its short-term objective, SHIBDOGE must have at least 50,000 holders and a market worth of US$400 million. The cryptocurrency can be purchased on a number of exchanges, including Uniswap (V2), Hotbit, etc. Therefore, before purchasing cryptocurrency, one should use prudence.
The History of the ShibaDoge
Five early adopters and investors in Dogecoin and Shiba Inus who wanted to unite the two communities launched the project in the beginning. The team now consists of 15 international members with top-tier knowledge in media, Web3 development, smart contracts, and other fields.
The events and courses of Dogecoin and Shiba served as inspiration for the platform's roadmap. According to the roadmap, the platform's covert launch took place on December 24, 2021, during the launch phase. Afterward, etherscan verification, dextools profile verification, and prelaunch marketing were completed. The platform hired a reputable marketing firm and ran several promotions during stage one. The whitepaper, the NFT project release, and the stakingDApp are discussed in stage two.
How to Buy a ShibaDoge
While some businesses are working toward the potential of selling ShibaDoge in the future, you can't now buy one through your bank or investment company. For the time being, you will need to use a cryptocurrency trading site to convert your fiat money—US dollars—into ShibaDoge or other digital currencies.
Hotbit and Uniswap V2 are the two most well-known ShibaDoge exchanges. ShibaDoge can also be traded on a number of different cryptocurrency exchanges, but before choosing one, make sure to do your own research.
Pros and Cons of Owning a ShibaDoge
Every cryptocurrency, token, etc. that enters the crypto market begins its operations with a certain objective in mind. The objectives and advantages of this project should not be disregarded, despite the fact that we cannot remove this token from the meme coin category. The following will provide a quick analysis of the benefits and drawbacks of Shiba Doge:
Eliminate government interference
ShibaDoge is a token designed to collect Shiba Inu whales and DogeCoin to better society. The objective of the crypto market is to return authority to the people and eradicate government meddling. In this situation, the said market thinks that fusing the Shiba Inu and Dogecoin communities is one of the greatest ways to accomplish this goal.
Reduce inflation
ShibaDoge is an automatically deflationary token whose supply is reduced with each buy and sale of ShibaDoge. As a result, its value rises as the supply gets smaller over time.
Token staking
The ability to distribute and stake your NFTs to earn more ShibaDoge currency tokens is one of the many options provided by NFTs. Your benefits are closely correlated to the number of NFTs you distribute, as well as the NFT's rarity and uniqueness.
It is a meme coin
This group includes ShibaDoge and Shiba Ino, both of which were first introduced as meme coins. Shibadoge token cannot be viewed as a long-term investment because Bitcoins often do not have a high value in the cryptocurrency market.
In conclusion
The SHIBADOGE ecosystem consists of a lot more than just tokens, pricing, charts, and amazing dog photographs. This global community of thousands of like-minded individuals is powerful, flourishing, and ever-expanding. ShibaDoge can be purchased to enter the community and take part in trading.
Was this post helpful?
Let us know if you liked the post. That's the only way we can improve.