Text messaging is a very popular form of communication these days, and after Apple made an updated iOS in which you can schedule messages to be sent at a later date and time, more people are turning to it for their scheduling needs. In this article, learn more about why text scheduler iPhone is becoming so popular, how it can help you schedule texts at the perfect time, and how to schedule a text on iPhone.
Can you schedule a text on iPhone?
Yes, you can schedule a text on iPhone. There are a few different ways to do this, but the easiest way is to use the built-in Apple Messages app.
There are a number of reasons you might want to schedule a text message on iPhone. Maybe you want to send a happy birthday message to a friend at midnight, or wish your partner good luck before their big meeting. Whatever the reason, scheduling texts is relatively straightforward on iPhone.
How to schedule a text on iPhone?
Assuming you have an iPhone with a cellular plan, there are a couple of ways to go about scheduling texts. The most popular method is to use the pre-installed Messages app. ere is how to schedule a text on iPhone:
Open the Messages app and find the conversation you want to schedule.
Tap and hold the message you want to schedule, then tap More.
Tap Schedule. If you don't see this option, tap , then tap Schedule Message.
Choose when you want your message to be delivered, then tap Done.
Tap Send. Your message will be marked with a before it's sent.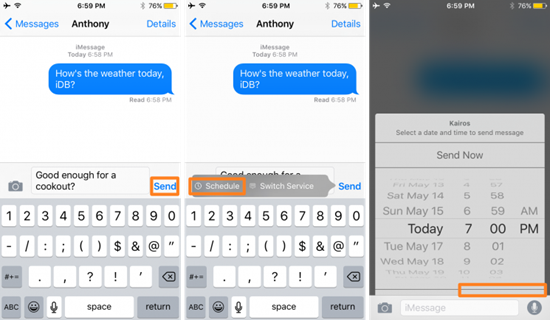 Note: Another way to schedule texts on your iPhone is by using a third-party app, which is also called text scheduler iphone, like Text Scheduler or Scheduled+. These apps will likely have more features than the pre-installed Messages app, but they may cost money to download and use. 
By the way in: "How to send voice message on iPhone " learn all the ways to send a voice message to an android or iOS user from your iPhone.
What is a text scheduler iPhone?
A text scheduler iphone is an app or system that allows users to send texts at a later date or time. This can be useful for remembering to send important messages, thank-yous, or replies to important questions. There are many different iPhone text schedulers available, with features that vary depending on the app. Some apps allow users to schedule texts months in advance, while others provide more basic features such as scheduling reminders for the same day.
What are the top 5 text schedulers on iPhone?
There are a number of text scheduler apps available on iPhone, and it can be difficult to choose the best one for your needs. Here are five of the top text scheduler iphone apps, based on features, ease of use, and customer reviews:
1. Text Scheduler Pro – This app is designed to be simple and easy to use, with a clean interface that makes scheduling texts a breeze. It offers a variety of features such as the ability to schedule multiple texts, set repeating messages, and add contacts directly from your address book.
2. Message Scheduler – This app offers many of the same features as Text Scheduler Pro, but also allows you to schedule texts to be sent at specific times or dates. It's perfect for those who need more flexibility in their texting schedule.
3. Easy SMS Scheduler – As the name suggests, this app is all about simplicity and ease of use. It offers a limited set of features but is still able to handle most basic text scheduling needs.
4. AutoSMS – This app is aimed at those who need to send out a large number of texts on a regular basis. It offers bulk scheduling options and can even send out texts automatically based on preset criteria (such as location or time of day).
5. TimyText – This final option is another great choice for those who need robust text scheduling features but don't want to be overwhelmed by them. It offers an extensive set of options and settings, yet is still relatively easy to use.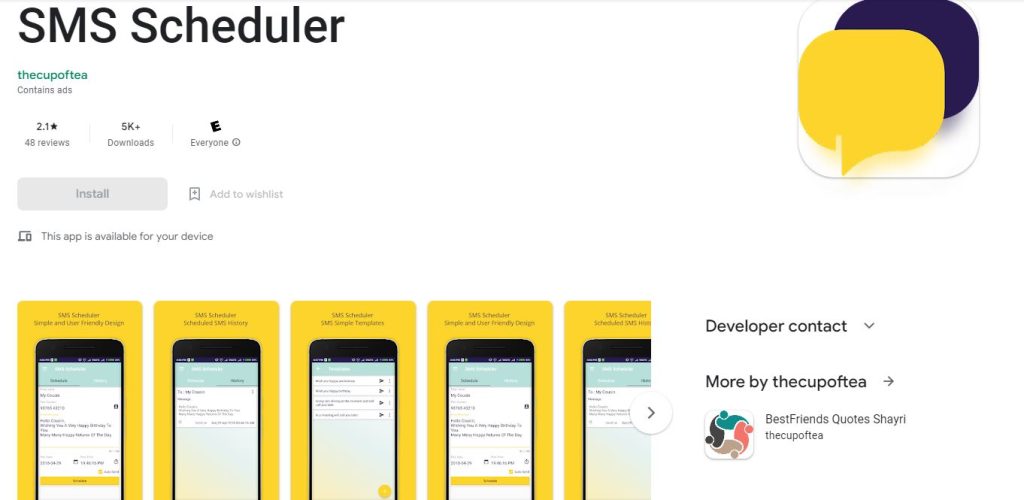 Is using a text scheduler iPhone safe?
Yes, using a text scheduler iPhone is safe. You can use iMessage or any other chat service to send a scheduled text. There are many scheduling apps available that will allow you to set a time and date for your message. Once the message is sent, it will appear as though you sent it at the scheduled time.
Conclusion
If you need to schedule a text on your iPhone, there are a few different ways you can do it. You can use the built-in iOS Calendar app, or you can download a third-party app or a text scheduler iphone from the App Store. Whichever method you choose, just be sure to follow our safety tips so that your scheduled texts don't end up in the wrong hands.
Was this post helpful?
Let us know if you liked the post. That's the only way we can improve.