WordPress is without a doubt one of the most popular content management systems (CMS) on the web. Due to the popularity and development of WordPress content management system, templates made for WordPress sites also gained considerable popularity in the market. Users love WordPress templates because they are hassle-free to set up and can easily be used to create a blog, personal, corporate and sample site. However, finding quality free WordPress templates is not easy when designing a site.
Introducing free WordPress templates
Below we introduce some of the best free WordPress templates so you can compare them. Most of these templates include various features that you can use to easily set up your site. You should note that free templates give you fewer features than their monetary counterparts. Below the introduction of each template, there is a button where you can view the template demo and make an easier decision.
Shapely is one of the most popular free WordPress templates
Shapely is an attractive free template for sites built with WordPress and can greatly improve the site development process. This product is practical and beautiful and can combine high capabilities with amazing graphics. Of course, its design will be compatible with Android phones, iOS, Windows, tablets, laptops and desktops. It also supports high-resolution displays, allowing you to enjoy crisp graphics, beautiful text and pioneering symbols. Despite its attractiveness, this product can be used for all fields of activity. This template will be compatible with popular WordPress plugins such as Contact Form 7, Google Analytics, Yoast SEO and Gravity Forms.
Webify WordPress Theme
If you are looking for a fully versatile and highly controllable WordPress template, you should take a closer look at Webify. This template provides a wide range of features for the site administrator. In other words, knowing that Webify works well for almost any idea you may have encourages you to use it. With twenty pre-defined demo examples and the ability to build a page using drag and drop, you can quickly find the ideal solution for your project. Businesses, agencies, bloggers, freelancers and online store owners can all use the Webify template.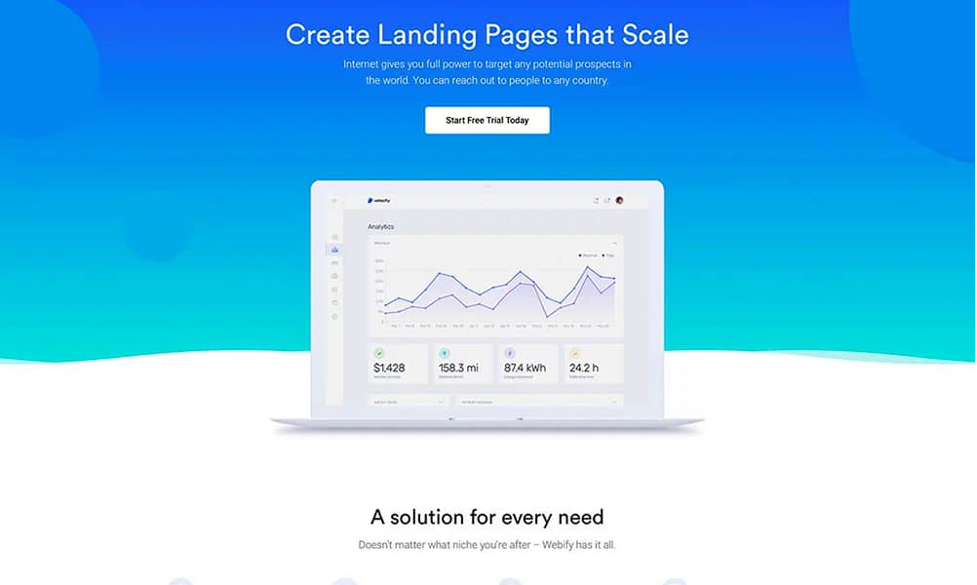 This template includes internal sections, predefined headers and footers, and an extensive library of ready-made blocks, modules, and code. With Webify, anyone can create an incredible site and take advantage of its vast possibilities.
Salient template
Salient is another impressive and conceptual WordPress template that provides you with a set of predefined demos. In short, Salient is a template that can be used for all fields and can be used to build a site. More importantly, you can always modify and upgrade default designs and follow your own rules and regulations to achieve the desired structure. If you want to create a blog, a business site, an online store or a portfolio site, you can design your site in the best way with Salient template. Salient is one of the free WordPress templates that allows you to design different types of sites with different themes and this can be done easily.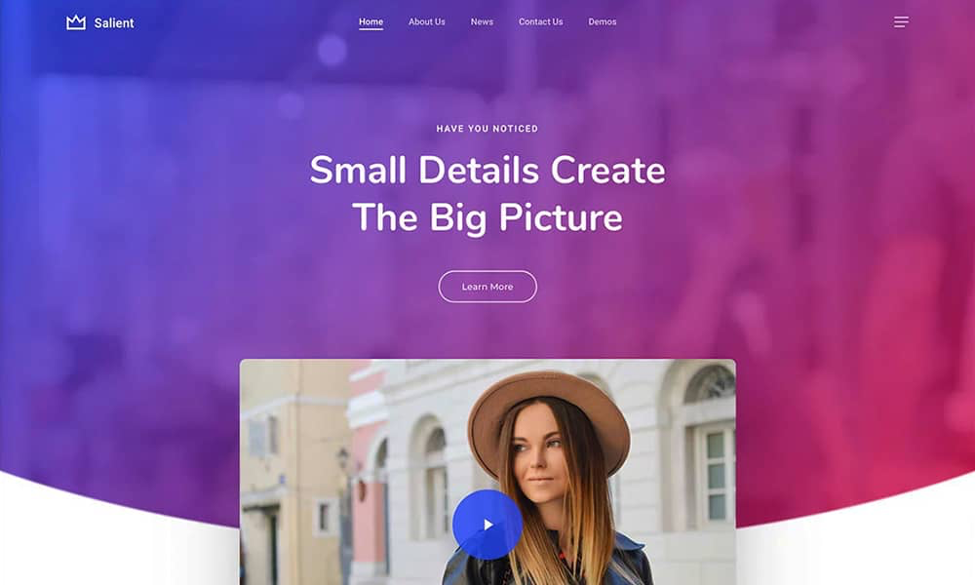 Extra include hundreds of shortcodes, unlimited color options, fast loading speeds, the ability to create fullscreen landing pages, different header styles, and 9 different portfolio layouts. This template is responsive and displays the site well on any screen such as mobile and PC and is instantly compatible with any web browser and can be well optimized for search engines.
Llldy free template
Illdy is one of the most versatile free WordPress templates with great flexibility and progress, which has been carefully designed and built and has undergone optimal changes over time and is available completely free of charge. Equipped with the powerful Live Customizer tool, it has a set of customizable widgets, icons, shortcodes ready, with multiple layouts and layers, and different layouts. Illdy is perfect for building advanced and modern sites of any kind and with a variety of features, customizable, without having to write a single line of code.
Illdy fits into all known devices, browsers, operating systems and various screen sizes, using Bootstrap's powerful and innovative programming. So when you design your site using Illdy, it does not matter what screen it is displayed on. This template provides you with a variety of features, with support for Contact Form 7, SEO Yoast plugin and plugin integration (NextGEN Gallery). Everyone can put their text and image content in this format with the least effort and easily create a beautiful and functional site.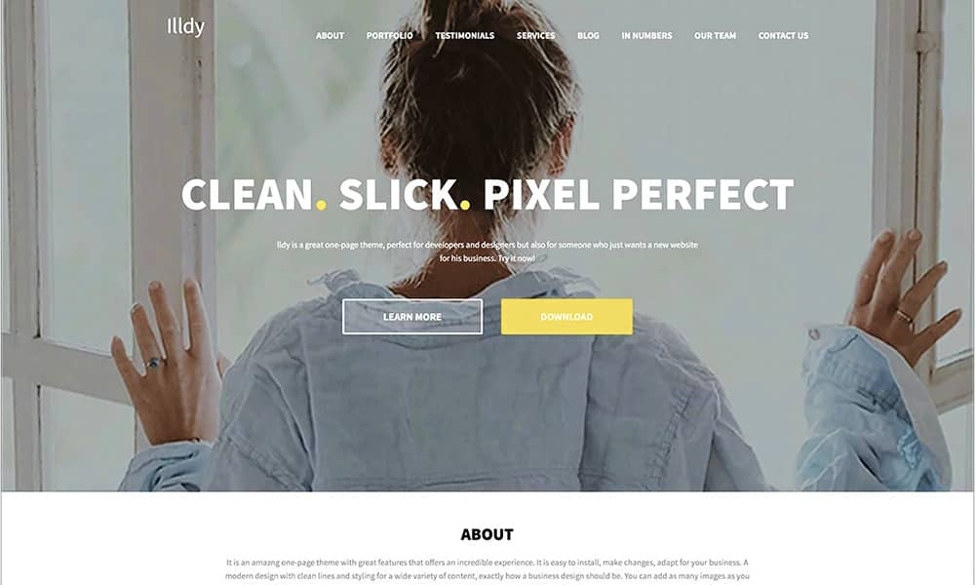 Allegiant WordPress Theme
Allegiant is a very interesting, modern and fully responsive template and a free multipurpose template for WordPress sites. This is a powerful platform for creating integrated and extensive sites that cover a variety of topics. It includes a wide range of free tools to effectively increase the capabilities of webmasters in all stages of designing a site and execute their desired customizations.
Allegiant template has many resources that are ideal for accelerating business development. You can put high quality images of your products or services on the site with your desired design. The site designer can have complete control over the arrangement of the various elements in each level, making changes in this format is easy and you do not need to have previous experience in coding. You can easily change any part of the site and display different elements as you wish. Built in Bootstrap and fully responsive and compatible with a variety of devices. Any site with Allegiant template will be beautiful and modern.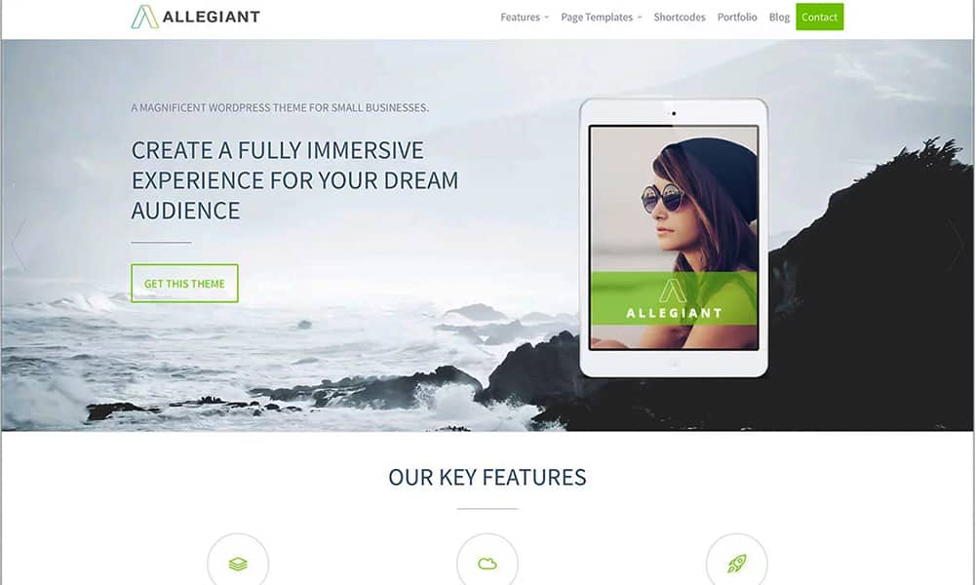 Pixova Lite template
Pixova Lite is one of the free single-page WordPress templates. This template is a useful tool for people who work personally or artists who want to offer and promote their personal services. You can choose from a wide variety of colors for different parts of the site. Pixova Lite template creates great work environments for web developers. This template has a simple and classic look with its own subtleties. With a variety of widgets and several different menu types, Pixova Lite is a versatile template that can be used for any type of site. This template also supports the WooCommerce plugin and you can easily create your online store using it.
Pixova Lite has options for setting widgets, changing display sections, and adding logos. Changes made are displayed live using the handy page builder. You can choose powerful and unlimited Google fonts and icons for your site. Pixova Lite is responsive and displays your site well in all browsers. This template includes the WPML plugin and you can use it to create a multilingual site. This template provides you with various features for free.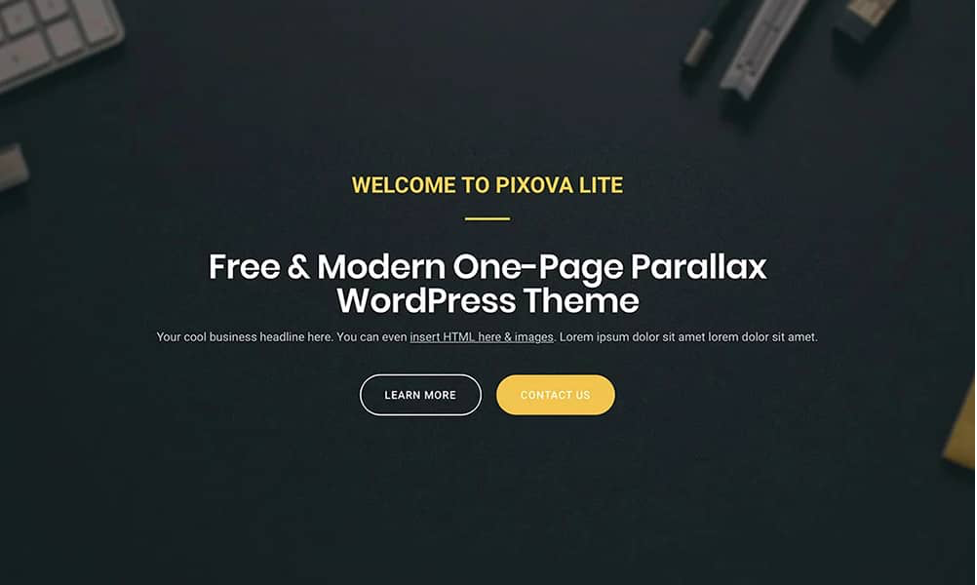 Free Newspaper X Templat
Newspaper X is one of the free WordPress templates that is suitable for news sites and can be used to create a site. This template is based on Bootstrap and gives a lot of control and customization capabilities to the site administrator. It also uses a great banner ad to add publicity. Newspaper X comes in four different categories: Editorial, Events, Latest News, and World News.
It has an advanced search section that can be found in various articles and pages of the site. This template is suitable for any purpose, whether for personal and small sites or corporate sites. You can also find awesome pages for blogs and site content and various designs of social media buttons in this template. This template is suitable for any application that needs to provide content and can be provided for free.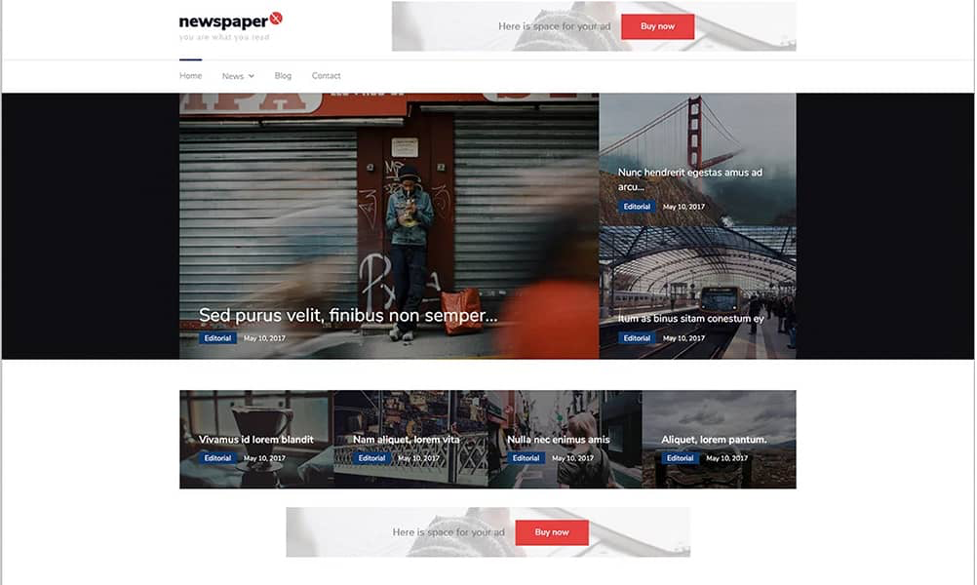 Antreas WordPress Theme
Antreas is a simple and easy to use template for free WordPress sites. This template is your strongest ally in creating successful online business investments. Whether your projects are large, small, tested or brand new, Antreas has everything you need. Ideal for users without programming experience, without the need for coding, various sites can be created using the Antreas template. WP plugin-ready lets you display a variety of interesting content in sidebars.
You can easily add any required plugin and take advantage of different features and options in site design. Powerful tools and shortcodes make site design easy. Start your business with one of the free WordPress templates like Antreas. You can customize many details without the need for coding and let your customers know where they can find you with the Google Maps API. Distinguish your site from the competition with a variety of layout options. Antreas free template is the smartest way to start an online business and you can create any type of site with it.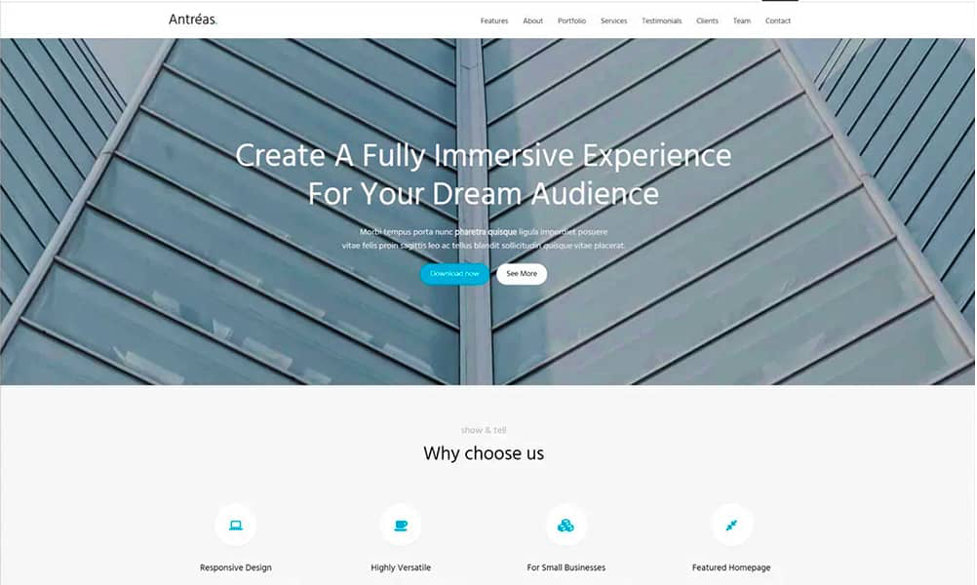 Free Sparkling Template
Sparkling is one of the free WordPress templates that has a modern and attractive look. This responsive template can display your site with a beautiful layout on any device with different screen sizes. This WordPress template also includes a host of great features that you can find in high quality WordPress templates. It has a full screen slider that allows you to display high quality and impressive photos on the site. This template supports Contact Form 7, Gravity Forms, Yoast SEO, W3 Total Cache and many more. To have a beautiful and efficient site, you can use the free WordPress Sparkling template.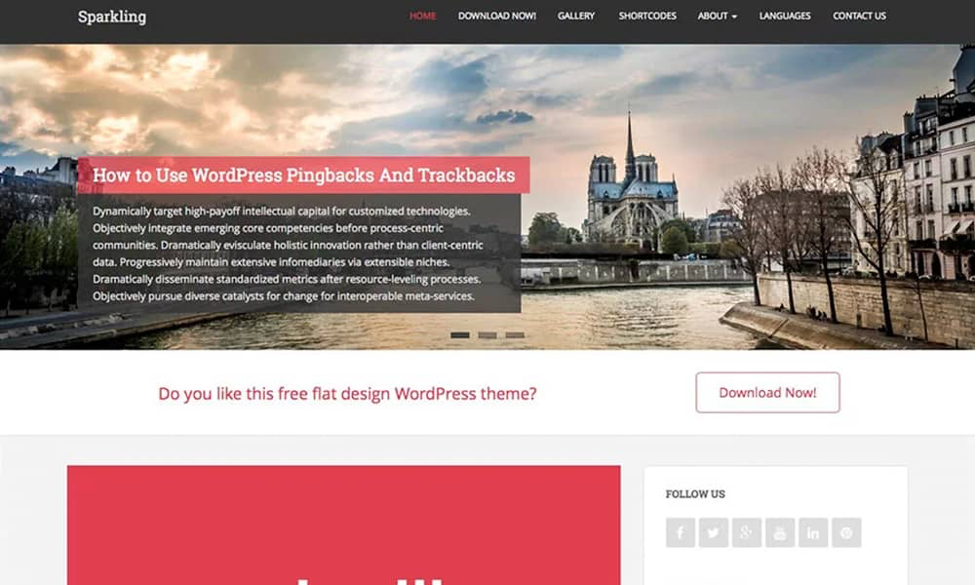 Ascendant WordPress Theme
Ascendant is a versatile WordPress template. You can create any type of site from blogs and examples to small businesses using this template. This template simply matches what you want and you can also use the professional version to design the site. This template has a mobile and responsive design. You can customize all parts of the page including header, footer, sidebar and other parts.
If you decide to start a store site, this template is compatible with the WooCommerce plugin and you can use it. You can use powerful shortcodes that have the ability to add a variety of options to the menu and other sections of the site to make the site attractive and have various features when designing the site. Using the Ascendant template for free, you can design different types of sites.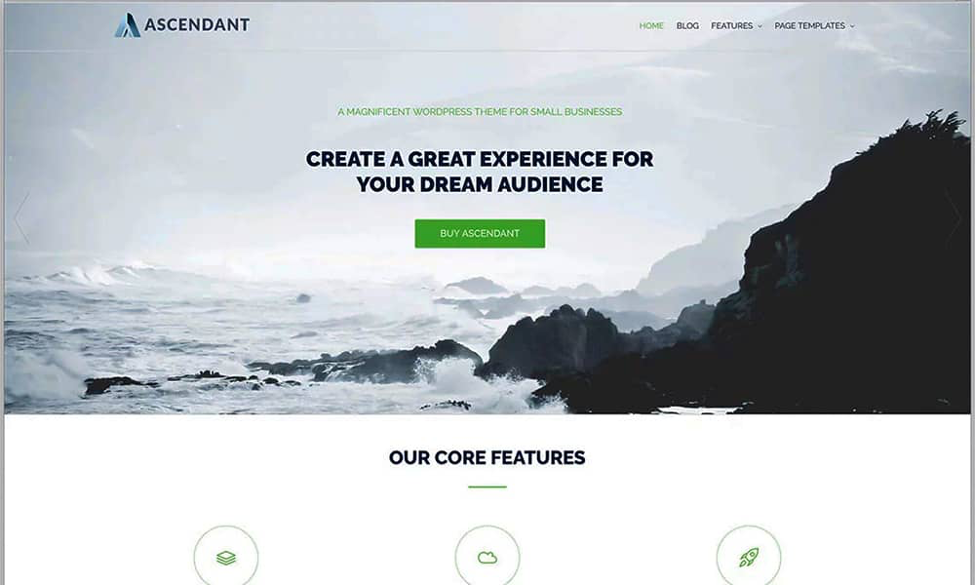 Was this post helpful?
Let us know if you liked the post. That's the only way we can improve.