Instagram stories are one of the main and most-used features of Instagram. As the statistics have always shown from the beginning of the time, Instagram stories where launched, people tend to watch more stories than posts and users actually love them.
Instagram knows the popularity of the stories, and as its use grows among Instagramers, Instagram has started to test something big on the platform. "a Full-Screen Stories Display." Instagram has officially confirmed that it's testing its somewhat intimidating full-screen Stories display.
It was about a month ago when Instagram published an announcement about double-story stories feeds, which was applied to a limited number of users worldwide. And now as AdWeek's marketing manager Julian Gamboa, has shared screenshots on her twitter, it shows that the double-story stories feed is real and is actually being tested on some accounts.
The purpose of this feature is to let users watch and access stories faster and have them on a screen just like an album of stories that they can easily choose from.
The feature Is explained in even more detail by Social Media Today. Some users are now seeing a prompt below their double-story Stories display to 'See all stories.' When tapped, the Stories display then expands to full screen (depending on how many Stories you're eligible to view), creating a Connect 4-style display grid of tappable Stories.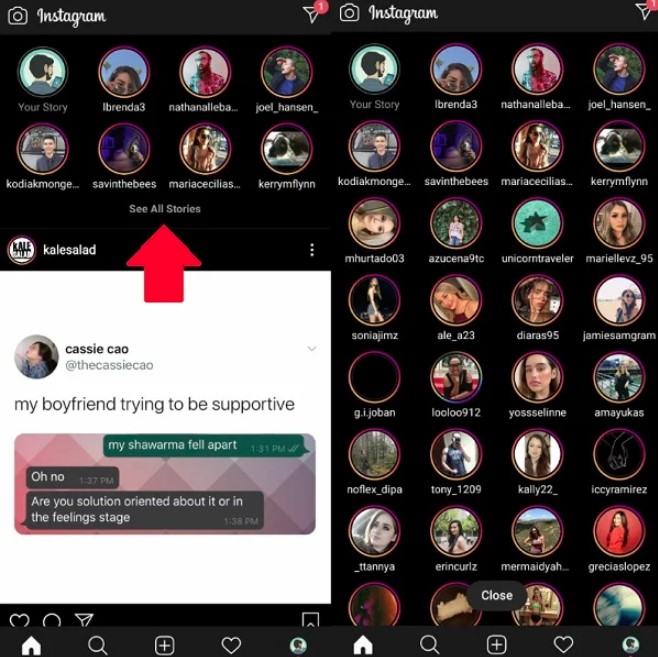 What's the goal of the "double-story" stories feed?
As I mentioned above, the obvious goal of this feature is to make it easier for users to access all stories in one place and have a separate page for them.
I also think of this new option as an idea of Facebook to drive more traffic and users to stories since the stories feature is of great importance for Facebook when it comes to advertising.
"We're always testing new ways to improve the Instagram experience for our community," a Facebook company spokesperson said, in reference to the test.
Was this post helpful?
Let us know if you liked the post. That's the only way we can improve.